Sweet Streets "American 80s in Japan" x Spank! Popup Shop in LA – Pictures
Japanese fashion fans living in Southern California have been lucky enough to see two major events take place around Los Angeles in the final month of 2011. The Sweet Streets art exhibition – featuring a popup shop by Tokyo fairy kei fashion brand Spank! – opened at the end of November and ran through Christmas. Rune Boutique with 6%DOKIDOKI x Kyary Pamyu Pamyu followed quickly after. Now that we're between holidays here in Tokyo, we're going to share all of our coverage of these two Harajuku-friendly California events with you!
First up: Sweet Streets "American 80s in Japan", co-curated by Tavuchi from Tokyo's famous kawaii fashion brand & resale shop Spank!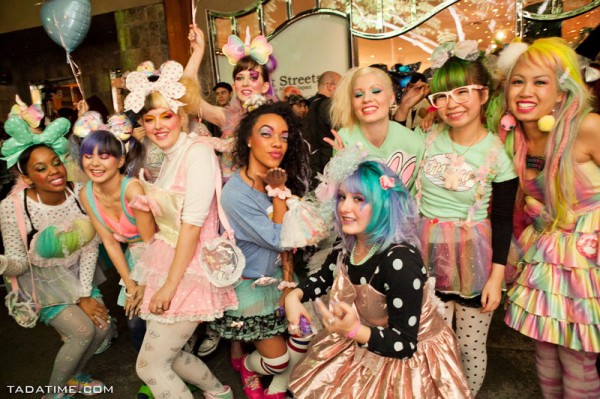 The Sweet Streets "American 80s in Japan" exhibition, held at WWA Gallery in Culver City, featured artists both from and inspired by Japan and Japanese street fashion. The artists in the show were selected by Sweet Streets and Tavuchi from Spank! Spank! is beloved by Tokyo's fairy kei girls because of its focus on cute things from the 1980s.
In addition to the kawaii artwork, the Sweet Streets exhibition brought cute Japanese fashion to California. Spank!, in collaboration with Los Angeles accessory brand Chubby Bunny, held a fashion show during the opening night party. A Spank! guerilla popup shop – complete with limited edition and collaboration items – opened at the gallery. Also at the opening was the Japanese artist and fashion designer Shojono Tomo, received quite a bit of attention in America this year when the singer Nicki Minaj (aka "Harajuku Barbie") wore her designs.
The Sweet Streets "American 80s in Japan" opening party was a huge event. So many people showed up that they had trouble getting everyone inside of the gallery for the Spank! fashion show. Many of those who attended the opening party dressed in cute and colorful Japanese fashion. Photographer Dave Tada was on hand to shoot the opening for us (as he did at last year's Sweet Streets exhibition). The Sweet Streets show closed on December 23, 2011. If you missed this one (or even if you made it), be sure to keep an eye out for next year's announcement!
Click any of the Sweet Streets pictures to enlarge them.
The list of artists who participated in Sweet Streets "American 80s in Japan" includes: 64colors, Abbott Okutani, Aguru Mukai, Angie Mason, Ayami Kawashima, Aya Masuda, Bei Badgirl, Betso, Casey Weldon, Chikuwaemil, Ciou, Eimi, Fawn Gehweiler, Greg Noppe, Harmony Gong, HIME+YOU, Hiromi Sato, Jeremiah Ketner, Joe Simko, Kayo Tamaishi, Keisuke Saito, Ken Garduno, Kevin Marburg, Lilidoll, Ludovic, Luke Chueh, Macotic, Madoka Kinoshita, Maria Rozalia Finna, MARKiii, Martin Hsu, Masshiro Obake, Mayumi Inoha, Misato Otake, Misa Tsutsui, Misha, Miso, Miss Kika, Mizna Wada, Naoshi, Natalie Shau, Plasticgod, Rudy Fig, Sheryo, Shigetomo Yamamoto, Shojono Tomo, Suzuki Suzama, Tansy Myer, Yoshimi Ohtani, yucachin, and Yumiko Kayukawa.
For more information on Sweet Streets, check any of these links:
Photos by Dave Tada.