Banana Fish No More: Japanese Fashion Brand Suddenly Closes Doors On 10th Anniversary
Sad news from Tokyo for lovers of cute, quirky Japanese fashion: the Harajuku-based fashion brand Banana Fish, famous for its kawaii character-based clothing designs, suddenly and unexpectedly shut its doors last week. The entire operation – including all physical stores (Harajuku, Shimokita, etc.), the online store, the press office, and the design office – was closed down immediately, and the entire staff was notified that they would be let go.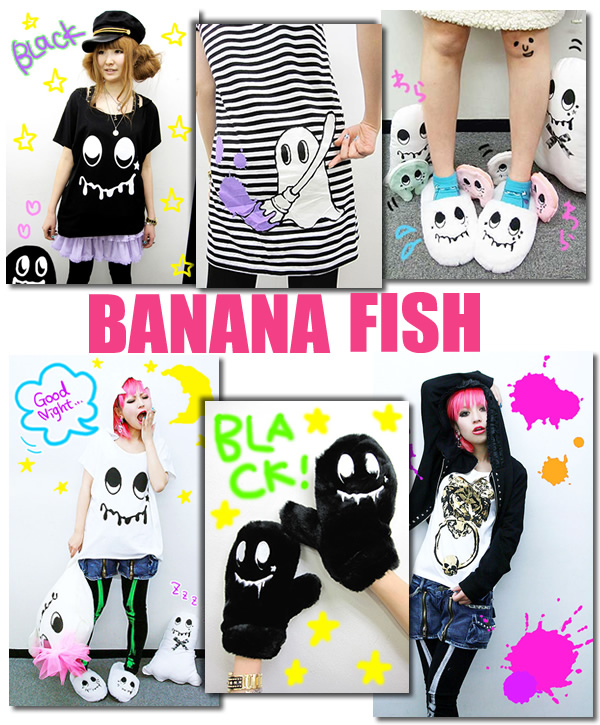 The closing came so suddenly that it shocked the staff and the brand's loyal customers, who have gone into mourning on the comments section of Banana Fish blog and on the Banana Fish Mixi group. On June 7th, the blog announced a big celebration for the 10th anniversary of the brand. Two days later, on June 9th, one of the staff from the press room made a blog post saying that the entire company was being shut down immediately. Stores were shut down on the same day (without any advance notice), leaving a general state of sadness and confusion.
The reason for the shutdown is not totally clear, but it appears to stem from some problem with the management of the company. In the four posts made on the official blog about the shutdown, there are references to problems with management that led to the decision, but there are no clear explanations. An excerpt from one of the staff blog posts (translated from Japanese to English) says, "The reason [for the sudden closing] is that the manager is now absent, and we cannot continue to do business with that being the case."
The Banana Fish brand had a cult following among certain Japanese girls. The always-cute artwork they create for their clothing features various popular characters who are involved in storylines that customers could follow on the Banana Fish blog. Those storylines are often used in the creation of new items of clothing or accessories available for sale from the stores or website. Even though it's not one of the biggest brands in Japan by any means, the girls who support the brand are very committed and engaged. Thus, the sudden end is being taken personally by many of these girls, as evidenced by the action on the Mixi group and the blog.
We've translated the entire "it's over" announcement from the Banana Fish pressroom staff from Japanese into English. We think that it will give you a good idea of the shock and surprise that everyone at the company felt when they heard the news. Remember, this blog post came just two days after a big announcement about the upcoming 10th Anniversary celebration of the brand's founding:
An Announcement

Hello! Moco here.

I have a very important announcement to make to today.

Banana Fish will be closing its doors and shutting down on June 9th, 2010 after ten years of solid activity since the first Banana Fish store opened in 2000.

I truly appreciate your patronage for all these long years.

As to why we are closing down our doors?

We are closing down all of our stores and breaking up the company now due to personal and unavoidable issues that the manager currently has.

The store and pressroom staff could do nothing to change this, and they all believe this to be a very regrettable situation.

We just announced our ten year anniversary event the other day, and the suddenness of this announcement honestly shook the staff as well.

New releases and events were all lined up, and we were looking forward to informing you as soon as we could, but now we are unable to and are all very saddened by this.

I still can't believe any of this and am kind of wondering if it's a lie for such a large brand to just suddenly disappear.

I truly apologize for any inconvenience or trouble this sudden announcement may cause you, the Banana Fish-loving customer.

Now for some of the business side of things, I am to inform you of everything that has been settled.

The following 5 stores (Sapporo Aruta, Yokohama Bibure, Takazaki Bibure, Sannomiya Bbure, and Fukuoka Bibure) will not be able to support any direct inquiries about the closing.

We will unfortunately and with many apologies be cancelling all items that we are holding on lay-a-way and mail back all the deposits to the customers.

Stores and offices that are our main contact will no longer exist so we cannot accept returned goods, repayments, or repairs.

Pointcards are no longer usable as of today, and coupons are invalid.

Any customer information that we have will be disposed of properly, so please do not worry about that.

We will leave the Banana Fish community on Mixi as a social network for our customers to stay in touch with.

I apologize deeply to those of you who have always loved Banana Fish, have come and shopped at our store, and have enjoyed reading our blog that the closure announcement must come in this form, but this was practically the only way.

To everyone that had any relation to Banana Fish, I say this with my deepest gratitude though I know that these words won't sufficiently express it, thank you for everything!!

I know that the staff here will go their separate paths, but I look forward to the day that I can see you all again!

From all of the staff at Banana Fish.
There are three other messages posted on the official blog since the above announcement was made – all of them from various staff members apologizing for the situation and sharing their sadness and shock. (If you are interested in reading English translations of those three posts, let us know in the comments section and we'll post them as well.)
One of the Banana Fish designers ended their final blog post with the following image. The message in the illustration was meant to lift the spirits of ex-staff and ex-customers alike, "Always Smile, Banana Fish Forever!"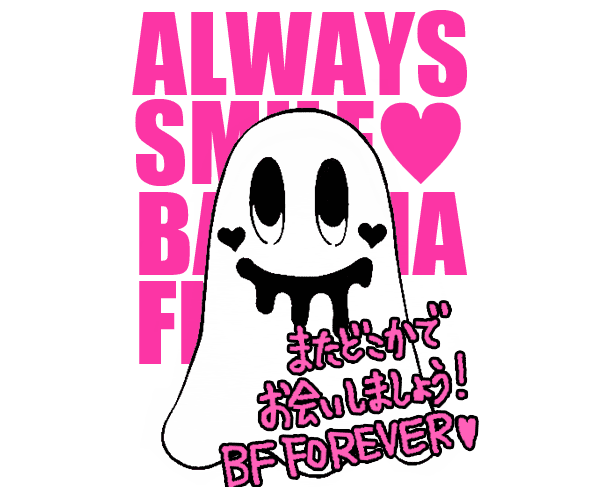 External Links: