SPANK! Tokyo – Kawaii 9th Anniversary Party Pictures & Video
SPANK! is one of the original 1980s-inspired super-kawaii fashion brands in Tokyo. When people around the world think of Japanese "fairy kei" fashion, the images that come to mind are fun girls dressed in cute-and-colorful pastel styles with mix-and-match resale and new fashion accessorized with 1980s toys and imagery. These are all elements of the Tokyo style tribe which congregates around SPANK! Tokyo.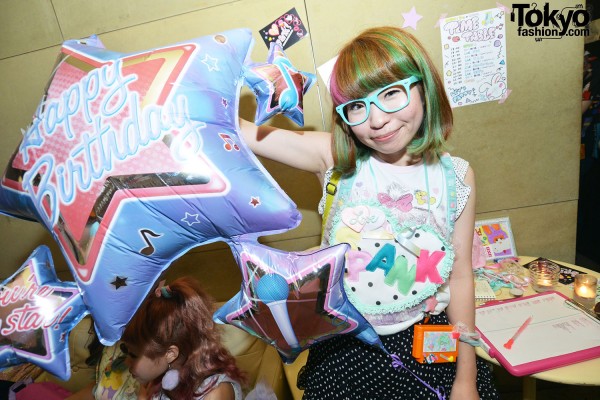 SPANK! was founded by Japanese fashion designer Tavuchi, an instantly recognizable personality around the streets of Harajuku, Koenji, and beyond! For the full story, check out our SPANK! Tokyo brand profile and interview with Tavuchi, which we published several years ago.
In 2013, SPANK! is celebrating nine kawaii years as an influential part of the Japanese fashion scene. When Tavuchi announced she was throwing a SPANK! birthday party – complete with cute Japanese fashion, Spank!Girlz, music, art, sweets, and more – there was no way we were going to miss it! So, TokyoFashion contributor Kaila (aka Rainbowholic) grabbed her camera and made a run for SPANK! HQ in Koenji! Enjoy Kaila's fun pictures and video. And please join us in wishing SPANK! a very very Happy 9th Birthday!
SPANK! Tokyo 9th Anniversary Video

Don't forget to Follow TokyoFashion.com on YouTube.
SPANK! Tokyo 9th Anniversary Pictures
Click on any of the SPANK! Tokyo photos to enlarge them.
Super happy birthday to SPANK! and all of our love to Tavuchi for making Japanese street fashion more fun with her vision and hard work! Also, a big thanks for inviting us to the 9th birthday party of the brand. We're already looking forward to the 10th anniversary party next year!
For more info on SPANK!, check out these links:
Photos & video by Kaila
***
About the filmmaker:
Kaila is a graduate of Bunka Fashion College's sister school — Bunka Institute of Language. She loves taking photographs, getting lost in her own world and discovering new places with her fisheye, making accessories out of boredom and blogging whatever goes in her Japan life. Also check out her new site JapanLover.me!