Grimoire Tokyo 7th Anniversary Party – Vintage & Antique Fashion Pictures
Grimoire is one of the most influential vintage/antique boutiques in the Japanese street fashion scene. Vintage fashion-loving young women from all over Japan look to Grimoire for style inspiration. The unique fairy tale-inspired vision of director Hitomi Nomura sets Grimoire apart from Tokyo's other vintage boutiques. Nomura spends much of her time traveling the globe, hand selecting one-of-a-kind items to be featured in the shop. While countless modern trends have come and gone in the years since Grimoire Tokyo first opened, Japanese lovers of vintage and antique fashion haven't wavered in their support of Grimoire.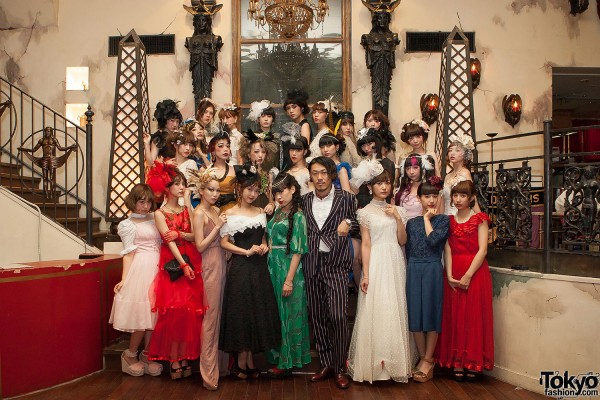 In July, Japan's fashion scene celebrated Grimoire's seventh anniversary with a big party at Christon Cafe in Shinjuku. As with other Grimoire parties we've covered (2nd Anniversary, 3rd Anniversary, 5th Anniversary Christmas, etc), a who's who of Tokyo's street fashion scene – including many well known models and personalities – attended to show their appreciation and love for the boutique, their founders, and their staff.
Grimoire hasn't just survived Japan's turbulent fashion scene over the last seven years – they've steadily grown. In addition to the original Grimoire Tokyo boutique, they now run a sister boutique Grimoire Almadel as well as the Notoria lifestyle shop and gallery space.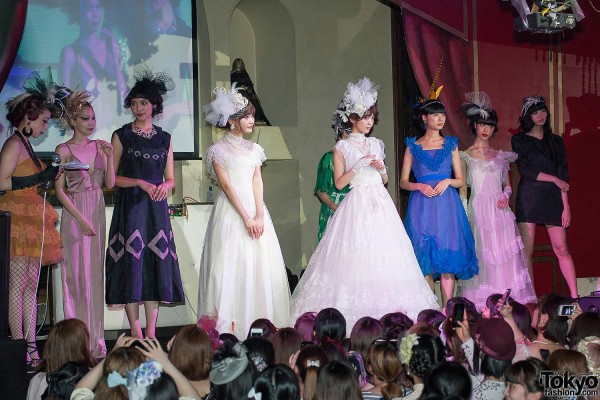 At the Grimoire 7th Anniversary Party, director Hitomi Nomura announced the launch of their new bridal-themed project, Grimoire Marriage – which will offer hand-selected vintage wedding dresses and headdresses.
We've attended most of Grimoire's major parties since the brand opened, so we were very happy to join them in celebrating their 7th anniversary. The vintage styling we see at Grimoire parties is like none other, so we always come back with lots of pictures. We hope that you'll enjoy seeing some of the fashion on display, but we highly recommend that you try to visit Grimoire in person and see what they are all about for yourself.
A big thank-you to Hitomi Nomura and Naoaki Tobe of Grimoire for inviting us to the party, and to all of the wonderful people we met and photographed at the party. For more information on Grimoire, please visit their official website and follow them on Instagram or Twitter.
Click on any Grimoire Tokyo photo to enlarge it.
Photos by Michael.
***
About the photographer:
Michael Steinebach has been fortunate enough to travel and see the world. Exposed to the limitless possibilities of photography 20 years ago, he grew up looking at things differently. He currently shoots in the areas of people, fashion, and news photography in Japan. He maintains a Facebook page with samples of his work. He can be emailed about contract work or with questions or comments on his photography.