Nude N Rude – Tokyo's "Bright Despair" Lifestyle Boutique & Fashion Brand
Nude N Rude is known for its alternative Tokyo boutique and edgy Japanese fashion brand. But the Nude N Rude founders' vision goes even further – encompassing music, art, and a way of life. Nude N Rude supports an underground lifestyle they call "Bright Despair". The intentional contradiction between the words "Bright" and "Despair" can been seen in every project in which the brand is involved. Nude N Rude's fashion – and other artistic endeavors – proudly alternate between gorgeous and grotesque, pretty and ugly, cute and scary.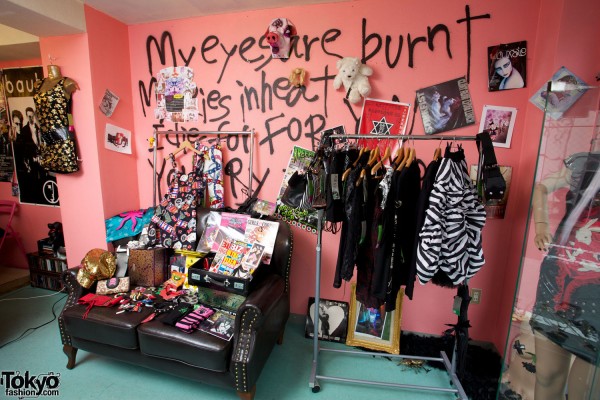 Founded in 2009 by Riria & Nana, Nude N Rude has launched an assortment of creative projects – from hosting parties to promoting bands to bringing artists into the shop for live painting to organizing elaborate visual performances. With everything else they have going on, though, Nude N Rude are still best known for the contributions to the Tokyo fashion scene.
The Nude N Rude boutique, located in a nondescript building in the Koenji neighborhood of Tokyo, easily stands out from the nearby resale and vintage shops. The mannequin in front of the store often wears a colorful wig and bondage gear. Through the window, interior walls covered in art/graffiti are easily visible. For those who miss all of the visual clues, the loud rock music blaring from somewhere in the back of the shop is a sure sign that you've arrived.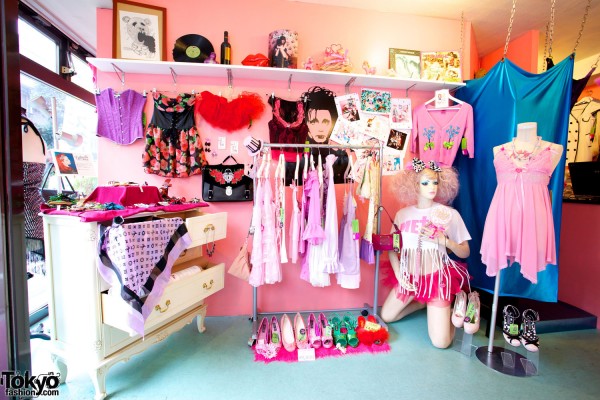 Nude N Rude stocks a mix of Japanese and international fashion brands, including a number of alternative and indie designers who aren't available anywhere else in Japan. The shop's inventory and designer list is ever-changing, but some of the current labels include Kreepsville 666, Lime Crime, Pleaser, Dollsville NYC, Chaos Royale, Sourpuss, ukiyo5, Iron Fist, and Nikki Lipstick.
In line with their philosophy of "Bright Despair", the majority of fashion available at Nude N Rude leans toward darkness but often with a cute twist. You'll find items inspired by gothic music (Siouxsie Sioux, Bauhaus & Edward Scissorhands in the house), punk, 1980s metal, psychobilly and pinup girl alongside fetishwear and steampunk items. One of the most unique items is a small shrine (or is that just a photo collage?) dedicated to mid-2000s "scene girls" (think Audrey Kitch, Jeffree Star, Jac Vanek in their prime). The shop also supports transgender and alternative lifestyle models.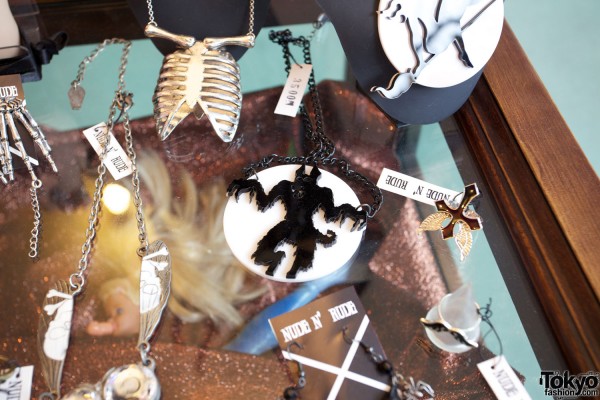 Nude N Rude Couture is the fashion brand designed by the founders of Nude N Rude. Most of the Nude N Rude Couture items are handmade, and many are one-of-a-kind. Like the rest of the project, Nude N Rude Couture items bounce back and forth violently from darkness to light. The Summer 2012 releases from Nude N Rude Couture include dark dresses featuring images of notorious criminals along with cute pastel lolita-inspired outfits and bunny ears. Nude N Rude is planning a major expansion of the Nude N Rude Couture line in the near future.
Nude N Rude is more than just a company selling clothing and accessories – it is the founders' passion, a lifestyle, and a vehicle to spread their vision of "Bright Despair". This passion is apparent to the creative young Japanese who congregate around the shop and their various events. The first time we ever met Hirari Ikeda, before she was well-known, she was wearing an outfit from Nude N Rude. Hirari continues to frequent the shop, and was a featured model in one of their most recent catalogs.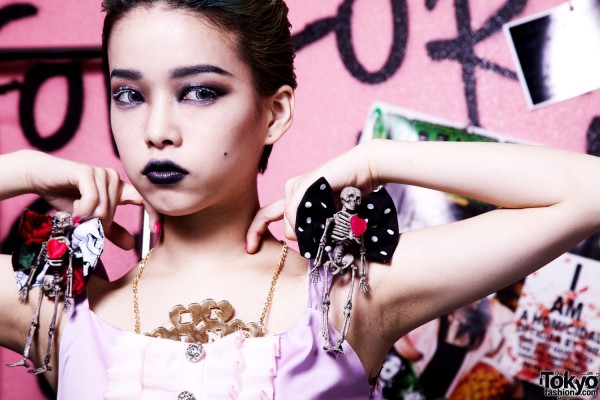 When we went to Koenji to photograph the Nude N Rude boutique for this profile, Riria – one of the brand's founders – was nice enough to invite Hirari to be part of the shoot. The pictures will give you a peek inside of the shop until you have a chance to visit for yourself. Hirari is modeling some of the items that Nude N Rude stocks. We want to send out a big Thank You to Nude N Rude and Hirari Ikeda for allowing us to share all of these pictures with you.
Click on any of the Nude N Rude & Hirari Ikeda x Nude N Rude pictures to see them in high resolution.
Hirari Ikeda for Nude N Rude Koenji
Click any of the Hirari Ikeda x Nude N Rude pictures to enlarge them!
Nude N Rude Koenji Shop Pictures
Click any of the Nude N Rude pictures to enlarge them!
Once again we would like to thank everyone at Nude N Rude (Riria & Nana) as well as Hirari for allowing us to share these photographs, and for answering all of our questions. We definitely recommend that you head out to Koenji and check out this one-of-a-kind shop for yourself the next time you're in Tokyo.
Here is all of the information you'll need if you want to visit Nude N Rude:
All photos by Kira.
***
About the photographer:
Born in Japan, educated in Japan and the US, Kira shoots exclusively with Canon DSLRs. Photography assignments include fashion, bands, sporting events, and portraiture for various companies and bands throughout Japan & the world. His portfolio can be viewed at Artist-Photo.