Yoyogi Flea Market – Pictures & Video From Tokyo's Hippest Open-Air Resale Market
Resale and vintage fashion is booming on the streets of Harajuku. Most of the stylish Japanese girls and guys we snap put together their outfits from an ever-growing list of Tokyo resale shops. But some resale-loving fashionistas know about a not-so-secret (and cheaper) alternative – the Yoyogi Flea Market!
To say that the Yoyogi Flea Market is the hippest flea market in all of Tokyo might be a bit of an understatement. On a recent day, during a two-hour visit to the market, we ran into lots of familiar Harajuku street snap personalities out searching for deals – including Coi (the owner of Bubbles Harajuku), Guppy, Equador, Harue, and FRUiTS Magazine favorite Manapyon. Many of the fun and friendly sellers at the Yoyogi Flea Market are the same young people you see in Japanese street fashion magazines – sometimes selling off the actual clothing that they wore in a magazine. If we were making a list of fashionably fun ways to spend a weekend morning in Tokyo, shopping for resale fashion with Harajuku kids at the Yoyogi Flea Market would definitely be in our top ten!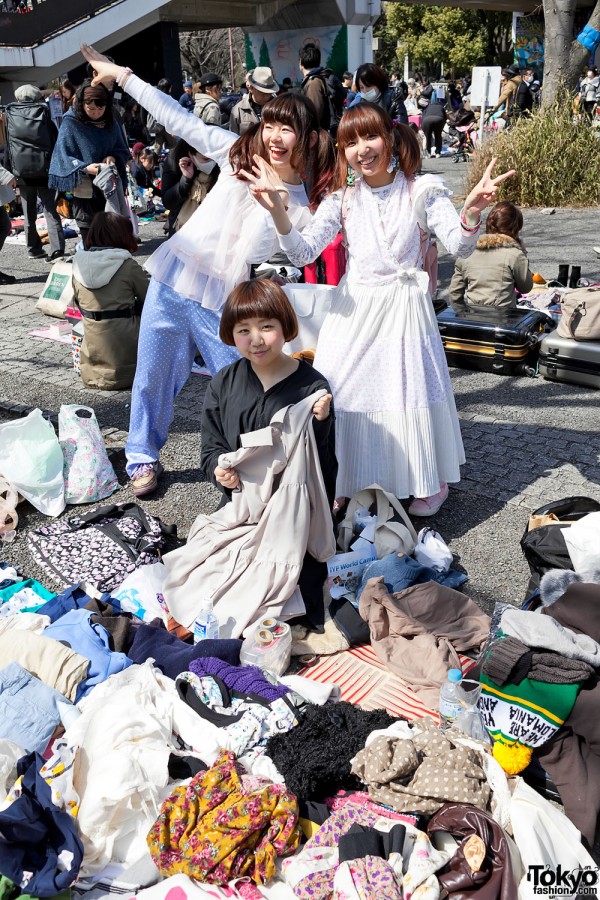 Started in 1981, the Yoyogi Flea Market claims to be Tokyo's first modern flea market – and it's still going strong. Because of the low cost to vendors (under USD$40) and close proximity to the fashionable streets of both Harajuku and Shibuya, the market's shopping and selling base leans younger than other Tokyo flea markets.
The weak economy over the last few years along with the boom in used clothing shops – from lower-cost destinations like WEGO and Panama Boy to high-end vintage boutiques such as Berberjin and Kinsella – has created a new generation of fashionable shoppers who appreciate both the reasonable prices and the fun of the flea market experience. The emergence of Tokyo street styles like Dolly Kei and Cult Party, which use vintage pieces extensively, has also helped to drive fashion-seekers in their teens and twenties toward the Yoyogi Flea Market.
The Yoyogi Flea Market is open only to sellers of recycled/used goods. The purpose of the market is to promote the environmentally-friendly practice of reselling usable goods rather than throwing them away. No professional sellers are allowed, which gives the market the feel of a hip garage sale. All sorts of clothing and accessories can be found – from acid wash to leather jackets and purses to vintage concert tees to sequined dresses. But clothes aren't all that's on offer. There are plenty of cute stuffed animals, vintage vinyl records, lunch boxes, a wide variety of trinkets and things that we couldn't identify (but wanted to buy anyhow).
We know that not all of you live close to Harajuku or Shibuya, so we decided to go out to the Yoyogi Flea Market and bring back some pictures and video to share with you. We tried to give you a good sampling of the buyers, the sellers, and the various items on sale. Of course, the best way for you to experience the Yoyogi Flea Market is to come to Japan and see it for yourself!
Yoyogi Flea Market Video

Please subscribe to the official TokyoFashion YouTube Channel!
Yoyogi Flea Market Pictures
Click any of the Yoyogi Flea Market pictures to enlarge them.
The Yoyogi Flea Market is awesome, but they don't really have an English language website. In fact, the flea market is organized by several different groups, so they have multiple websites. It gets a little confusing to try to figure out exactly what's going on and when (dates and hours vary, though it's usually on Sundays from 10am to 4pm), but the Tiger Festival Website might be your best bet if you're scheduling a trip.
If you're wondering exactly where the market is located, it's about a 10-15 minute walk from either Harajuku Station or Shibuya Station. It's located at the very end of Shibuya Koen Dori, where the walking part of the street hits Yoyogi Park (in the area of the famous NHK TV Studios, Shibuya A/X, and the Olympic Stadium). You can see the exact location on this Yoyogi Flea Market map.
These are some groups that organize or help to schedule to the Yoyogi Flea Market (all in Japanese):
A big thank you to all of the flea market buyers and sellers who were nice enough to let us take their pictures and video!