Shibuya Christmas Pictures 2010
Happy Holidays everyone! It's time for another Tokyo Christmas 2010 photo walk. This time, we're going to walk all over Shibuya. There is no other place in Tokyo (or in Japan, or on the planet) like Shibuya. I've been all over the world and I've never seen style done to quite the extreme that it is here. The heart of Shibuya's fashion scene is undoubtedly the famous Shibuya 109 department store, but that is by no means the only place to shop in this neighborhood. We've already covered Shibuya 109's Christmas promotion with Girls Generation, so this walk will focus more on the rest of town. And there is a lot more to Shibuya than just 109!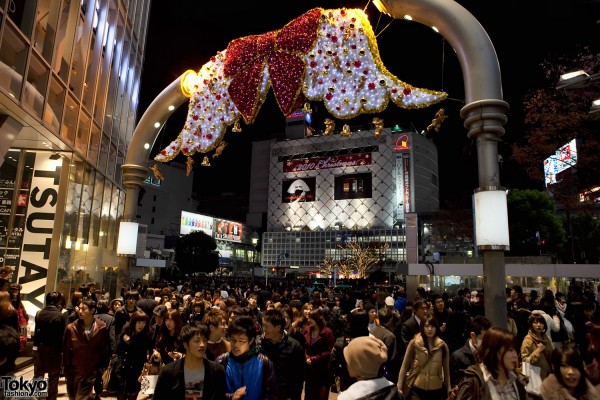 Shibuya is a dense place, and planning these walks is never easy. We want to cover as much ground as possible in the time available (between dark and when the shops close). For this walk, we've decided that we're going to focus on the areas in the center of town (around Center Street) and also the large group of shops between Shibuya Koen Dori and Fire Dori. We'll also hit a bunch of other spots along the way, and no doubt we'll find some unexpected things randomly as well. We won't be able to cover every part of Shibuya, and we may have to walk in circles a few times, but don't worry, we (probably) won't get (too) lost.
If you're ready, let's get started on this year's Shibuya Christmas Photo Walk! Remember, you can click on any of these photos to see them in high resolution. In some cases, you really need to click the picture to see all of the details!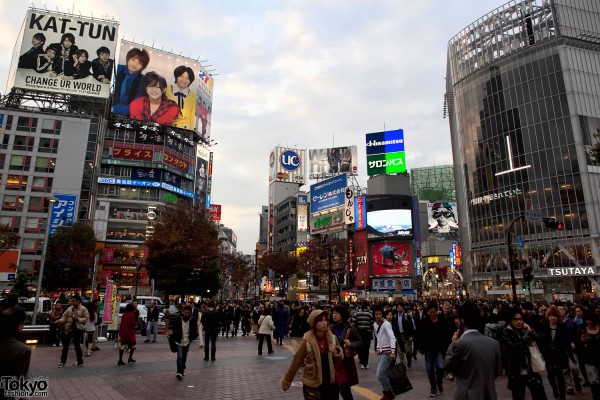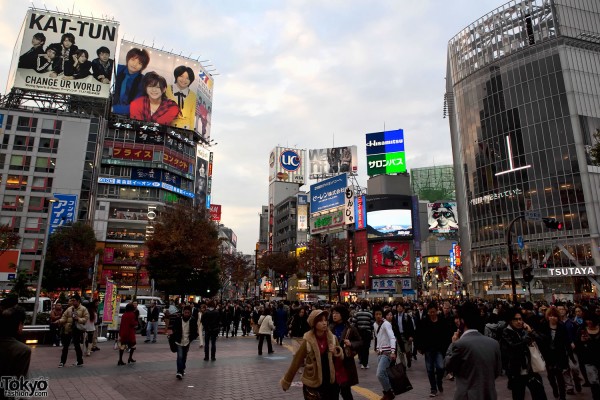 We're starting this photo walk in a pretty obvious place – Shibuya Station. We came in on the Yamanote Line, so we exited the station near Hachiko like hundreds of thousands of other people do every single day. The view that you see here is us looking out at Shibuya with our backs to the station. It's not quite dark yet, but many of the holiday lights are already on – even in the twilight.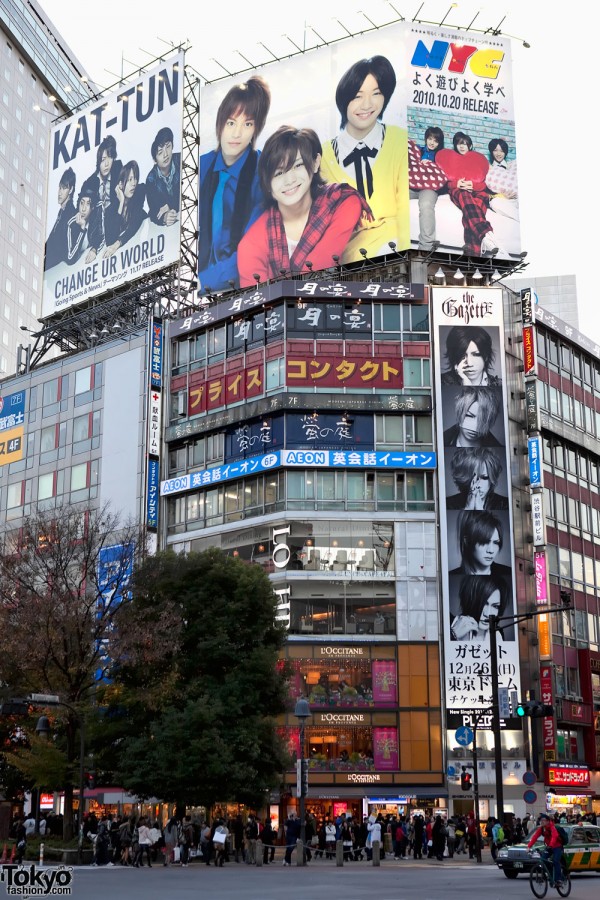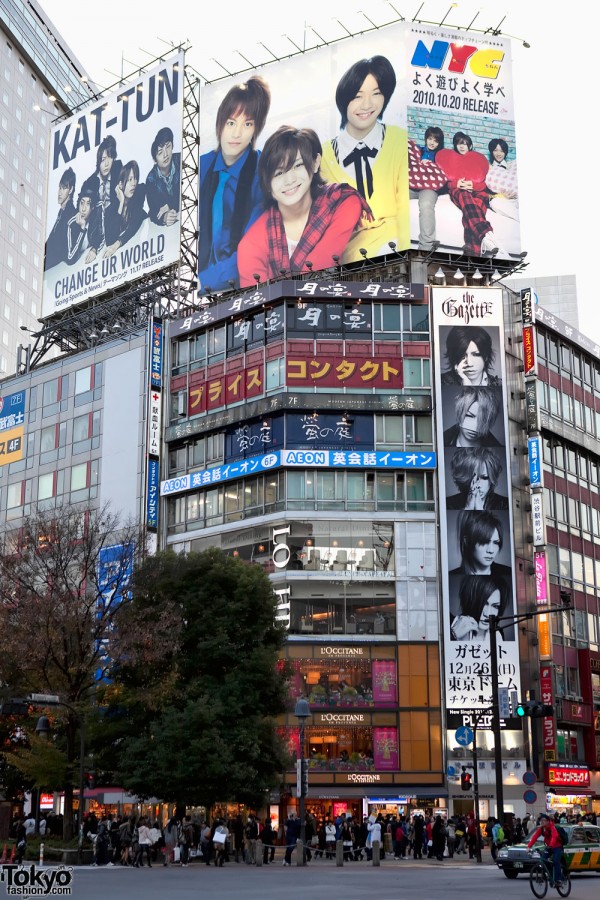 Here's a closeup of a JPop (Kat-Tun) vs. JPop (NYC/Hey Say Jump!) vs. Visual Kei (the Gazette) battle going on at the top of a building near Shibuya Station. On the ground level, you can see the L'Occitane cafe decorated up for Christmas. We'll get a better view of that soon.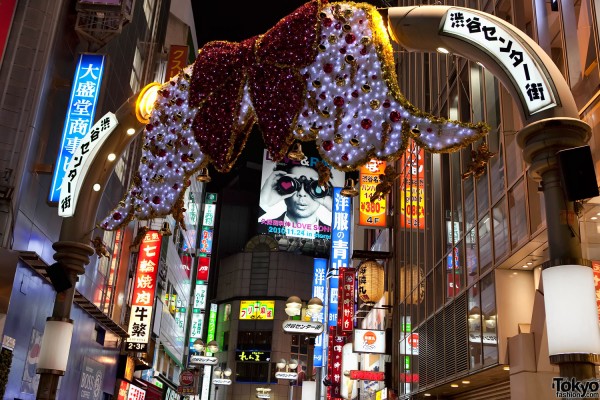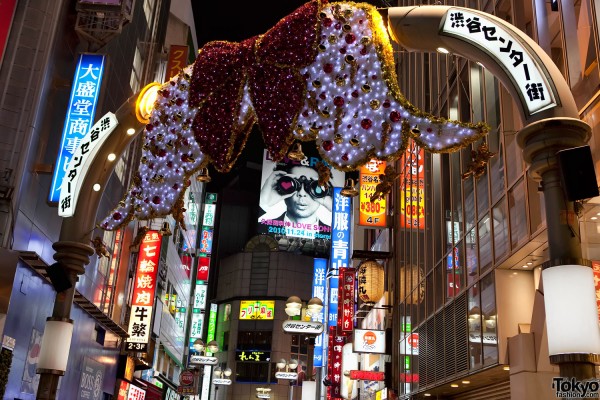 Now we've crossed the famous Shibuya Scramble intersection and we're looking up Center Street. Notice the missing HMV sign in the distance? That's because it closed this year. Sad! We aren't going to walk up Center just yet.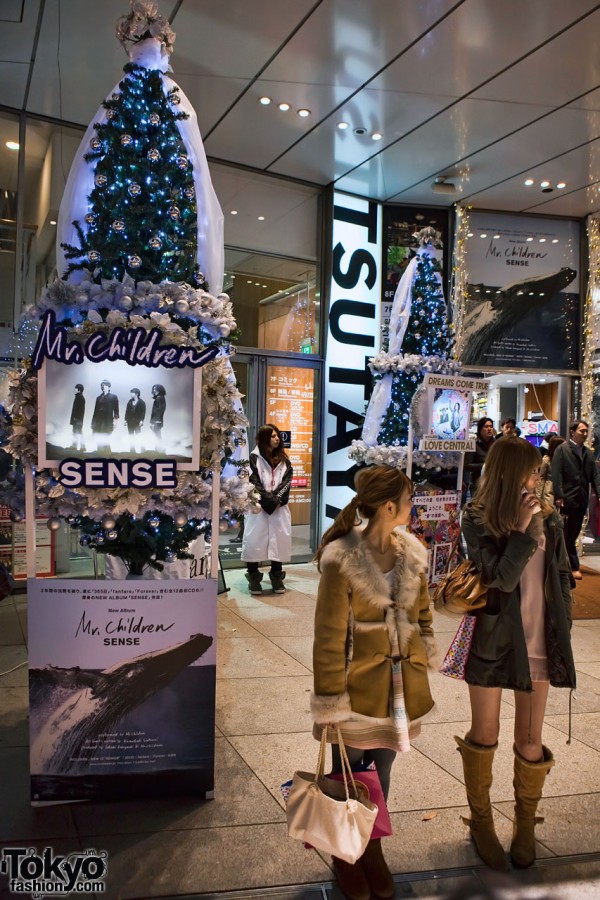 To the right of the last photo, just past Starbucks, is the Tsutaya store. In front of Tsutaya, they've got a few music-related Christmas trees. This first tree is promoting the new Mr. Children album "Sense". Nice shearling coat on the girl to the right!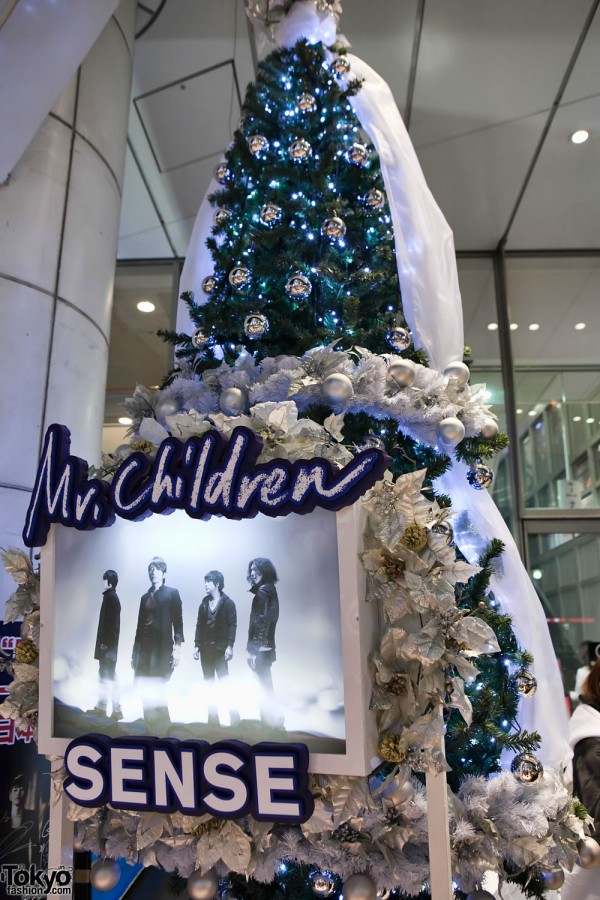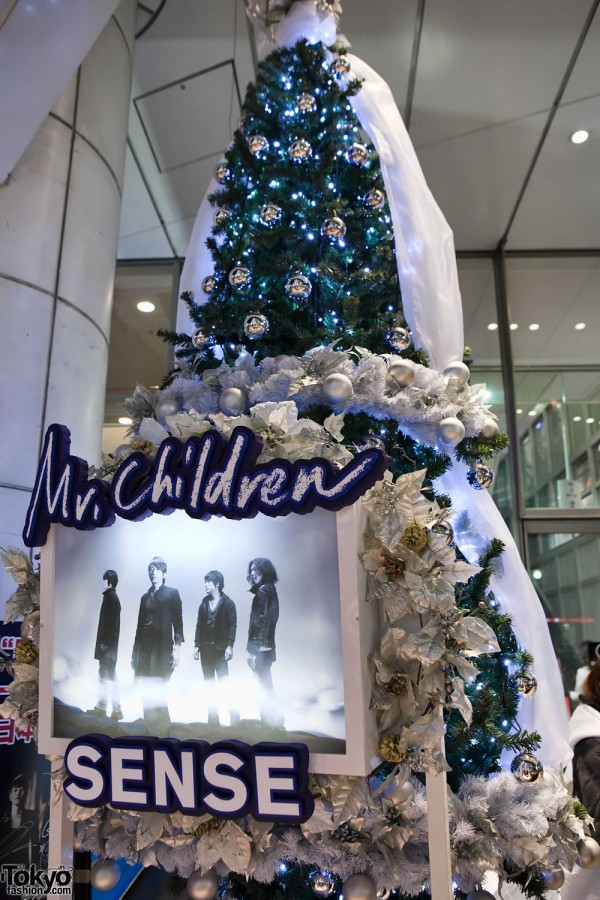 Here is a close-up of the Mr. Children Christmas tree.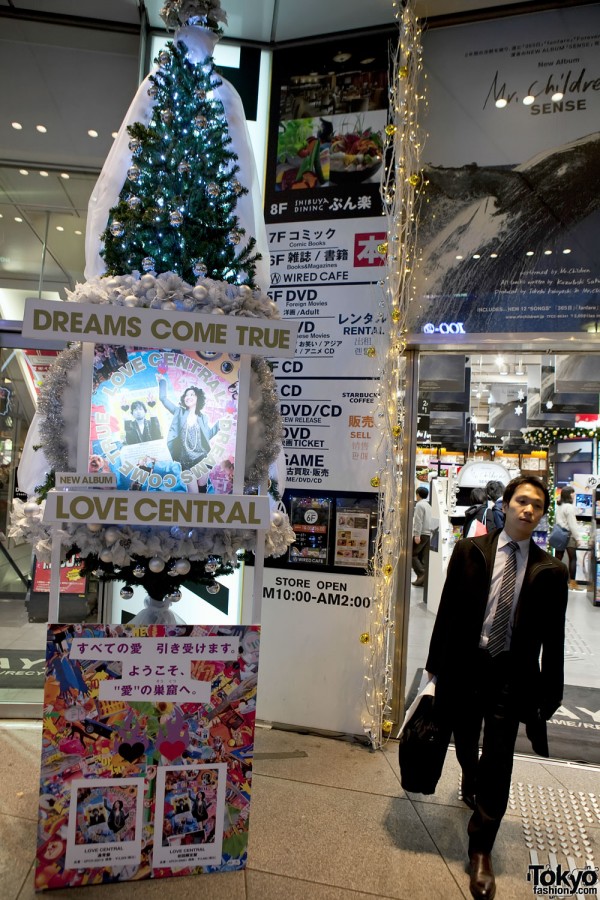 In case you aren't into Mr. Children, how about this Dreams Come True Christmas tree, which promotes their new album "Love Central"? If you aren't into that either, maybe check out that guy's suit!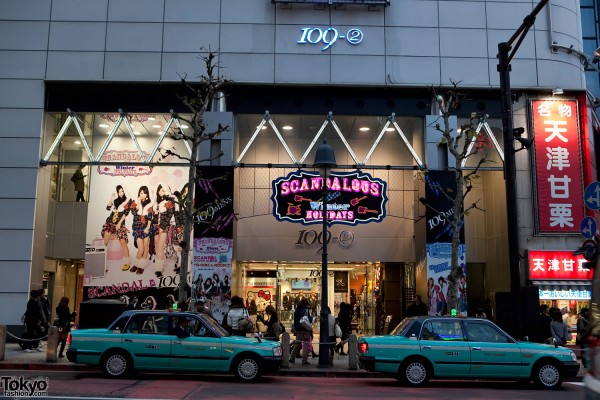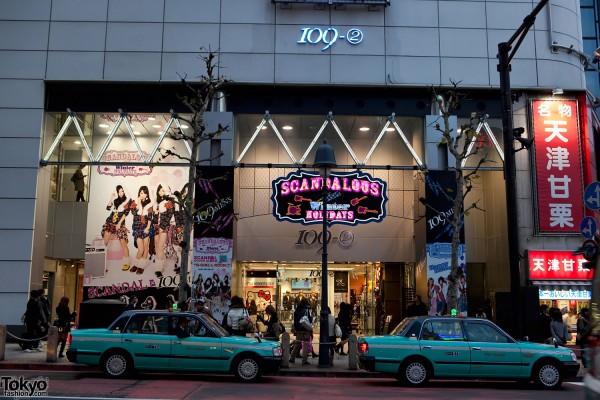 Turning directly around while standing in front of Tsutaya, we can look across the street and see Shibuya 109-2. Part 2 is the menswear version of the department store. As you can see, Shibuya 109-2 is having a "Scandalous Winter Holidays" campaign featuring the JPop band Scandal. If you want more Scandal pics, check out our full Shibuya 109 "Scandalous Winter Holidays" coverage!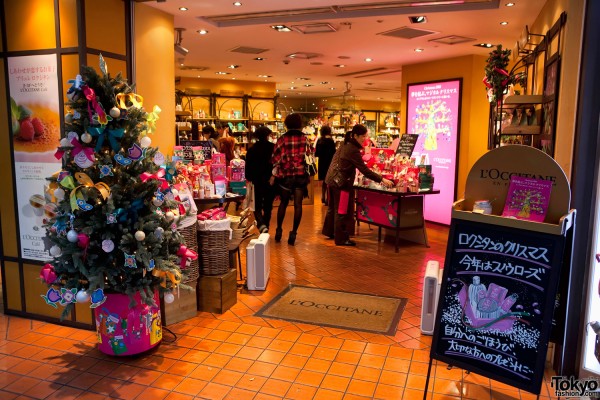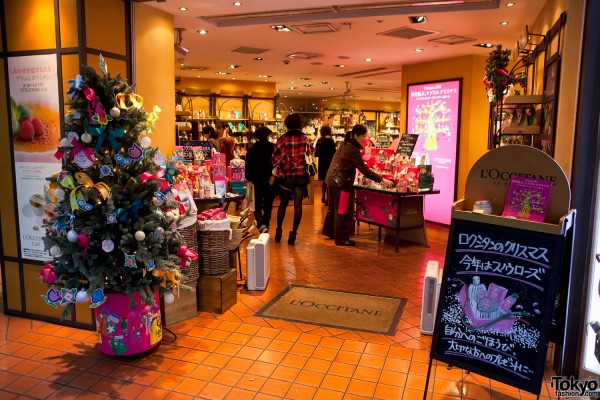 Okay, before we get too far off track, we're doubling back past Center Street and heading up toward Shibuya 109. Here is the L'Occitane shop that we saw in one of the earlier zoomed-out photos. They've got a nice X-mas tree. You can see people shopping inside.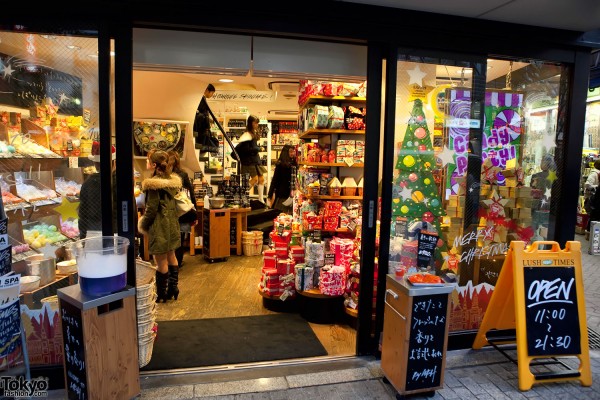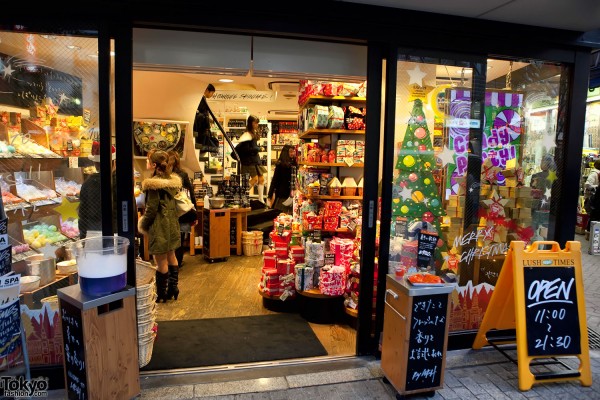 Practically right next door to L'Occitane is the Shibuya Lush shop. Their Christmas tree appears to be cardboard, but there are still plenty of shoppers.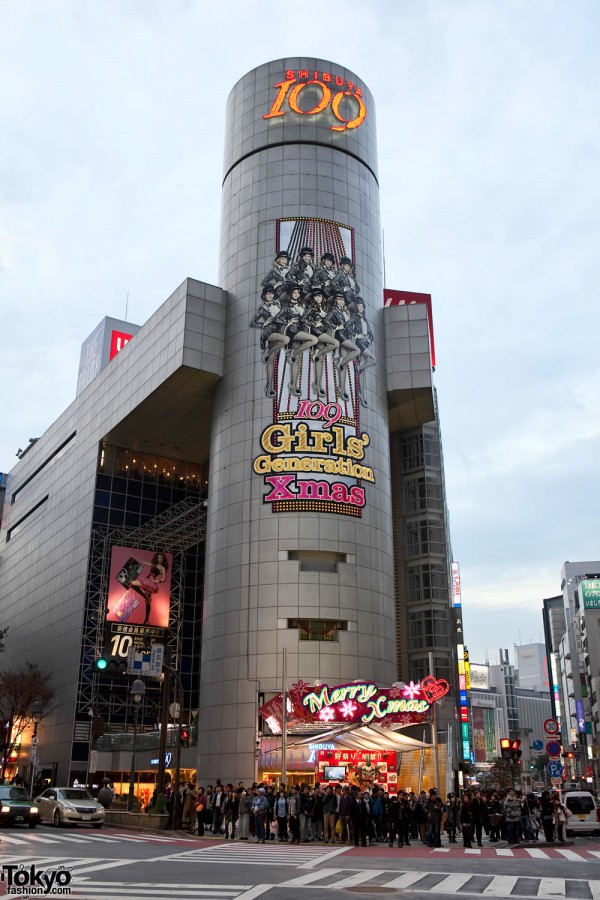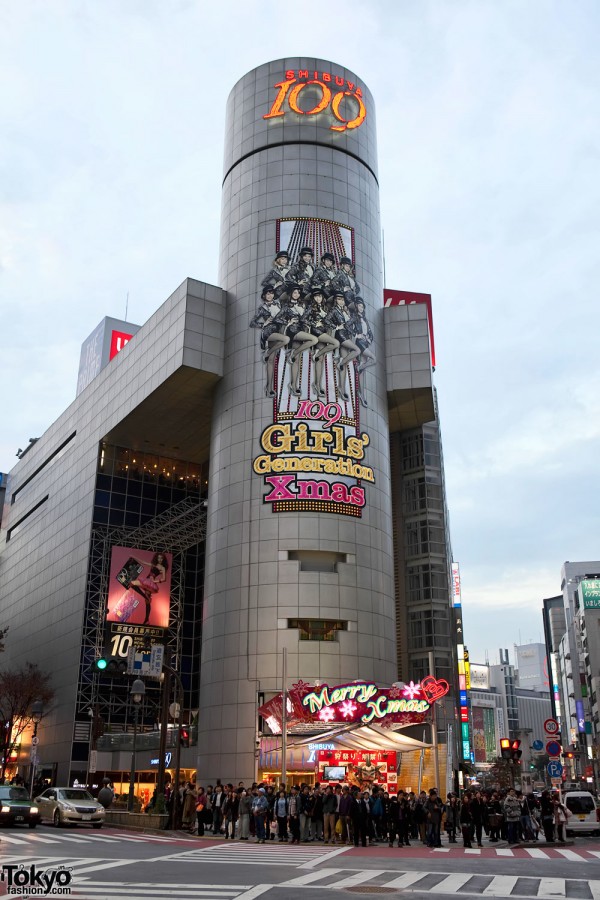 Up the road a bit, we can very clearly see Shibuya 109. This year, Shibuya 109 is having a Girls Generation Christmas. For pictures and video of this promo, check out our related article, Girls Generation (SNSD) x Shibuya 109 Christmas.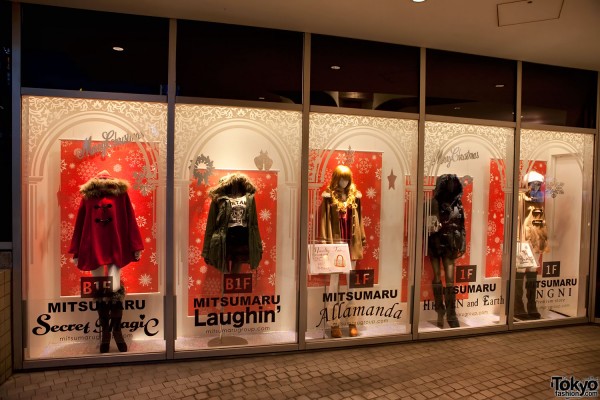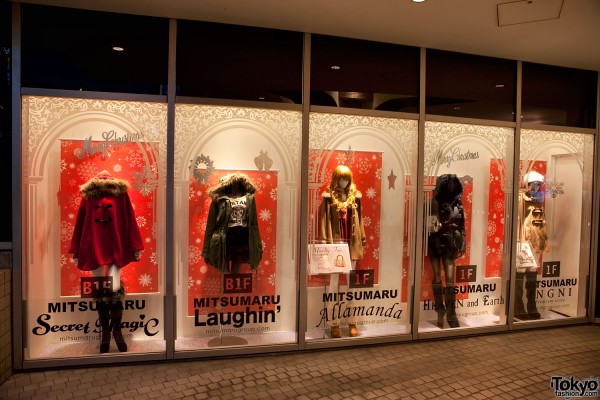 This is a Christmas display outside of the front doors of Shibuya 109 for many different fashion brands (Heaven and Earth, Ingni, Secret Magic, Laughin', etc.) under the Mitsumaru Group.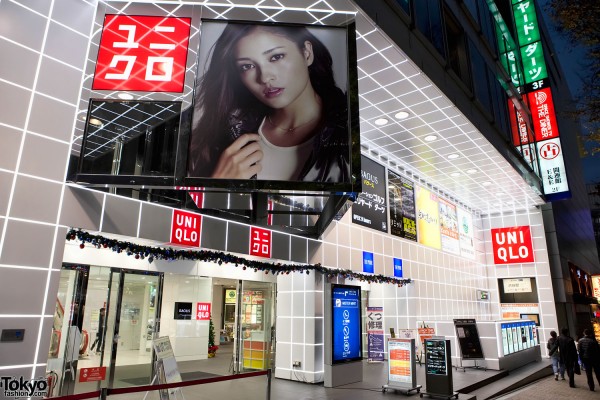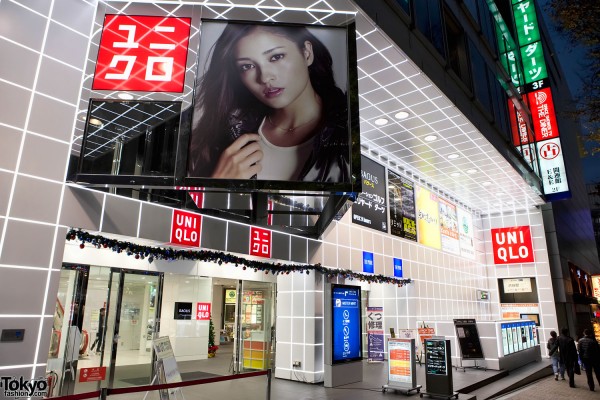 We've veered left at Shibuya 109, and are now walking by the huge Shibuya Uniqlo store. The outside of the store isn't super Christmas-y, but I love the futuristic look of the white tiles and lights.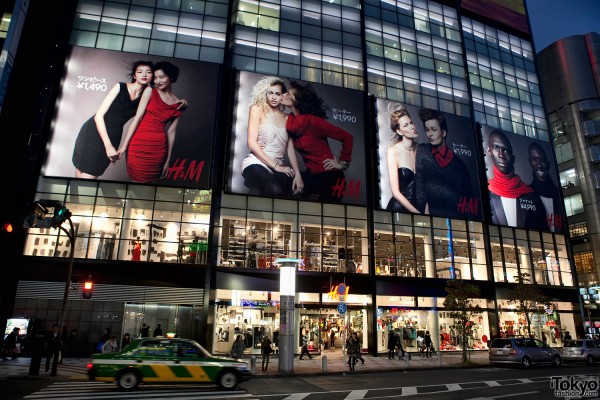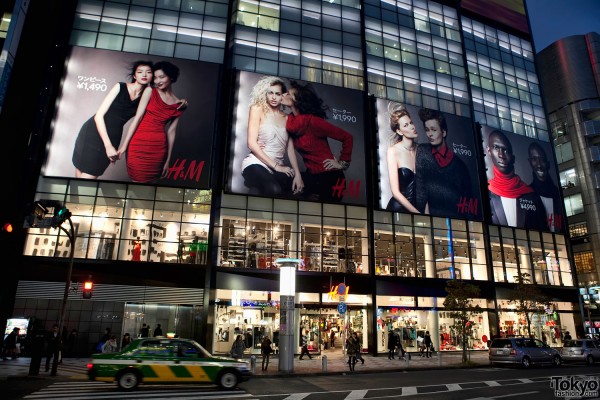 We didn't find too much fashion x Christmas up the Uniqlo road (mostly there are just love hotels), so we took a hard right and headed back down toward central Shibuya. Here is H&M Shibuya. Do they celebrate Christmas in Sweden? :-) Well, at least some of the clothes on the side of the building are red!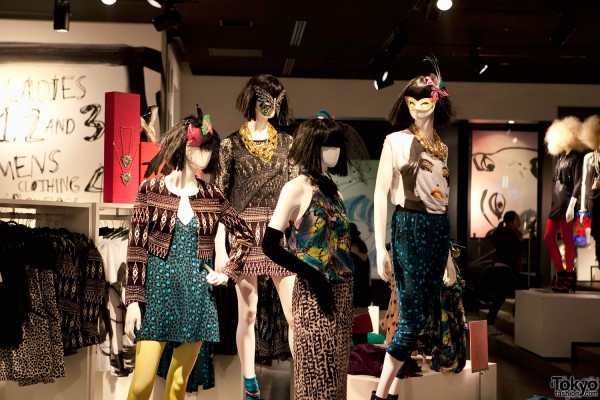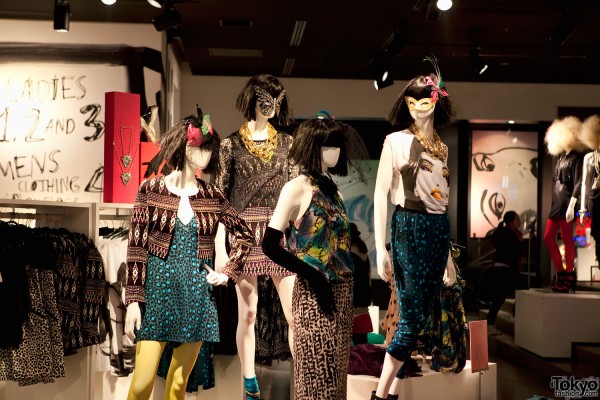 A shot of one of the H&M windows. There's still not much Christmas, but at least it looks like maybe the mannequins are going to an end-of-the-year masquerade party.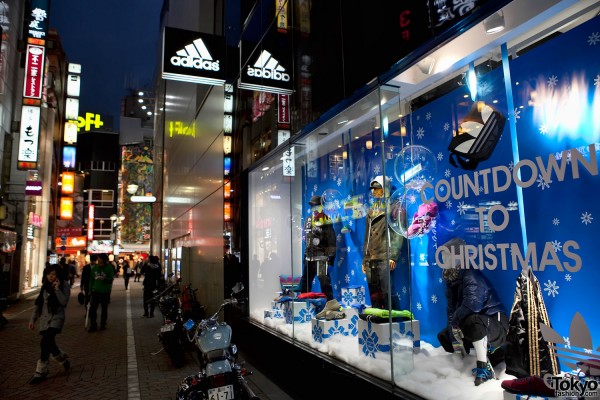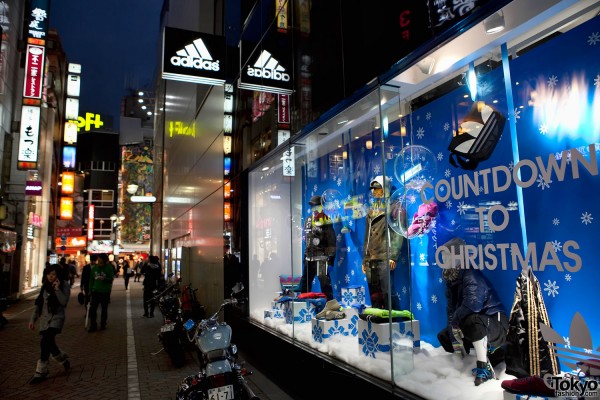 Now we've walked back down the street on the other side of Shibuya 109. Here is the Shibuya Adidas flagship store. (I guess they do celebrate the holidays in Germany!) There are a couple of Harley-like motorcycles in front of the window. Apparently Adidas pays their shop staff pretty well? :-)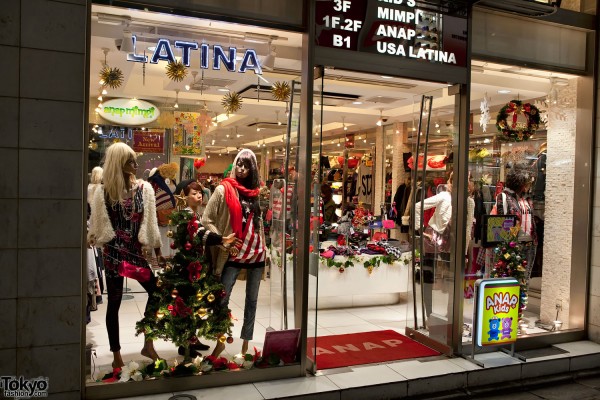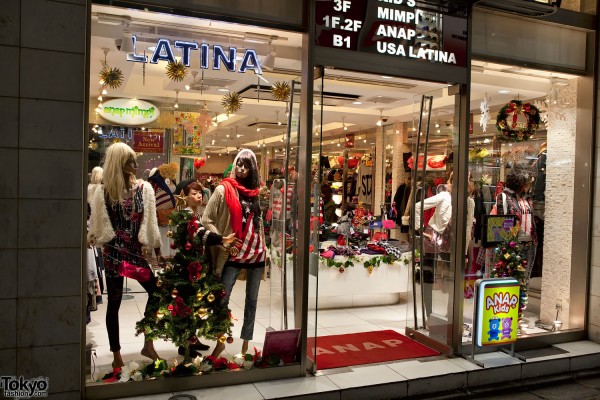 Look – there's a live girl in the ANAP window with the mannequin! Very strange, that.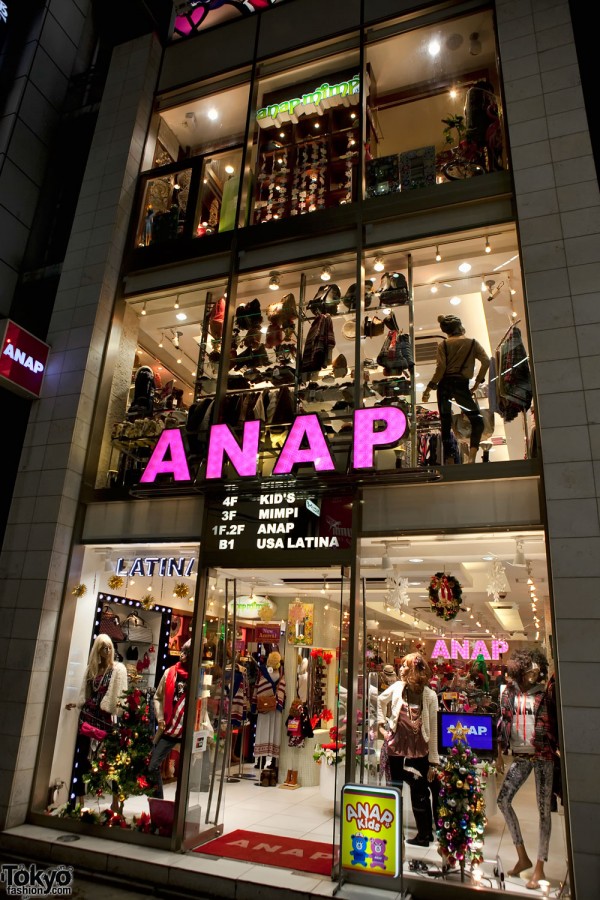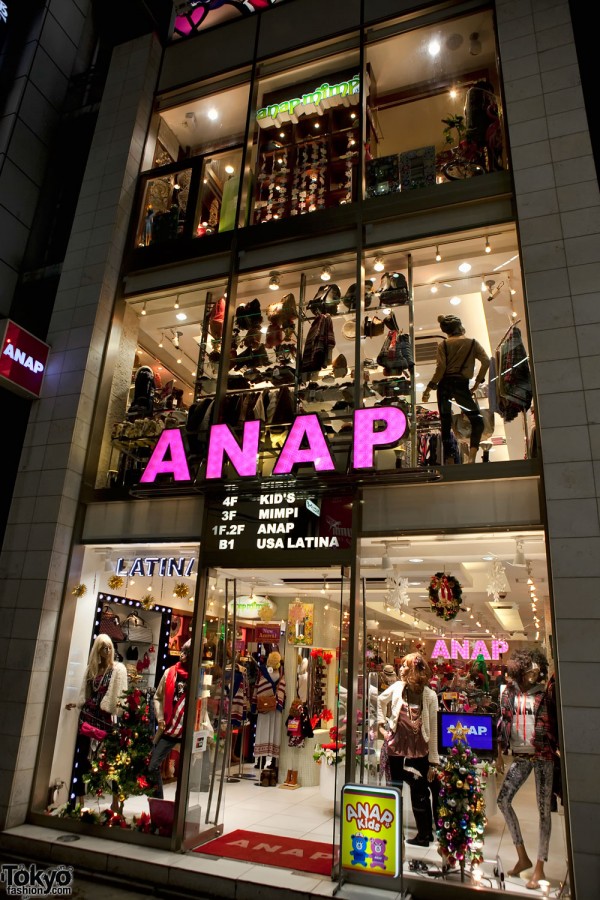 Here is a wide view of the holiday-decorated ANAP Shibuya store. Their most awesomely named sub-brand is "USA Latina". Very specific!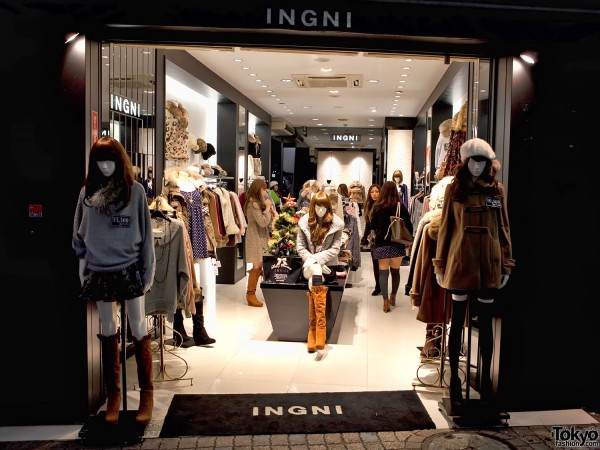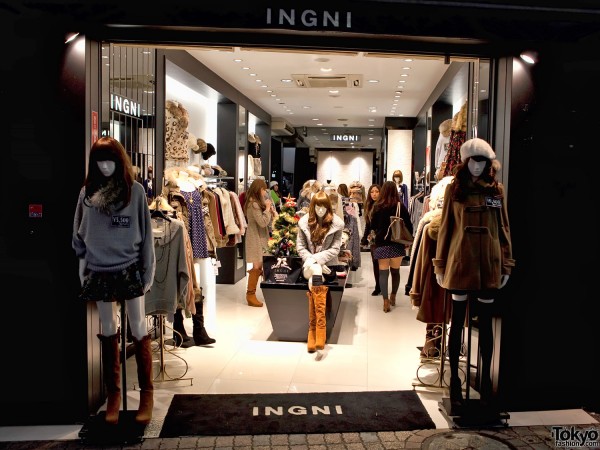 Here's Ingni with a little Christmas tree inside. If you zoom this photo, you can actually read some of the prices on the clothing. How's that for detail?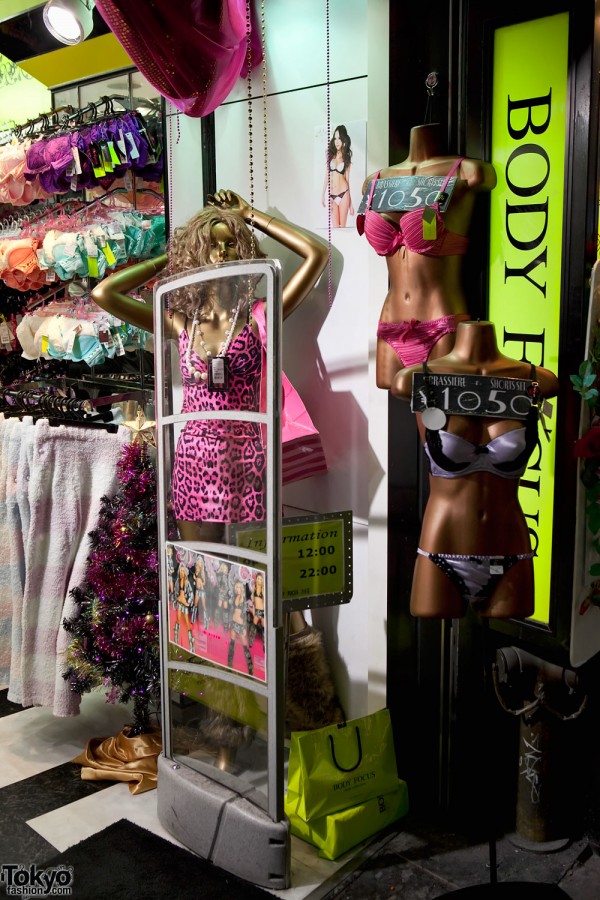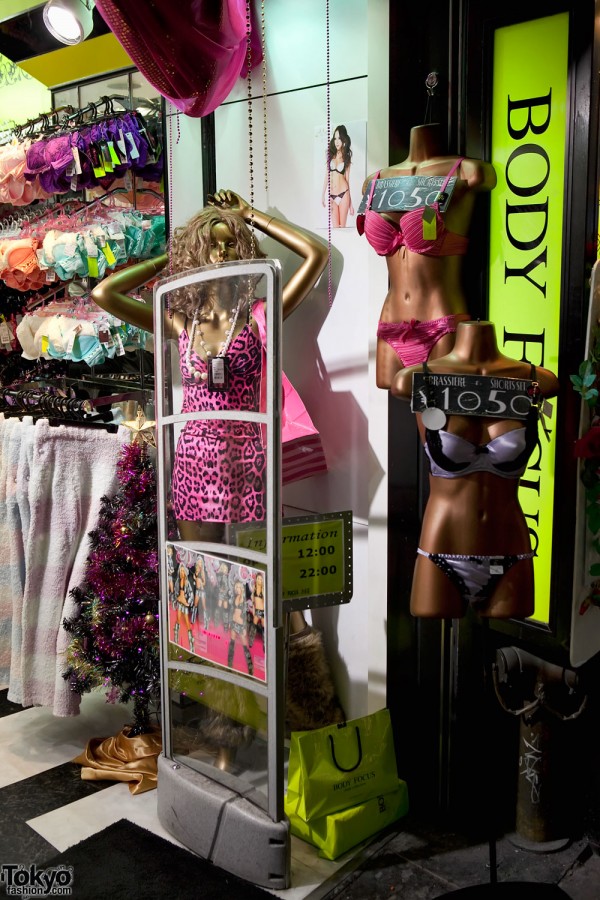 Now we're on Center Street. This is the Body Focus store. It's not a very good photo of their Christmas tree, but who would notice a tree when that insanely bright pink leopard print slip is in the frame anyways?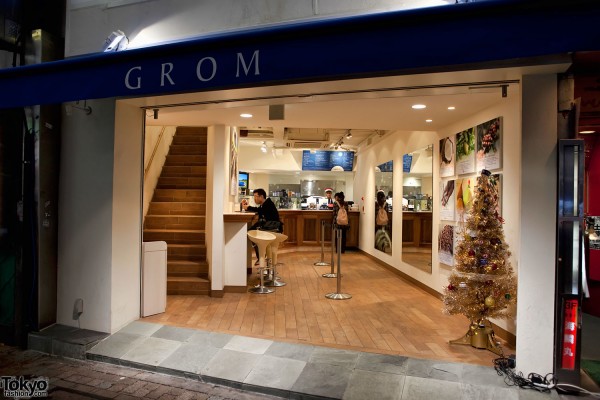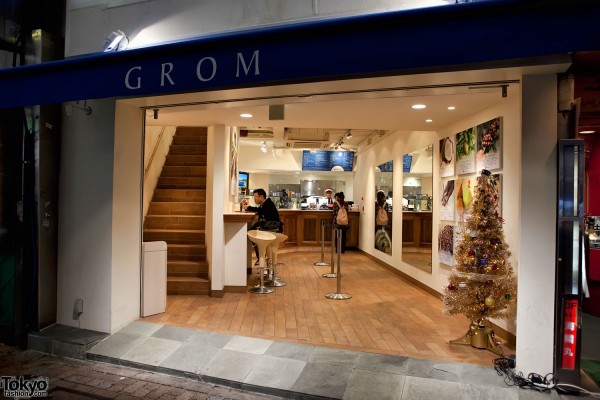 Passing by the Grom Italian Gelato shop on Center Street, I suddenly feel very distracted from my photographic duties. Probably no time for stopping, but the interior of the shop is nice and clean, and the gelato looks tasty. And look at that tree… Maybe just a small…? No? Okay, on we go!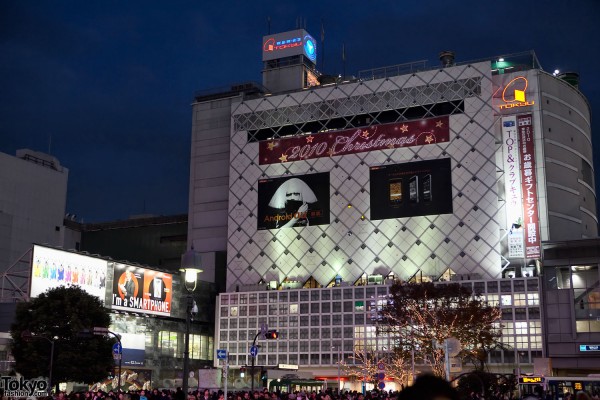 Now we're back at the bottom of Center Street. We took a picture up this street earlier, now we're shooting back at Shibuya Station where we came from. The first picture in this article (before the photo walk officially starts) is an alternate take on this photo. You can see Lady Gaga on the side of the station, if you have good eyes.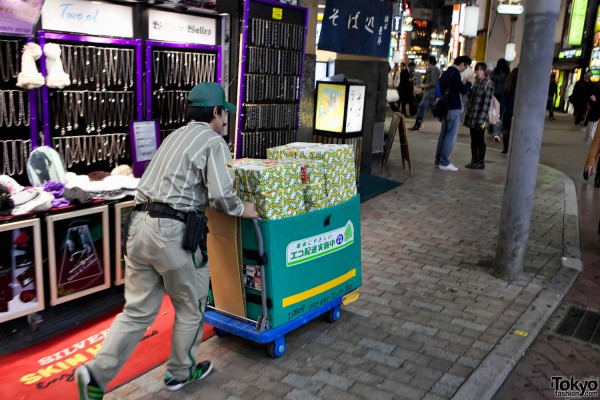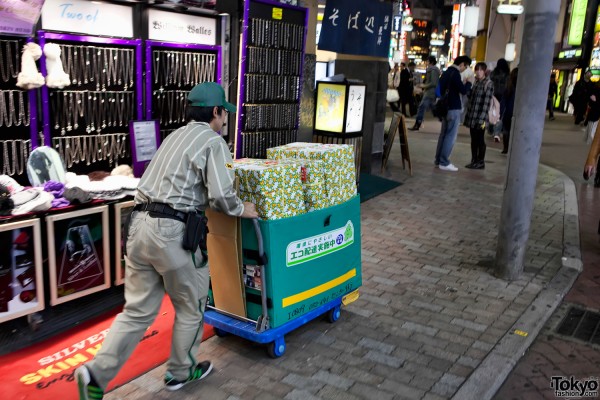 Now we've turned around and we're heading back up Center Street to get some more of the shops away from the station. Let's chase this guy pushing a cart filled with Christmas presents that were obviously intended for us! Run!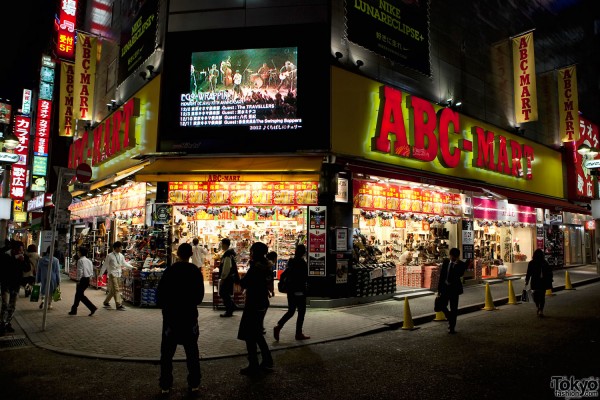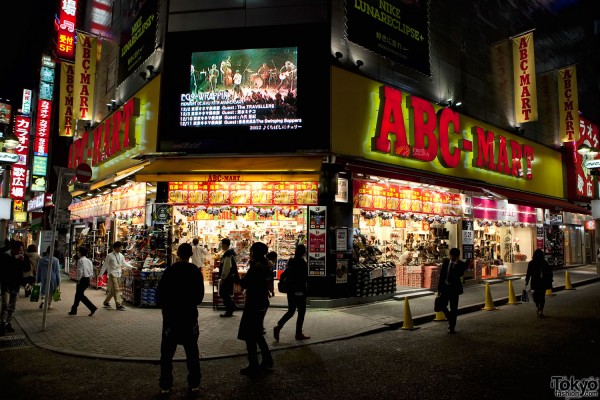 Okay, the guy with the cart escaped, but we found ABC Mart on Center Street. If you're looking for cool sneakers, this shop has it all. Also, some of the most hardcore Shibuya fashion (gyaru & gyaru-o) can be seen in this area on any Friday or Saturday night. This is also where we used to see lots of Yamanba and Ganguro back in the day. Hey, there's Ego Wrappin' up on the monitor in front of the shop.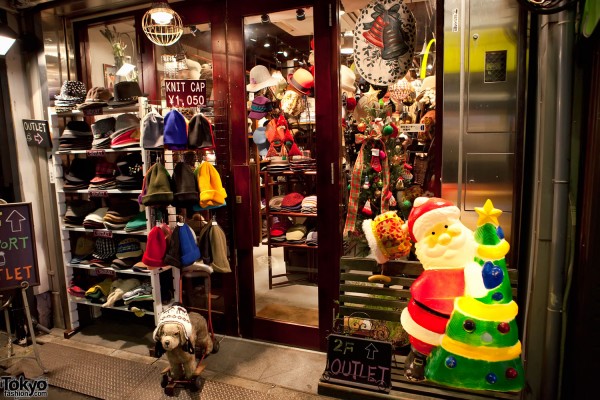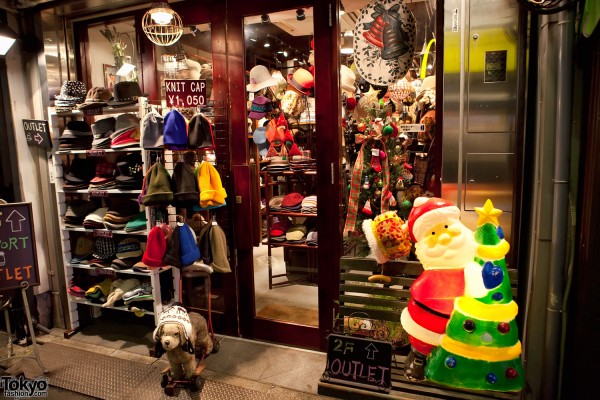 Here's a cute little hat shop with a cute little lighted Santa Claus, just a bit further up Center Street. There is also another gelato place next door, and they use honey instead of sugar, or something organic like that. Maybe we should stop at this one? No? Okay.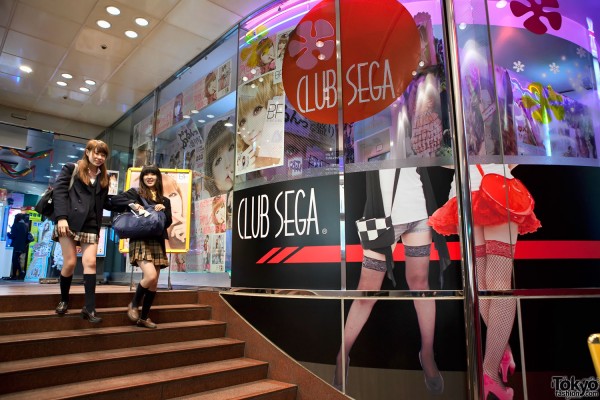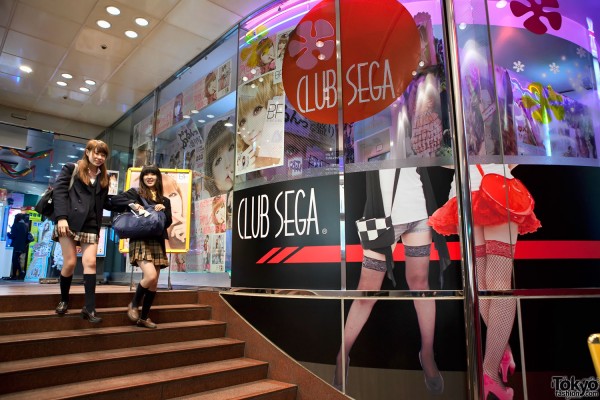 While arcades have pretty much died in most places on Earth, Tokyo still has quite a few. Here is the Shibuya Club Sega. If we had more time, we could go in and play some video games or medal games.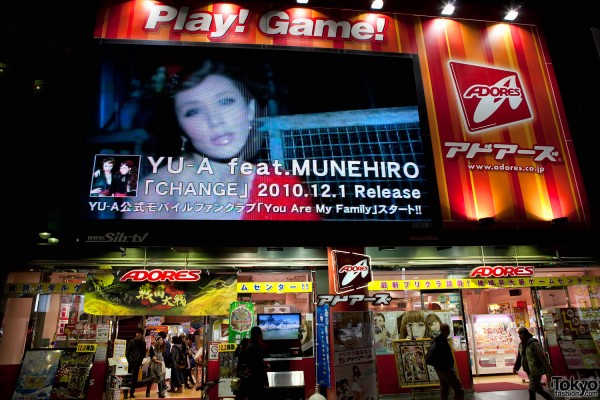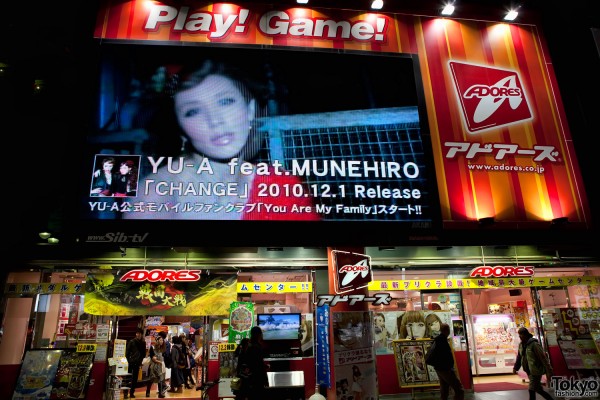 Speaking of arcades, here is a massive video screen above the Adores Shibuya arcade. It's not unusual to see big screens like this around Tokyo, but this one is literally in-your-face, so it's a bit more eye catching than most. I've never heard the song "Change" by YU-A featuring MUNEHIRO, so for the sake of this photo walk I'll just imagine that they are singing about Christmas.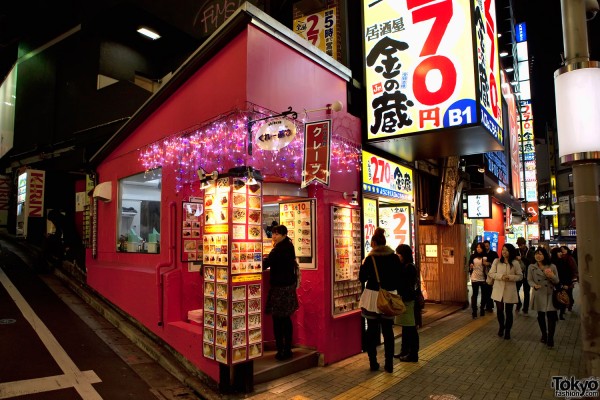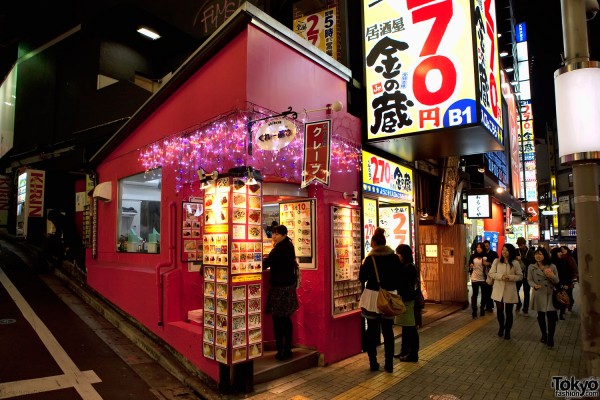 A cute crepes shop all lit up in central Shibuya.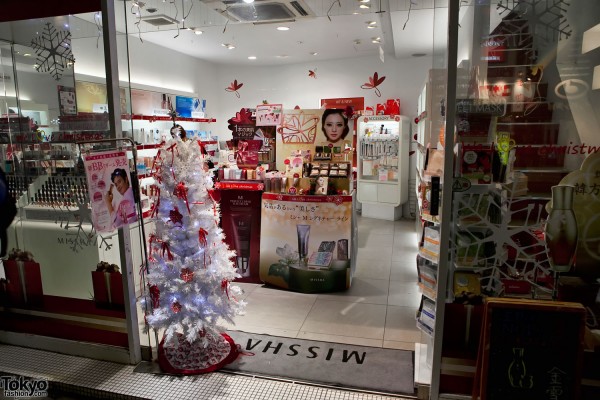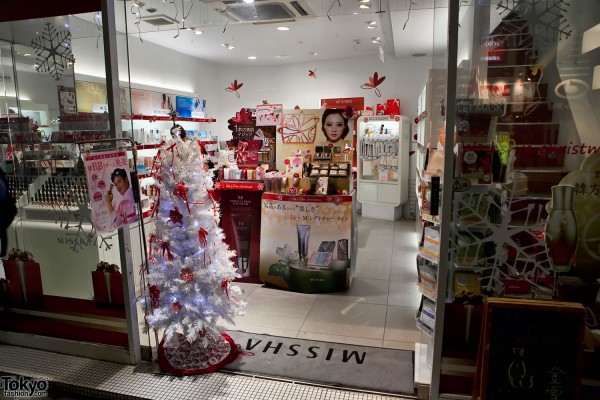 A Christmas tree in a Missha cosmetics shop.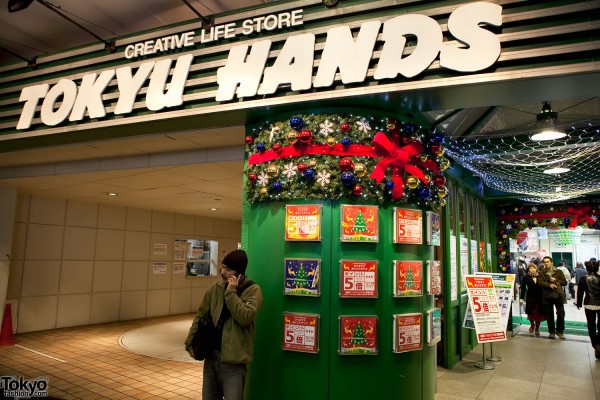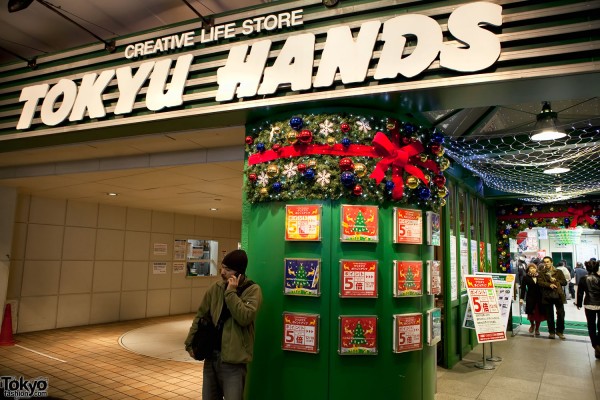 Tokyu Hands goes all out for holidays, probably because they are one of the main places to buy your holiday supplies. If you've never been to Tokyu Hands Shibuya, you need to go there – soon! By the way, how cool is their slogan, "Creative Life Store"?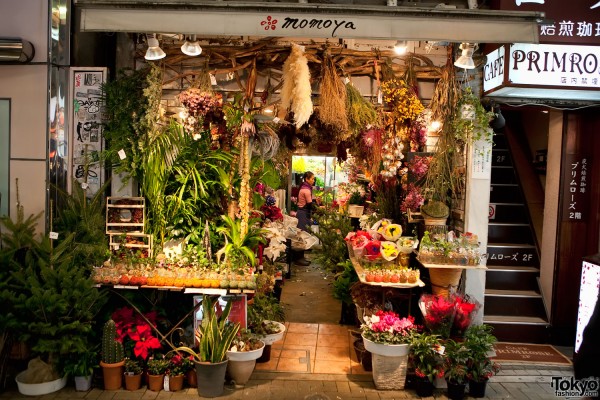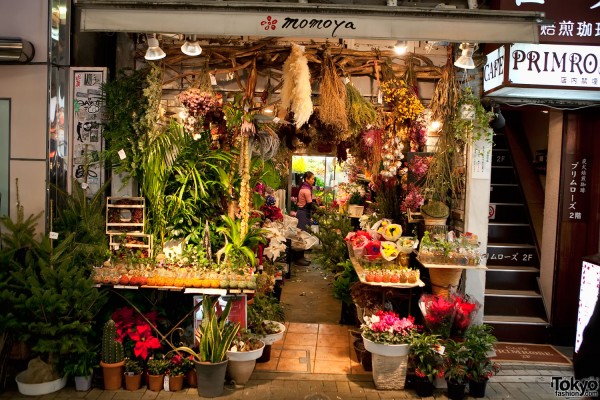 A cute Shibuya florist with Christmas poinsettias (and cactus).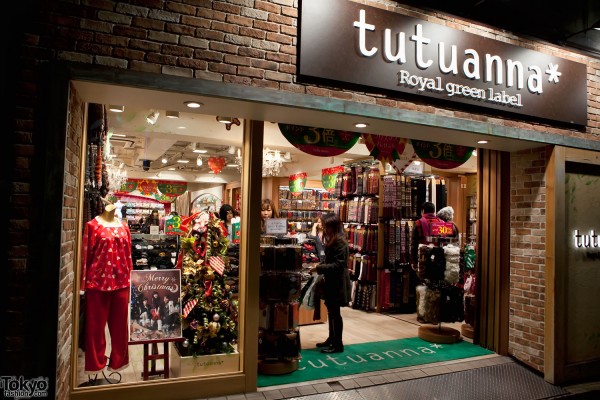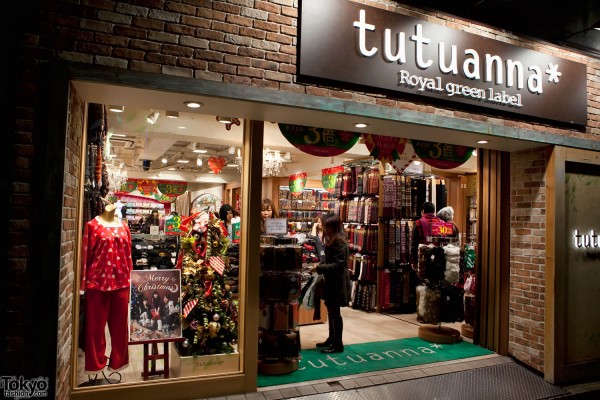 We are slowly making our way back down toward the station on one of the streets that runs parallel to Center Street. It might have a name, but I can't remember. Anyways, here is the Tutuanna shop on the corner of Spain Zaka. We'll make out way down Spain Zaka later. For now, we continue down this unnamed street.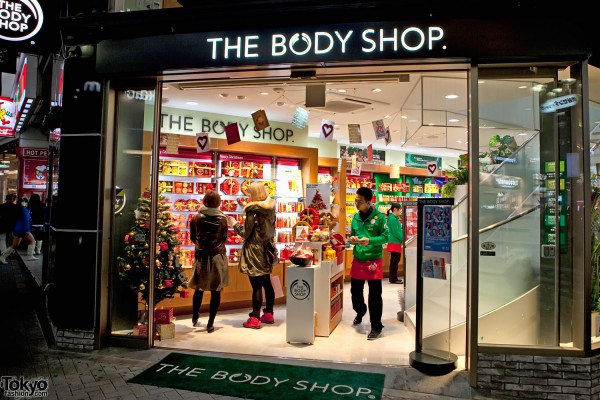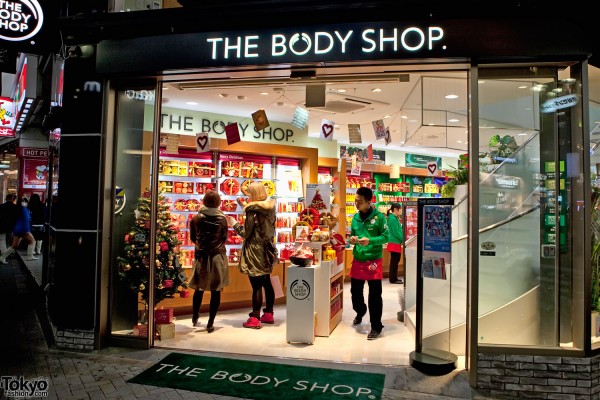 Well, we saw L'Occitane and Lush earlier, so we might as well check in with The Body Shop, right? They've got a Christmas tree, and I'm kind of liking the green mods coat that the girl inside the store is wearing.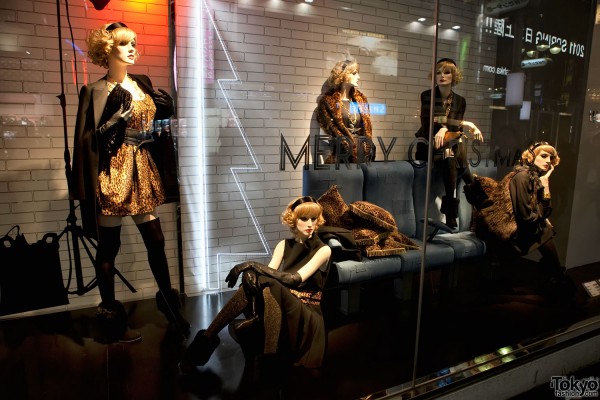 Another Zara shop. We saw plenty of these in Shinjuku. There will be more here in Shibuya, and probably in Harajuku, too. Zara is everywhere. Luckily, they are in the Christmas spirit.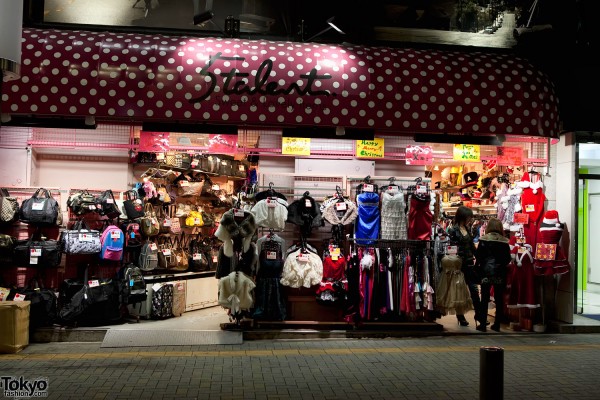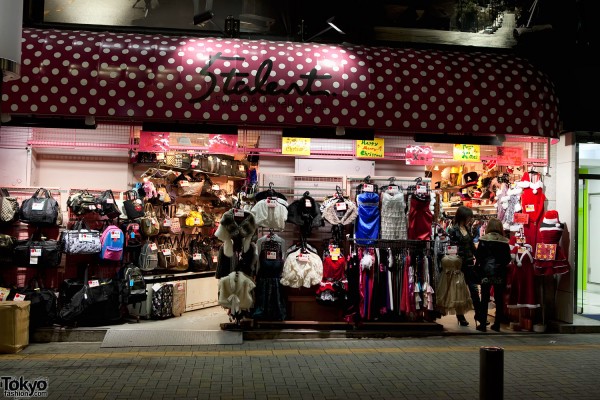 This shop is selling Christmas cosplay clothing for your end-of-year party. If the picture wasn't so dark (sorry!), you'd be able to read the cute store motto on the polka dot canopy that says "5Talent – Sweet & Lovely items".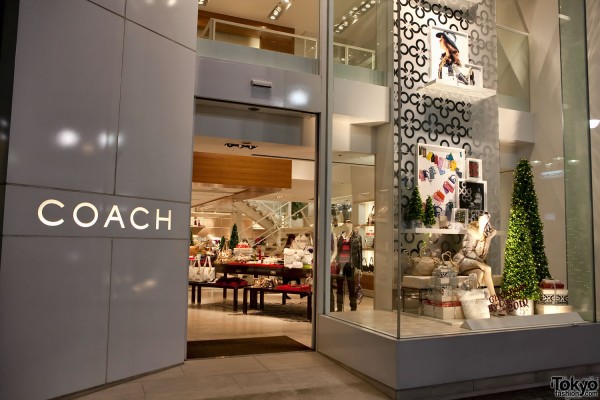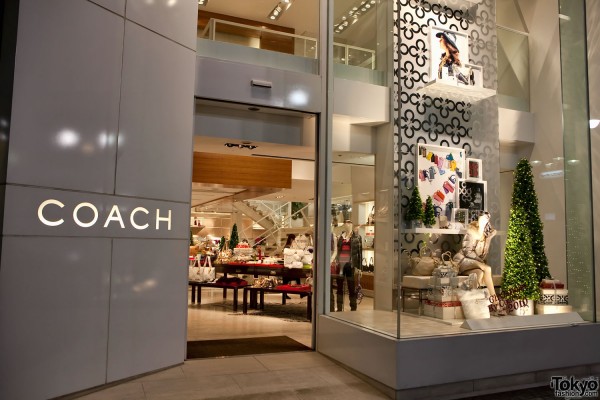 We've now made it almost all the way back down to Fire Dori (the street that runs from Shibuya Station down past Tower Records, parallel to the Yamanote tracks). Here's the Shibuya Coach store. They always have a nice Christmas window display.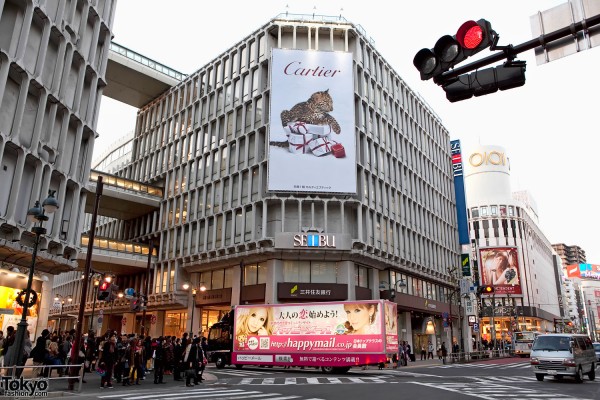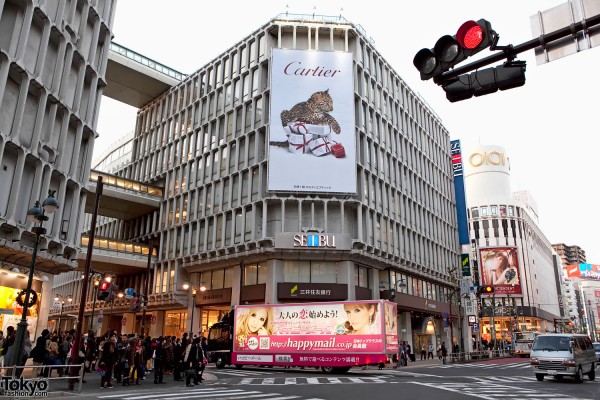 Okay, now we're on the other side of Fire Dori, but only for a second. This is actually a strange detour. We've gone too far, but I wanted to get a picture of the Seibu building before it got too dark. I had to brighten this picture in Photoshop and I think it looks blown out. Sorry – we never should have crossed the road!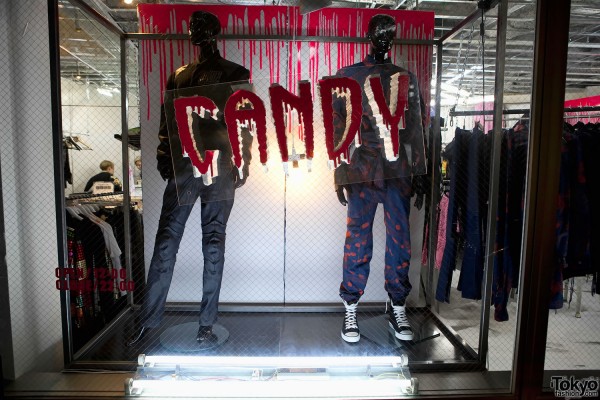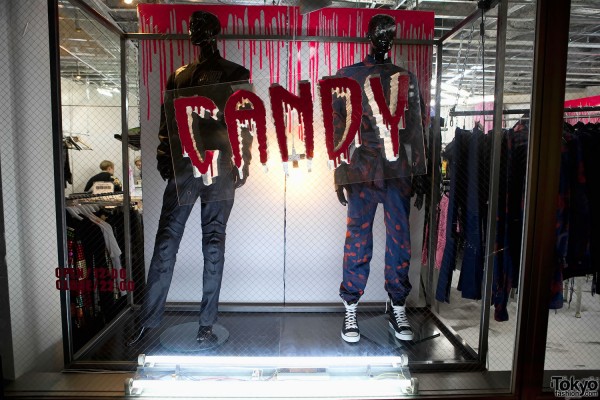 We're now doubling back because of my bad leadership. This is the awesome Candy/Sister/Fake building. If you don't know Candy Shibuya, you really are missing out. They carry some of the most amazing up-and-coming fashion designers on the planet!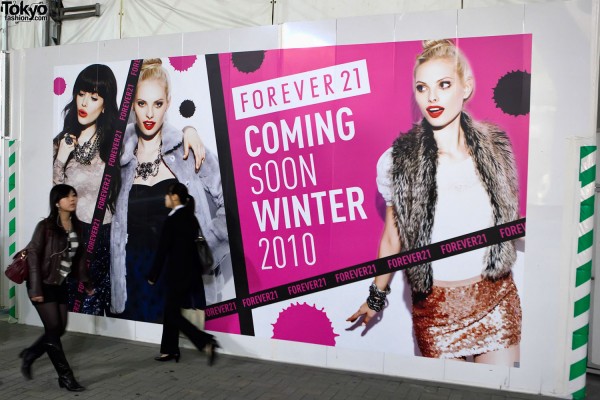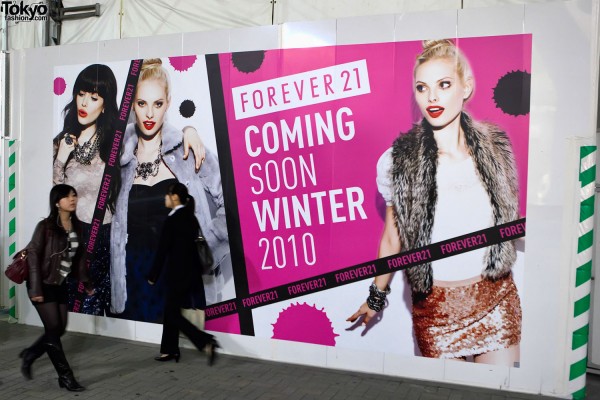 Directly across the street, really near the Coach store again, is the old HMV Shibuya. It's gone now (can you hear me crying?), but Forever 21 will be opening up in its place later this month.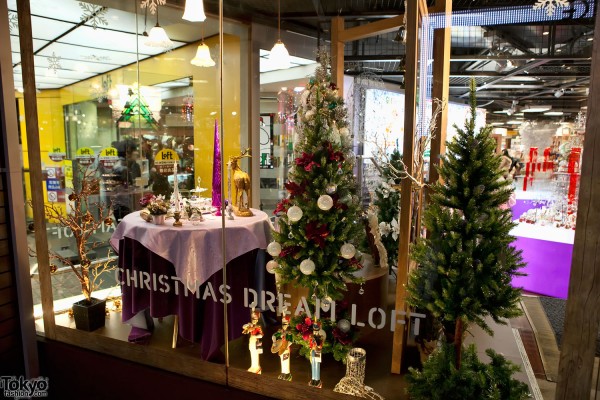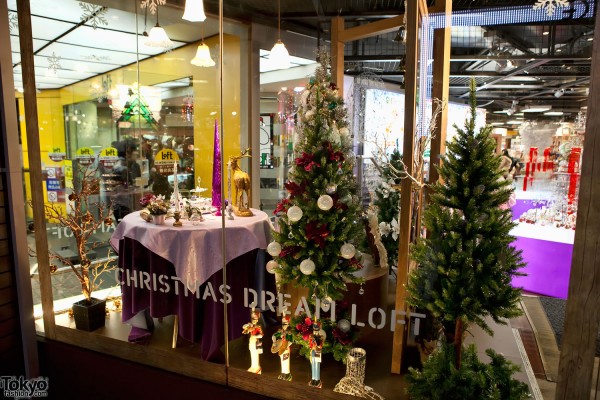 Now we're cutting across that little cut-across that runs between the Center Street area and Marui, the Apple Store, etc. Do you know where I mean? No matter! Loft Shibuya is on the cut-across street. Like Tokyu Hands, they have lots of Christmas supplies for your home.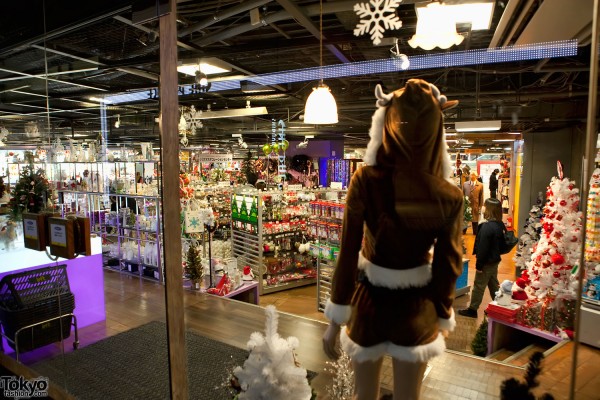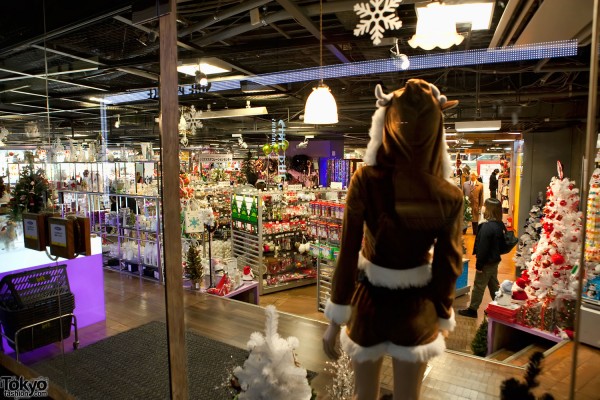 There was something so awesome about the outfit that the mannequin in the window was wearing that I had to take this photo. Imagine showing up for your company Christmas party in those shorts!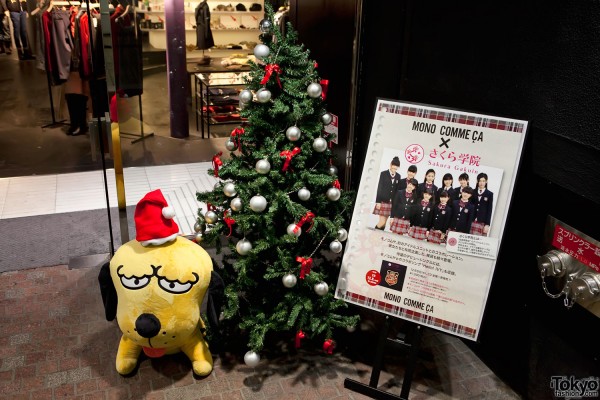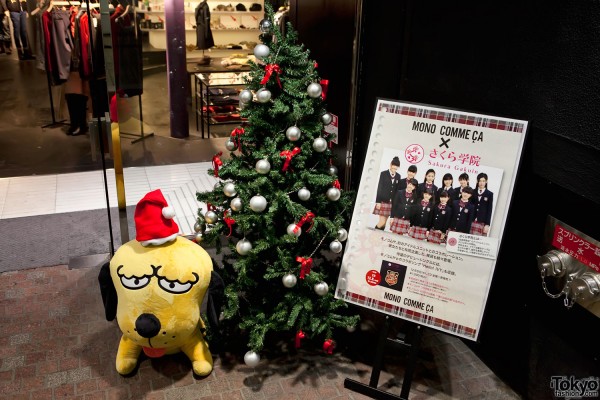 Looks like Mono Comme Ca is doing some kind of collaboration with the JPop band (or idol group?) Sakura Gakuin. But, more importantly, there's a cute dog with a Santa hat.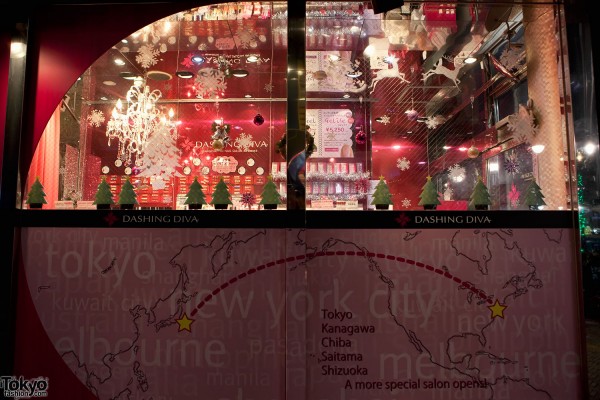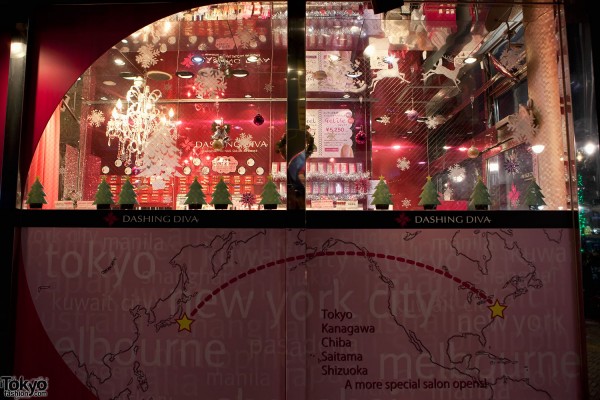 Dashing Diva: if you want Shibuya nails, this might be the place!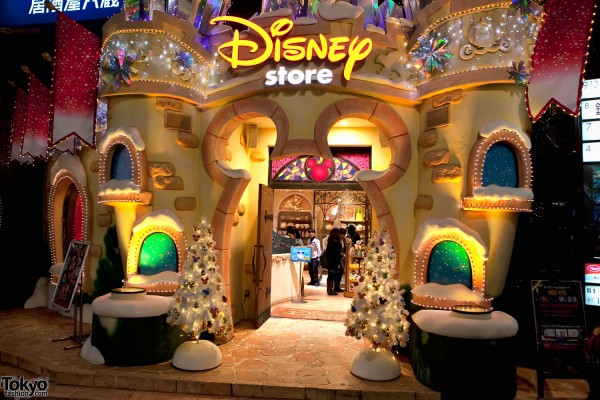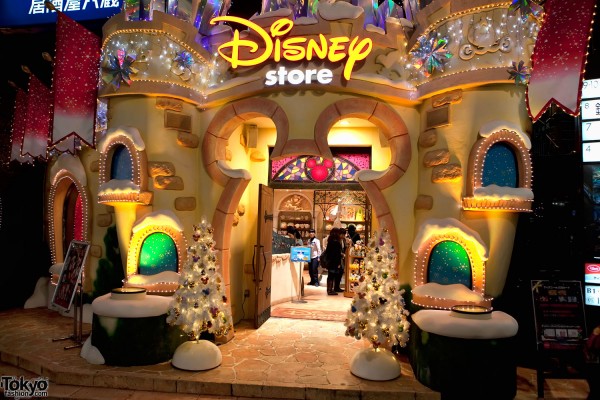 It's the Shibuya Disney Store. Dreams come true here. Why is the lady inside looking at us? Time to get moving!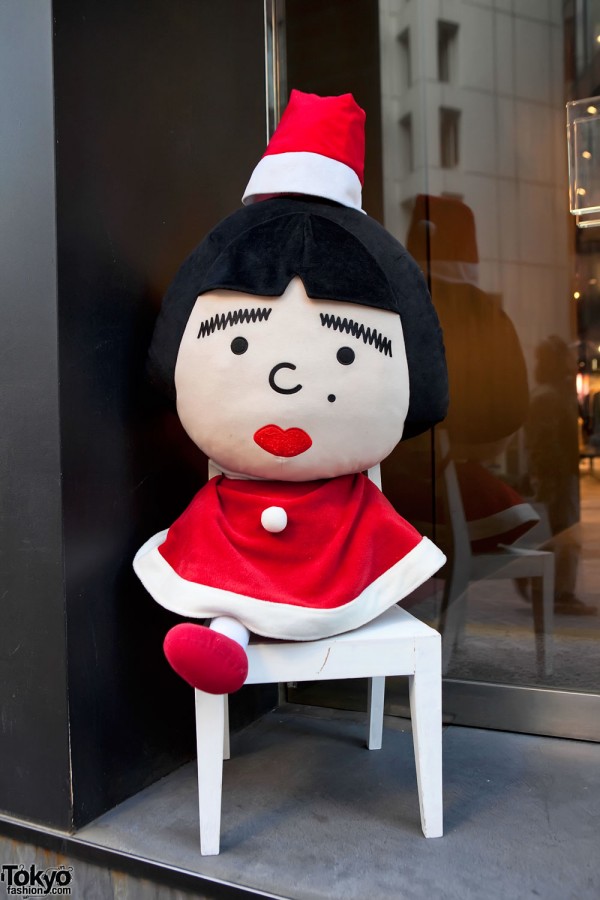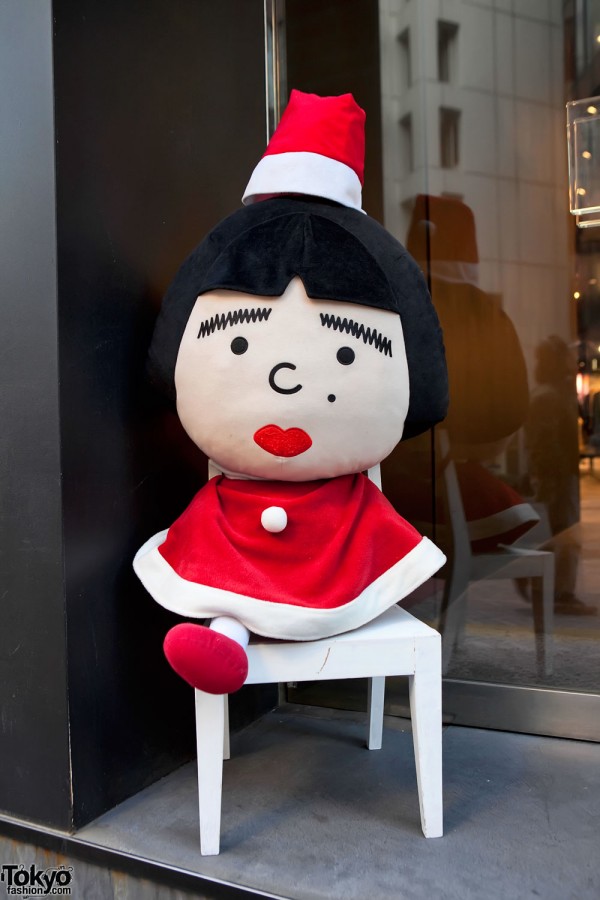 Another cute Comme Ca character dressed up for Christmas. It's tragic about her other leg, though.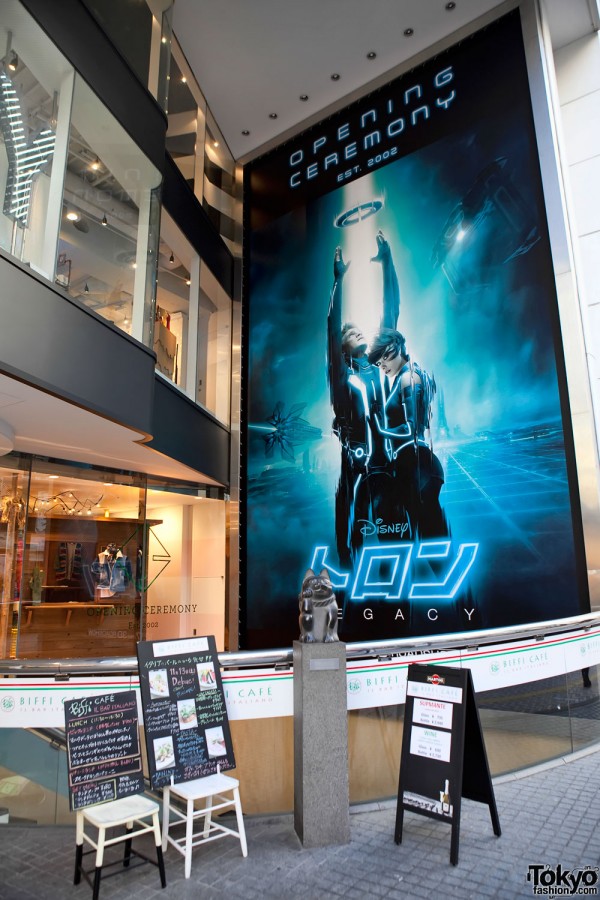 Not sure what Tron has to do with Christmas, but I heard there are a lot of lights in it. And Daft Punk did the soundtrack. Oh, this is the Tokyo Opening Ceremony store. I really like this place myself, but it never seems very crowded inside, so not sure how they're doing these days.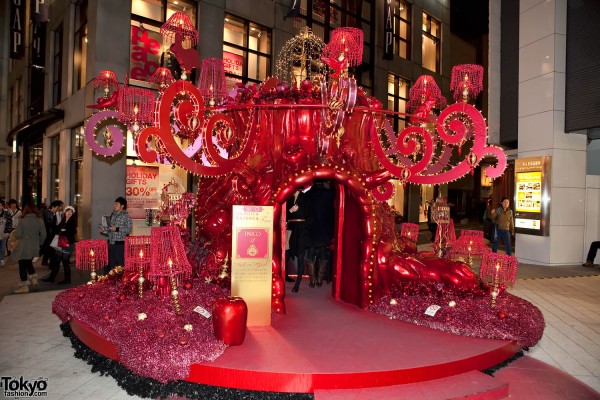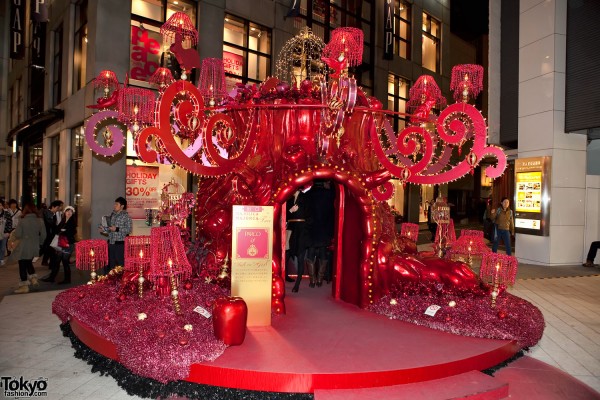 This is a crazy Parco Shibuya x Majolica Majorca Christmas tree. You can go inside if you want. I didn't, but you can.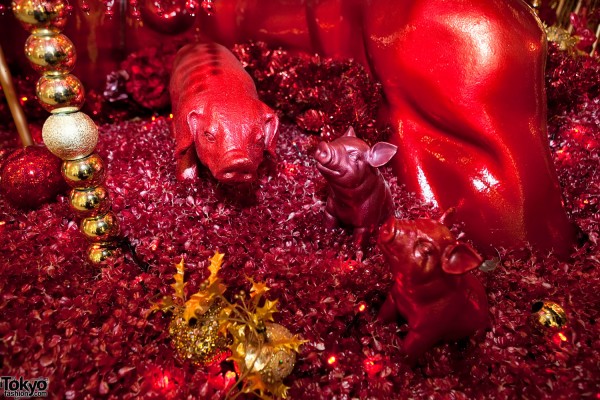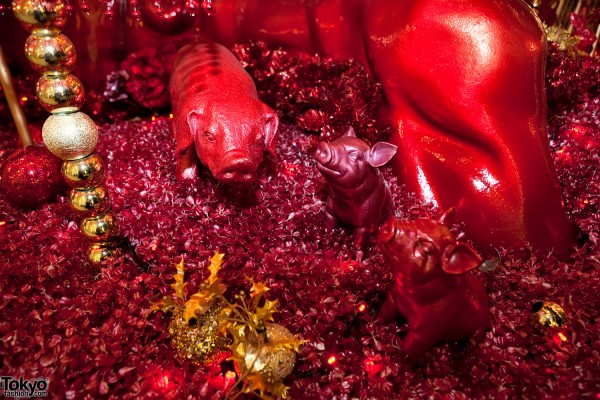 These are Majolica Majorca Christmas tree pigs.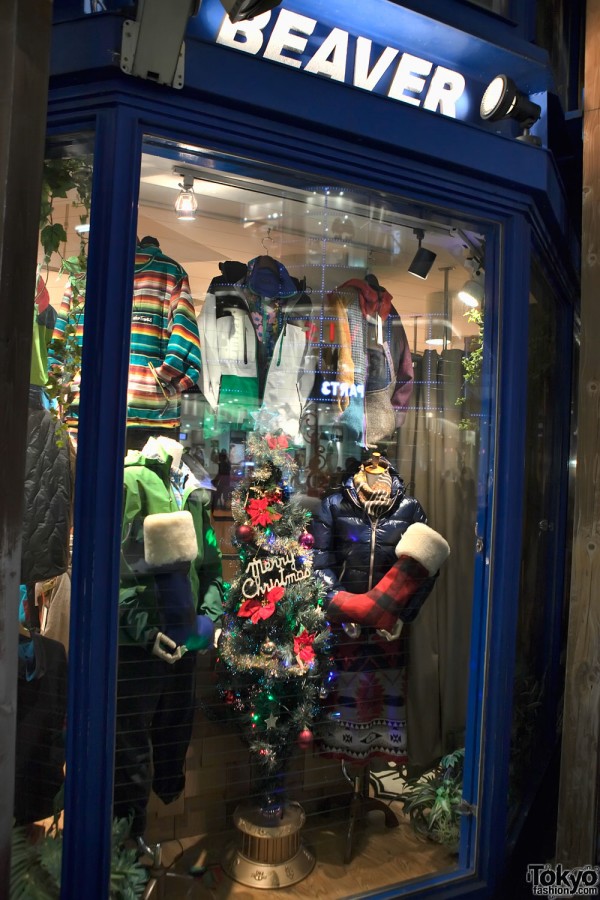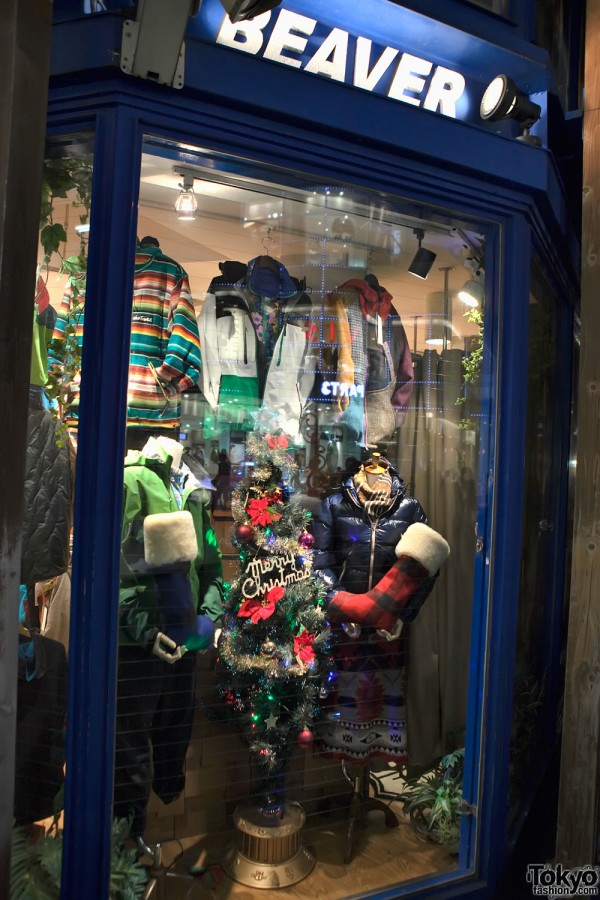 Beaver Shibuya! Sadly, right across from this shop is the place where the big Cinema Rise used to be. Now it's some kind of shop. That makes me cry a lot more than the HMV closing. I've seen many cool movies at Cinema Rise. Well, I guess they still have a couple of screens, but it's just not the same without the big marquee facing Parco. Alright, let's move on before I burst into tears again.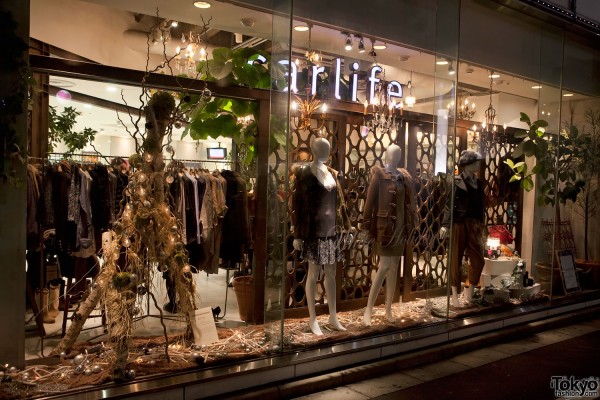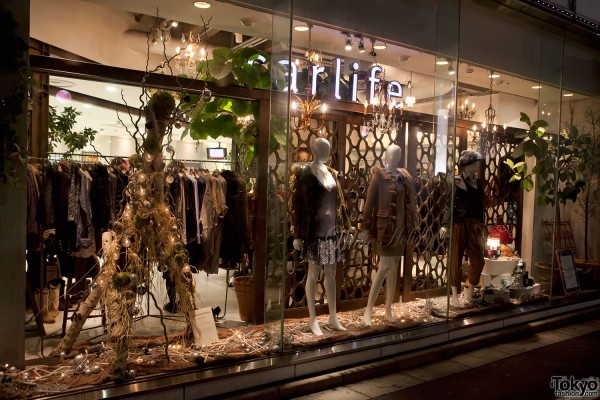 This is one of the Parco Shibuya windows. There is a strange Christmas tree in the window made of like tropical or desert plants. Are those two the same, tropical and desert? What about dessert? Did someone say Grom? Okay, back to walking…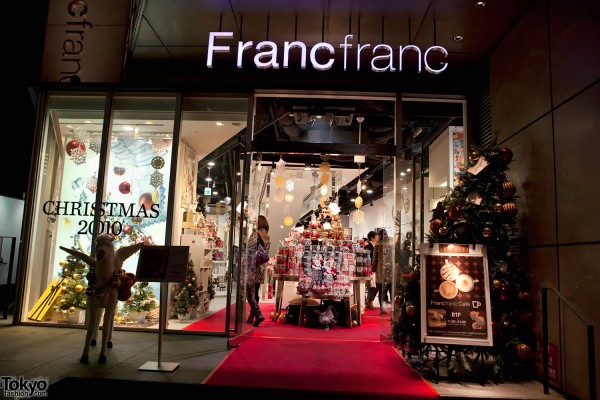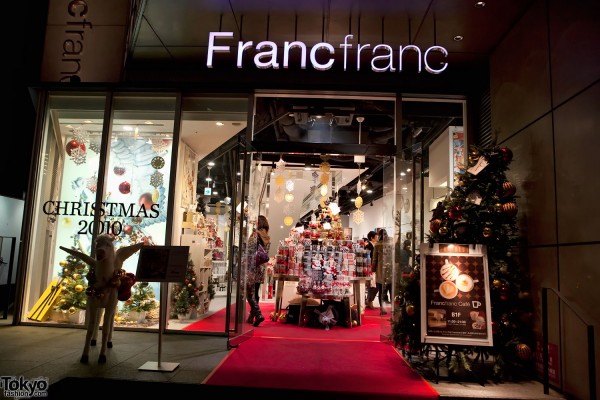 FrancFranc Shibuya has a horse with wings out front. Is there a word for horse with wings. I know there's a word for a horse with a horn in the middle of its head, you'd think there'd be one for a horse with wings, right? Maybe there's a compound kanji pronounced something like PE-GA-SU-SU?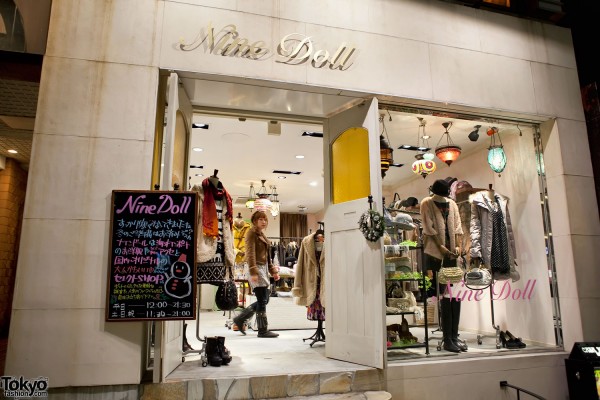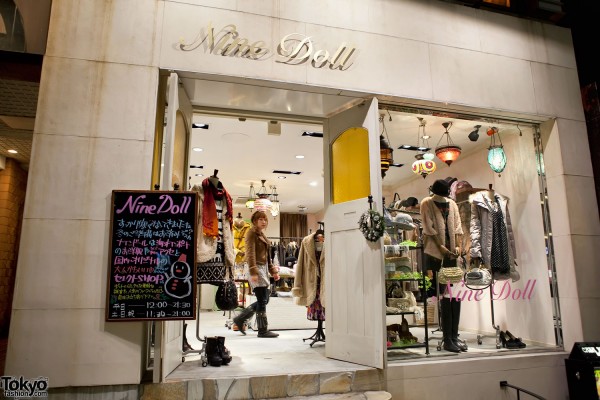 The girl inside of Nine Doll looks suspicious, but I like the snowman on their chalkboard.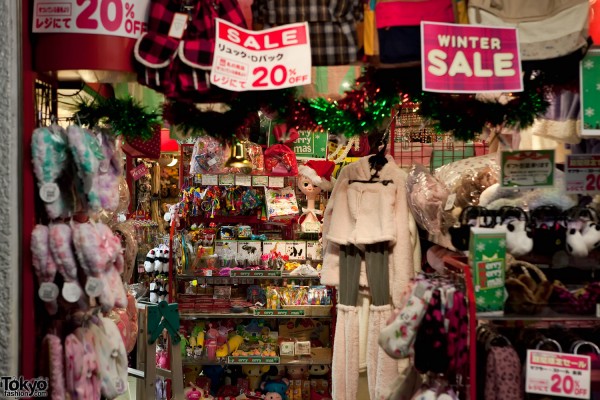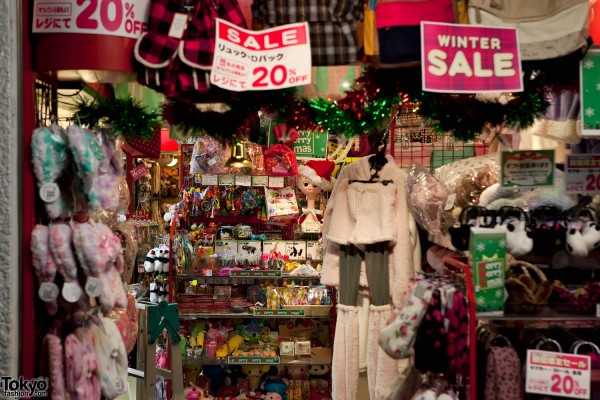 This is a zakka shop on Spain Zaka. Get it? Zakka means "knick knacks". The street is "Spain Zaka". Nevermind…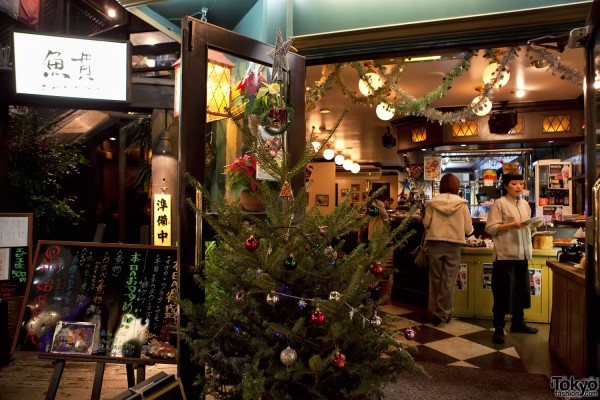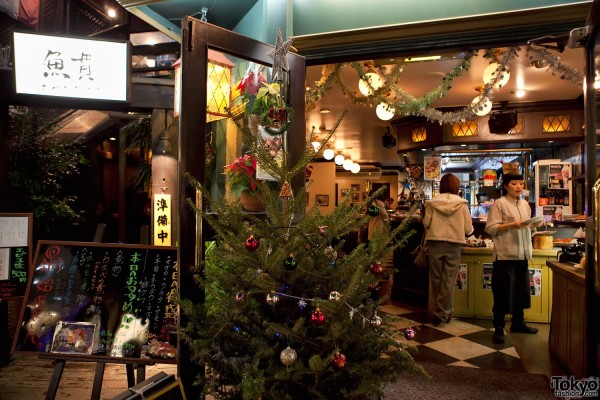 A cute cafe with a Christmas tree, also on Spain Zaka. BTW, the Girls Doors by LDS (Love Drug Store) shop on Spain Zaka closed this year and it was replaced by a Crocs shop. How sad is that?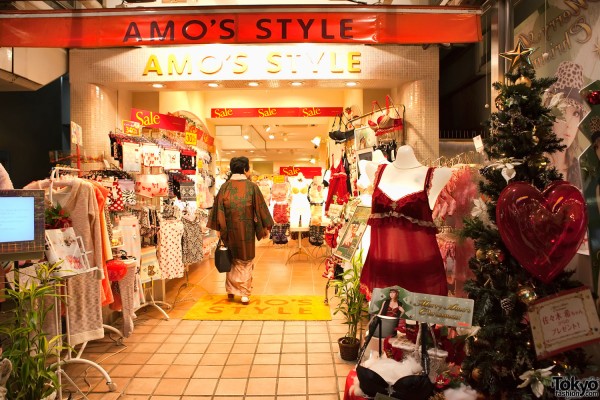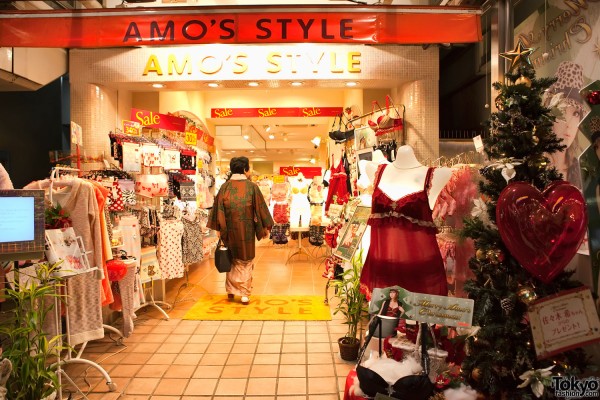 This is the best photo of the night – BY FAR! This is a Japanese underwear shop. That is a distinguished looking older Japanese lady in a kimono. Enough said. Merry Christmas and good night. What, we're not done? Mark my words, we won't top this photo even if we walk for another six hours.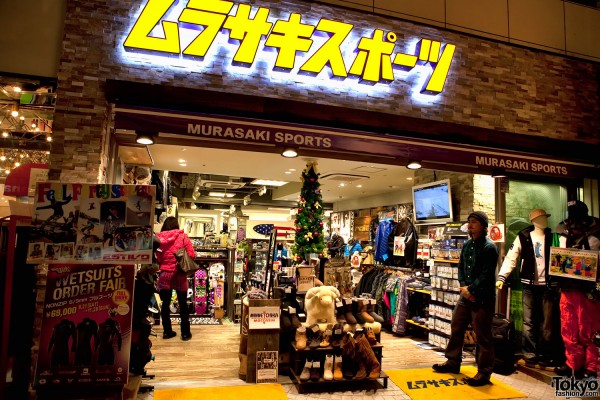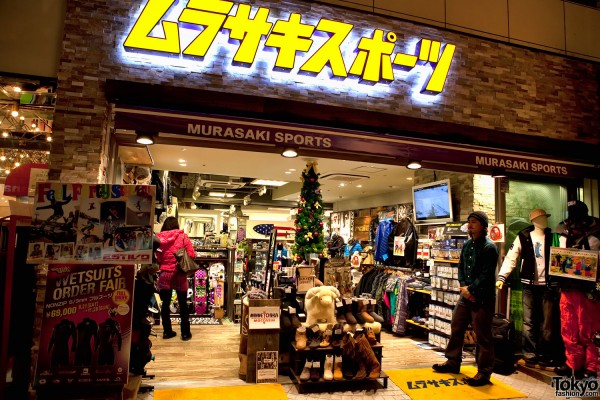 This is Murasaki Sports, also on Spain Zaka. The staff member was smiling at us right before the photo was taken. We should have asked him if he wanted to join us for the rest of our walk.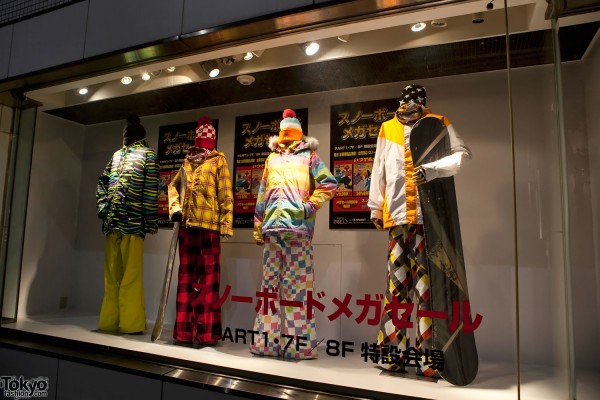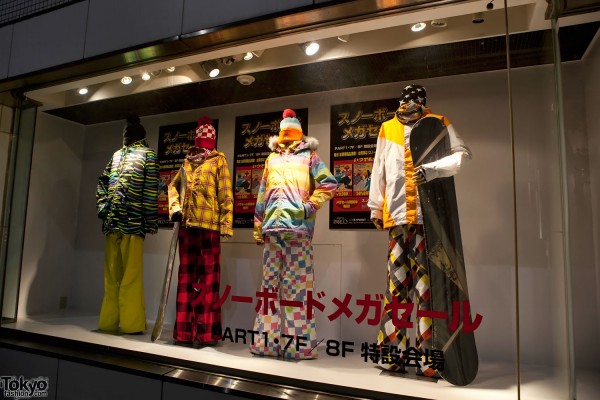 Speaking of sports, anyone up for some snowboarding in Japan this winter?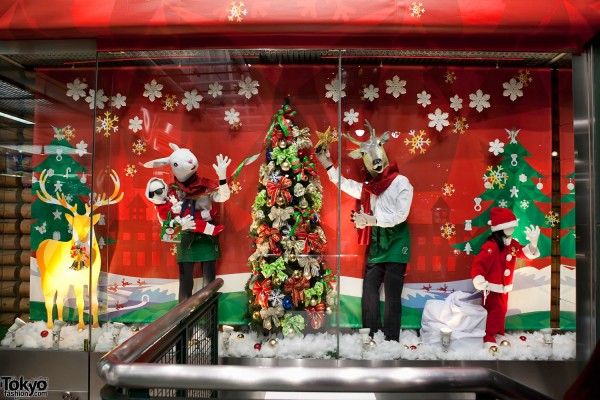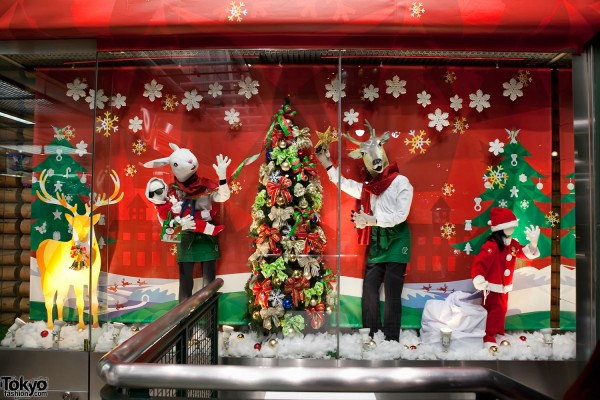 Now we've crossed over Spain Zaka and we've looped around to the other side of Tokyu Hands. Yes, we've covered some of the same ground twice, but I didn't see any other way to make this walk work otherwise. Sorry for the extra exercise! Anyways, this is very nice – and only slightly disturbing – Christmas window outside of Tokyu Hands.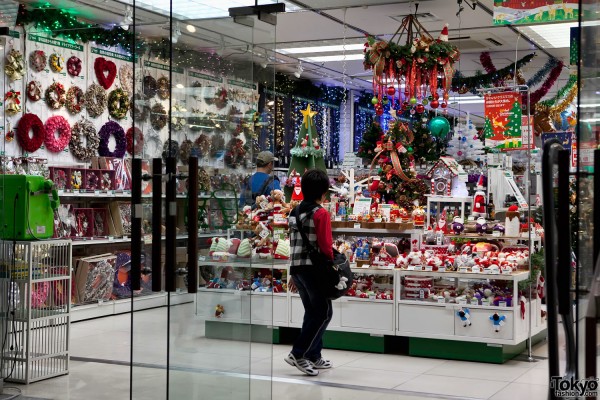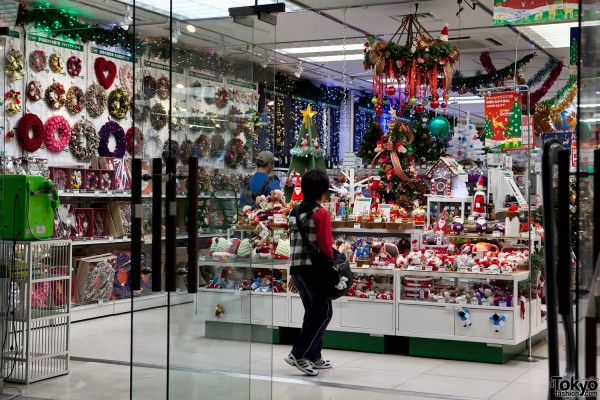 Look inside of the store and you can see that, like Loft, this store carries everything you could ever need to decorate your 30 square meter Tokyo apartment for the holidays.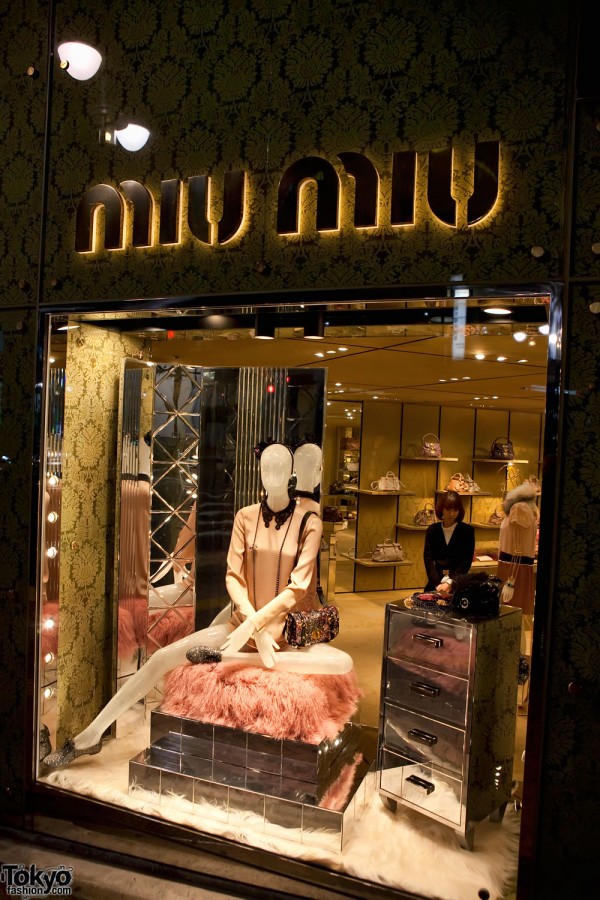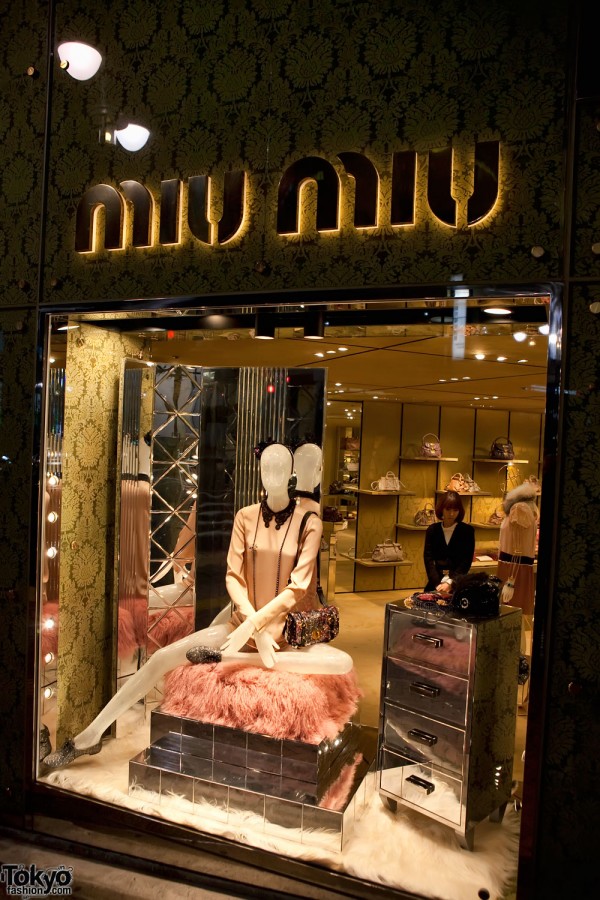 Miu Miu!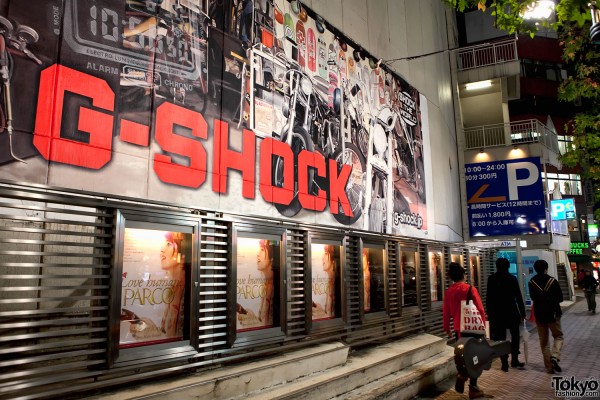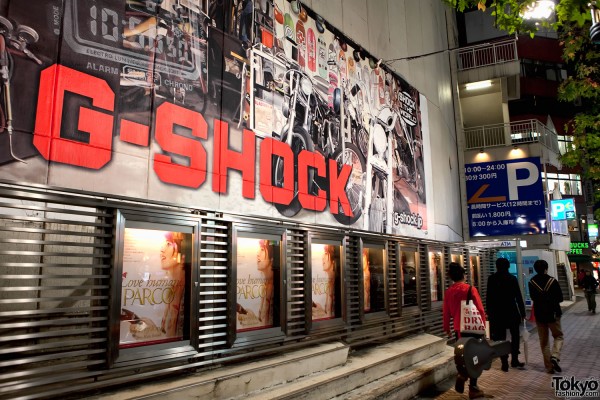 This isn't really holiday related, but the side of Parco has a huge "G-Shock The World" mural right now – and there's a guy carrying a guitar.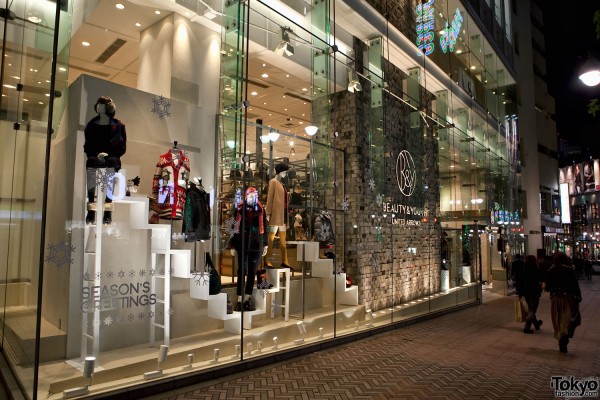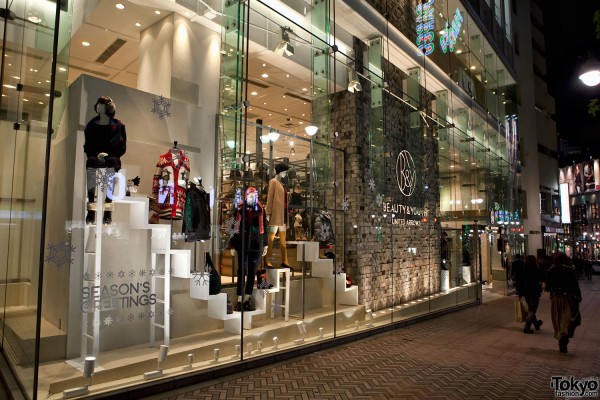 Now we've crossed Shibuya Koen Dori (Park Street) and we're heading up into a really cool area where there are lots of shops you don't want to miss if you ever go shopping in Tokyo. This is the Beauty & Youth store.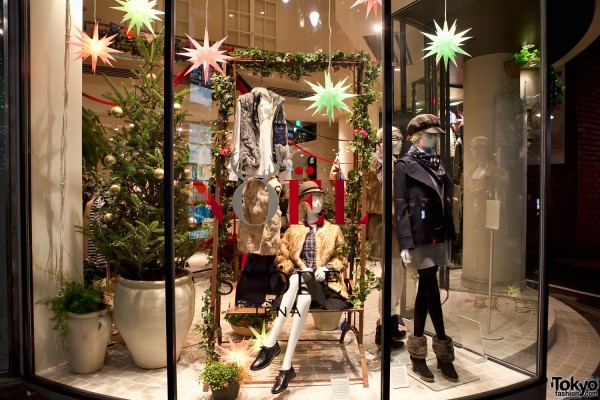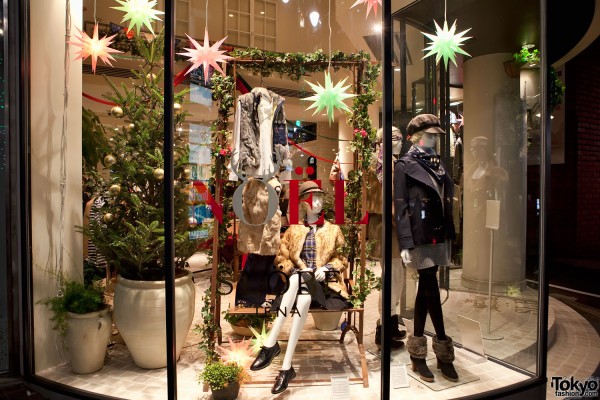 This IENA SLOBE shop is almost brand new. It replaced a cute underwear/lingerie store. I actually liked the old underwear store. Well, it wasn't actually an "old underwear store" – the underwear they sold was new. At least, I'm pretty sure it was new. Anyways, I liked the store that used to be here. This is a nice "NOEL" window, though, so maybe this shop is cool too. I haven't been inside yet.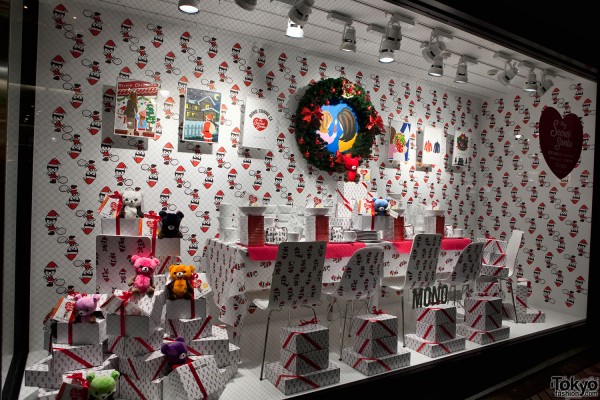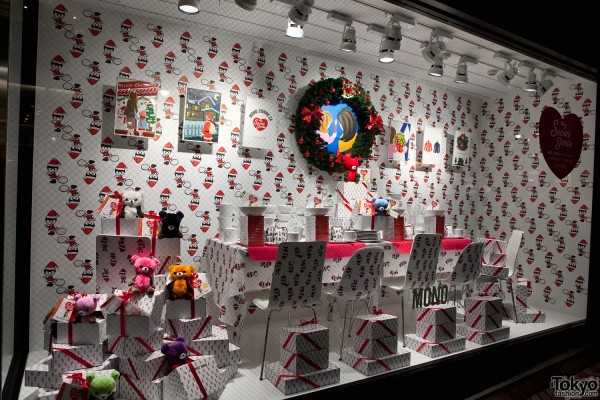 More cute Christmas characters from Comme Ca. They seem to be supplying all the "kawaii" for this photo walk.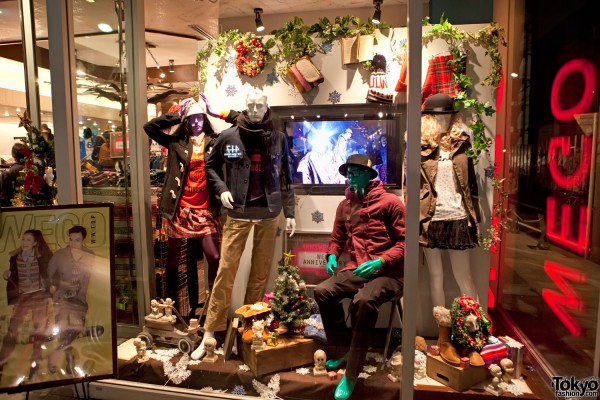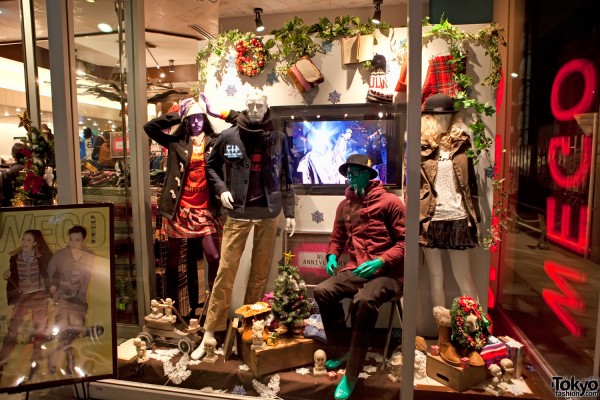 WEGO Shibuya. I love this shop!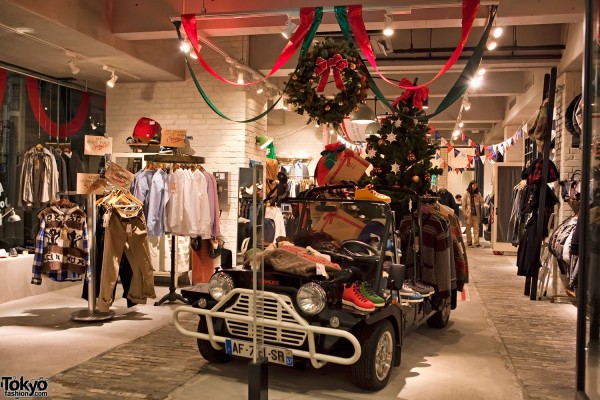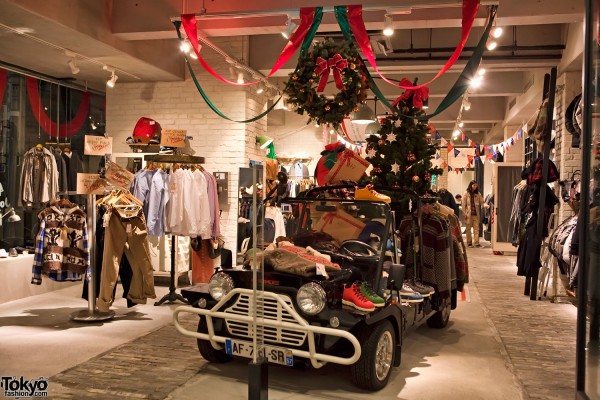 Now on the other side of the building, here is the inside of the new IENA SLOBE shop. It appears that someone has parked their car inside! They are very much in the Christmas spirit.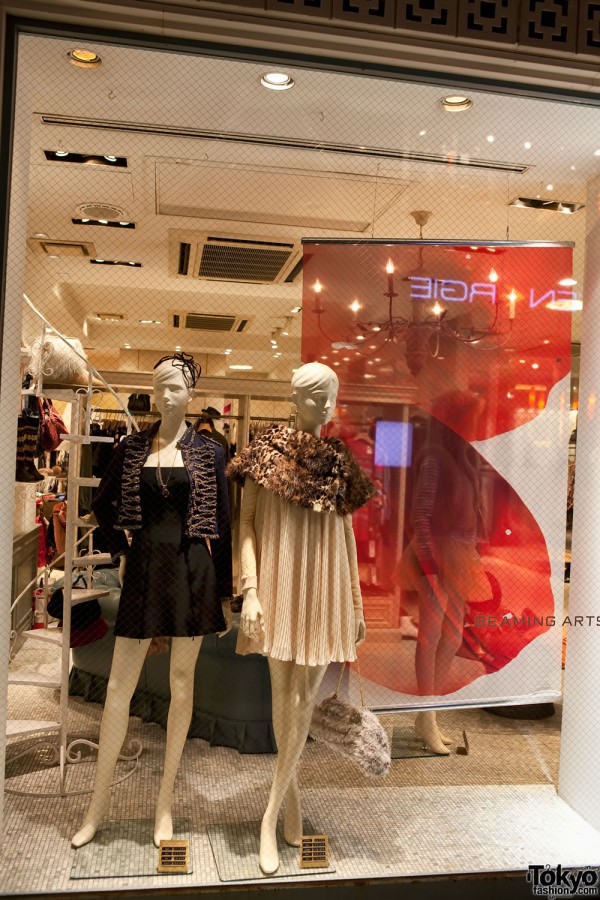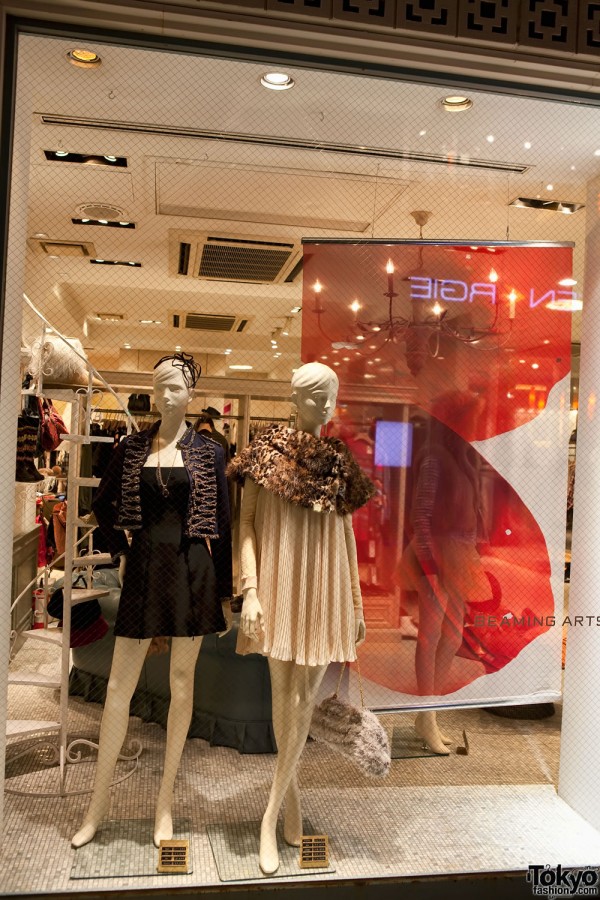 No Christmas display at Beams Shibuya? I'm a little disappointed. I really like Beams. Maybe they're waiting until later in the month?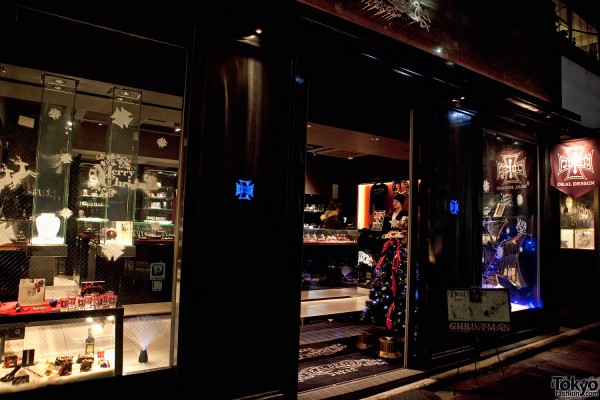 Here's a dark jewelry store called "Deal Design". It's not easy photographing dark stores at night.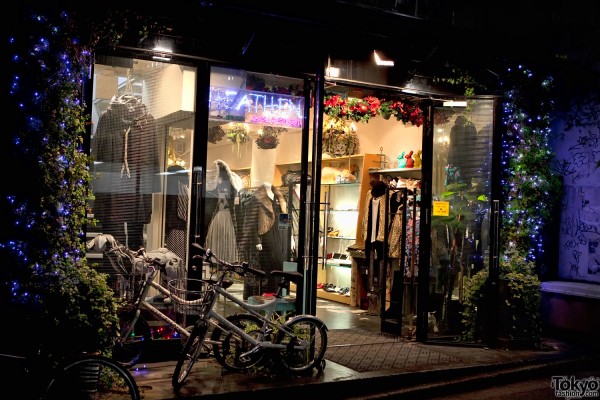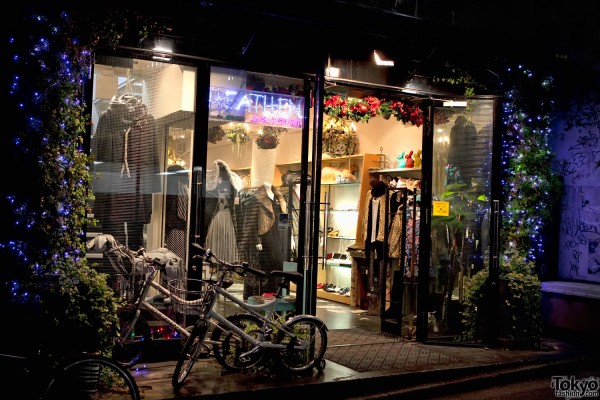 Heathen by Midwest. This is a cool shop. Check out the graffiti over to the right side of the photo.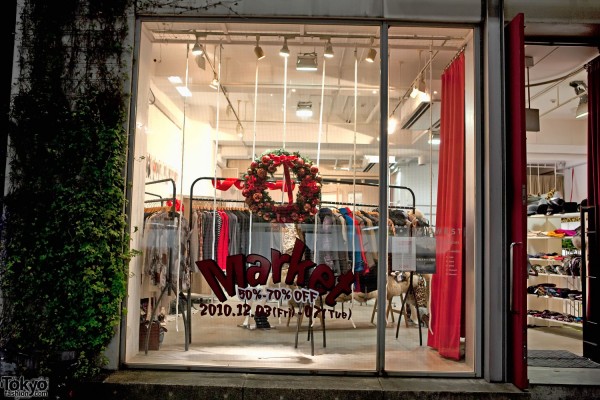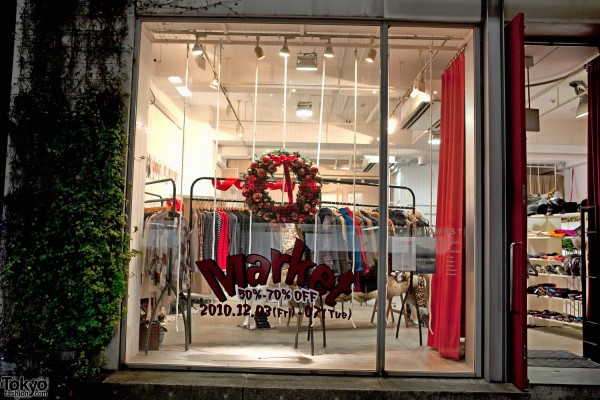 …and a really big holiday wreath in the window of Midwest Shibuya.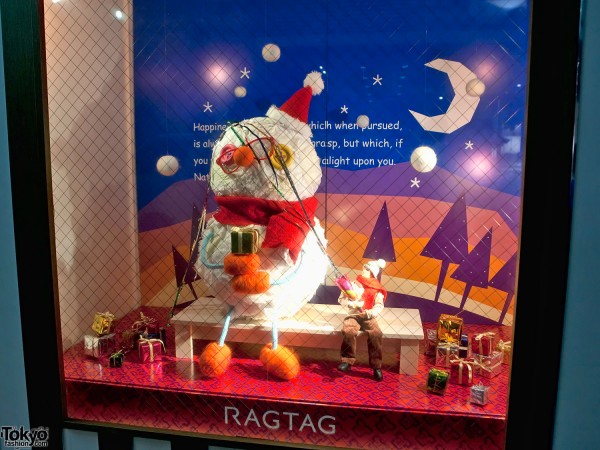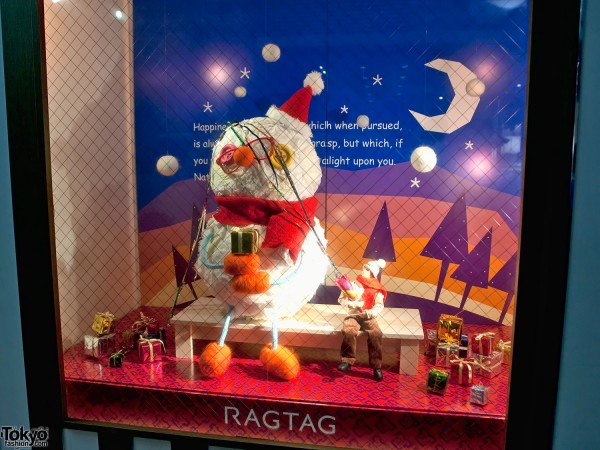 Ragtag always has these cute little window displays. Here's a giant snowman with glasses about to smash an annoying little man with a party popper.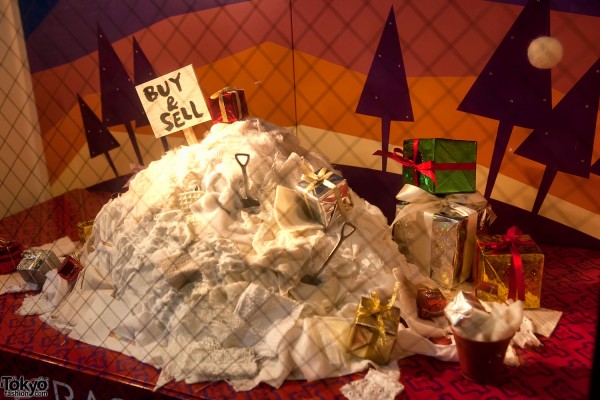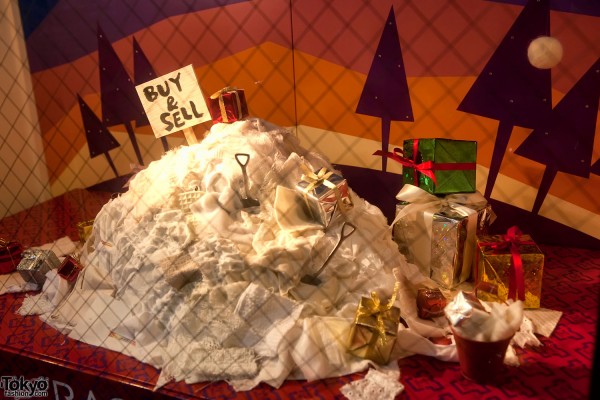 …and the burial mound for that annoying guy with the party popper. Rest in Peace, little man.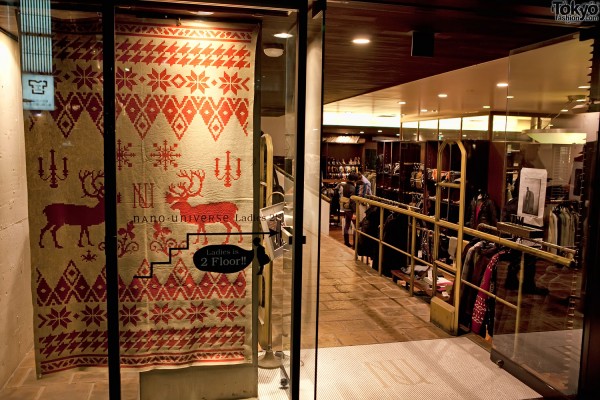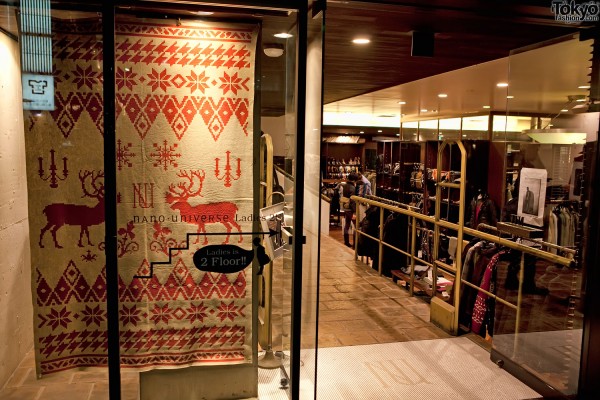 As we weave in an out of the little streets in this area, we see a nice reindeer rug in the window of Nano Universe.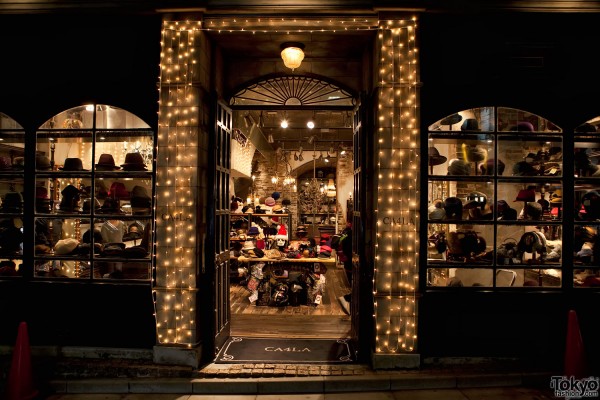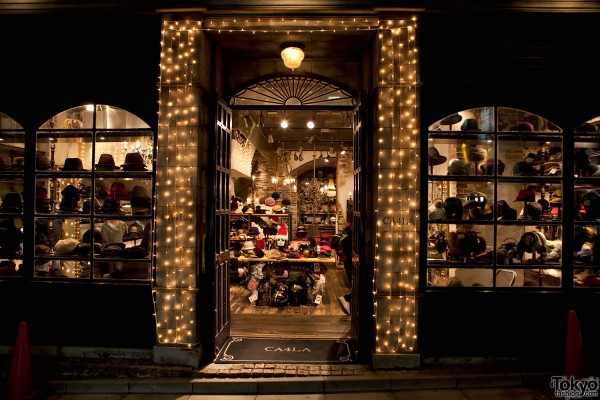 CA4LA Shibuya. If you're in Tokyo and you need a hat – and everyone needs a hat – don't miss CA4LA. They carry everything from reasonably priced in-house brands all the way up to ultra-expensive exclusive international brand hats.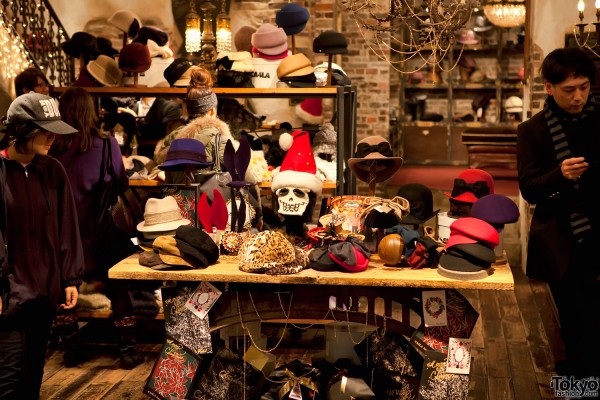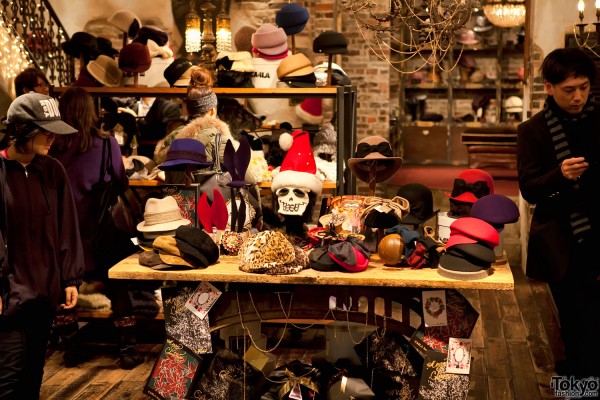 Inside of CA4LA (pronounced CAH-SHE-LAW) there is a skull wearing a Christmas hat – and quite a few customers.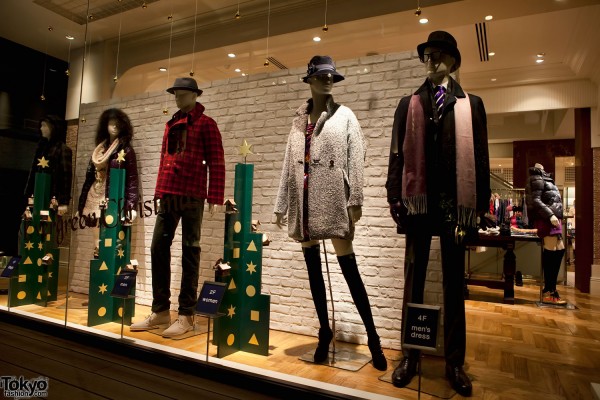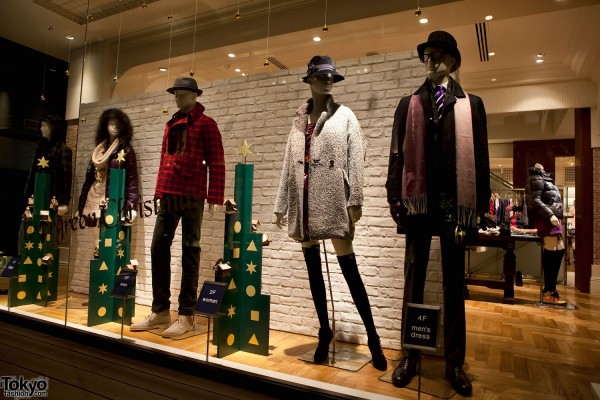 The window says "Everygreen Christmas".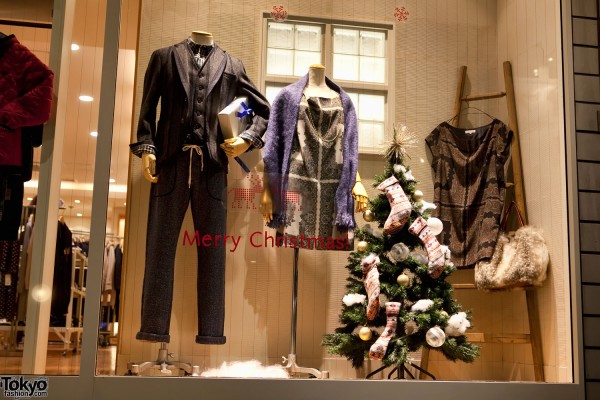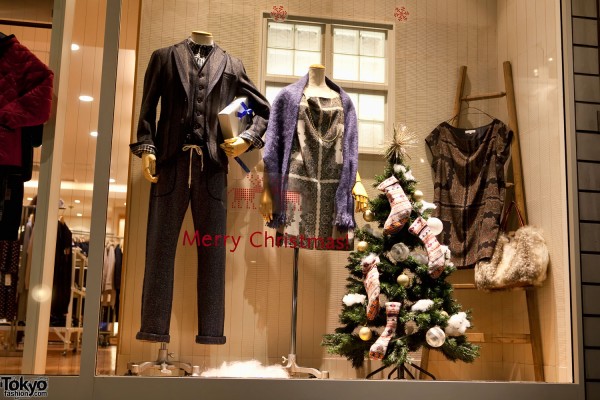 In this window is a cute little Christmas tree hung with stockings.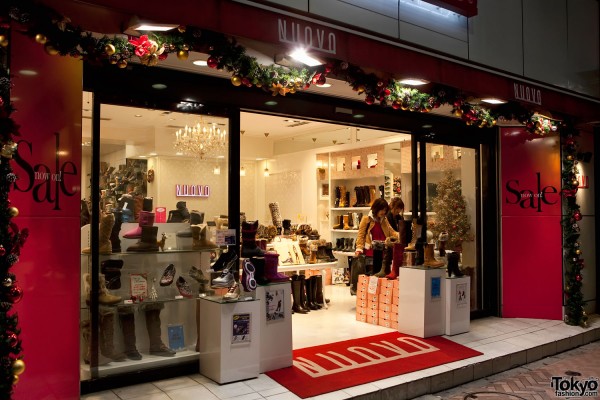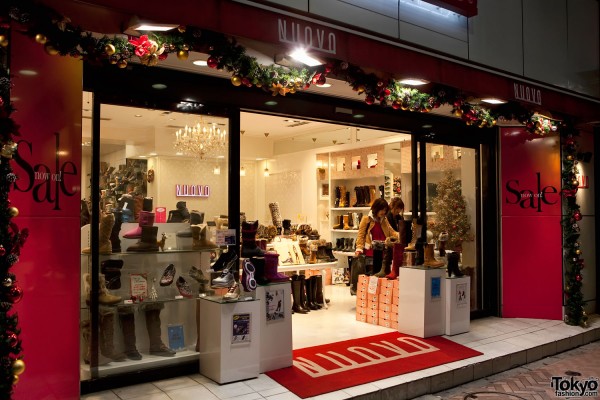 Now we've left the little area with all of the shops below Koen Dori and we're back down to Fire Dori again. This is the Nuovo footwear store. Not only do they have a Christmas tree, but they've got a sale going on as well.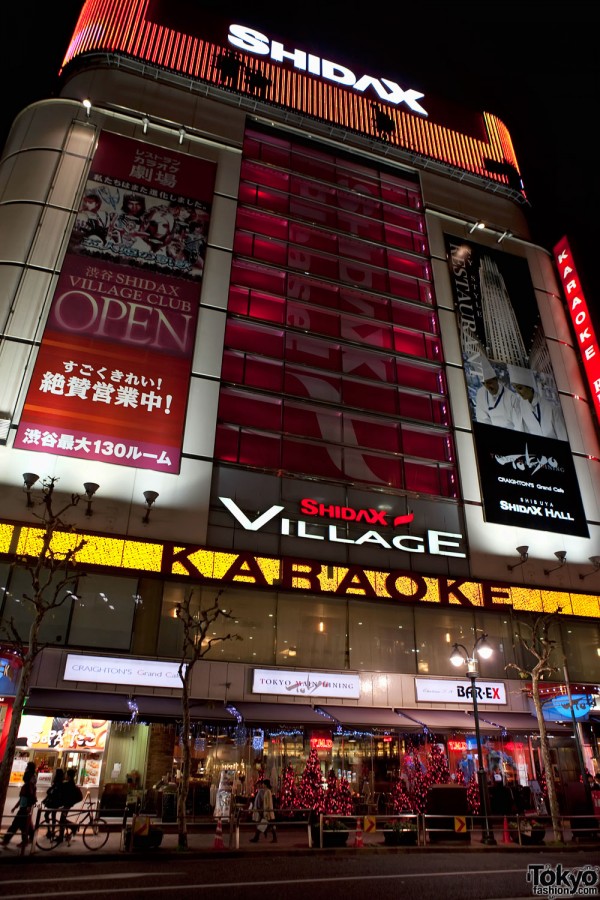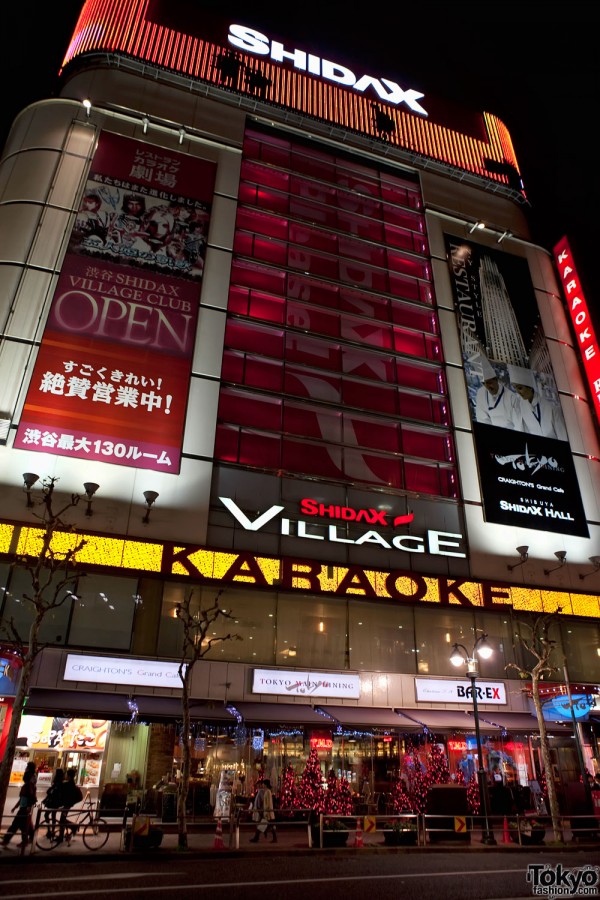 There's the massive Shidax building on Fire Dori. They've got food, Karaoke, and a few Christmas trees out front.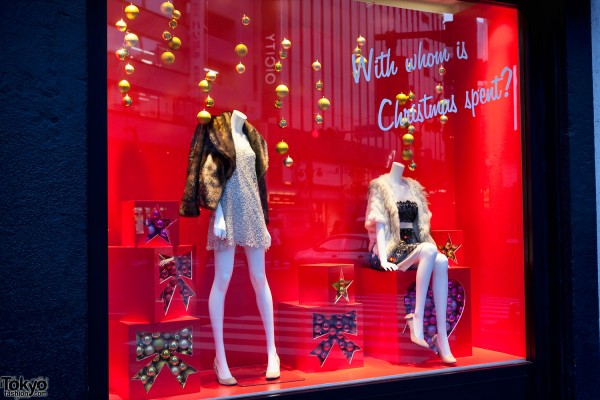 We're still wandering around on Fire Dori. Here's the Rosebullet shop. The window says, "With Whom Is Christmas Spent?" Indeed.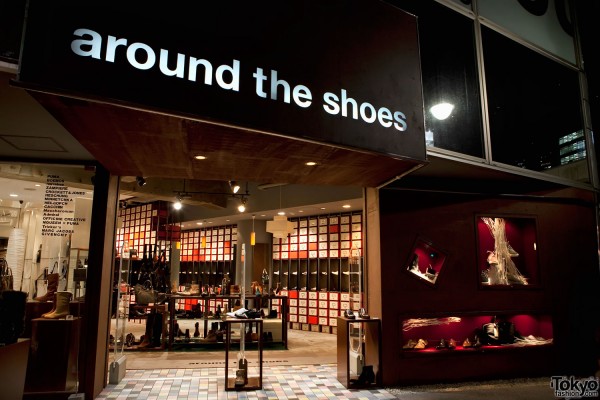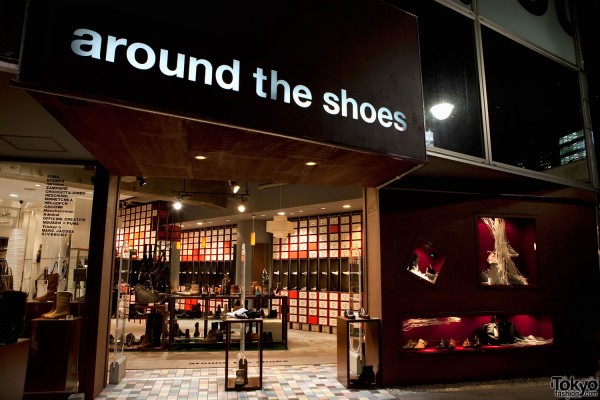 Around The Shoes – maybe the best-named footwear chain in Tokyo.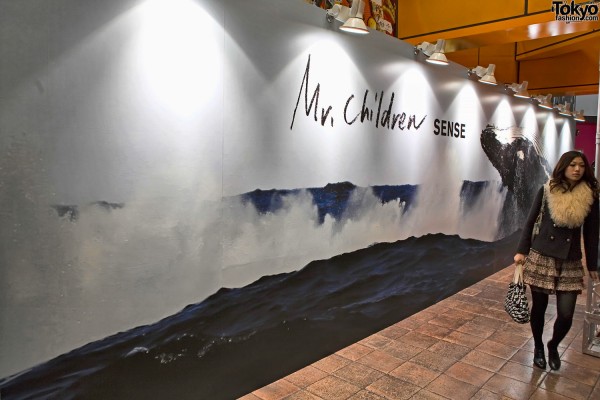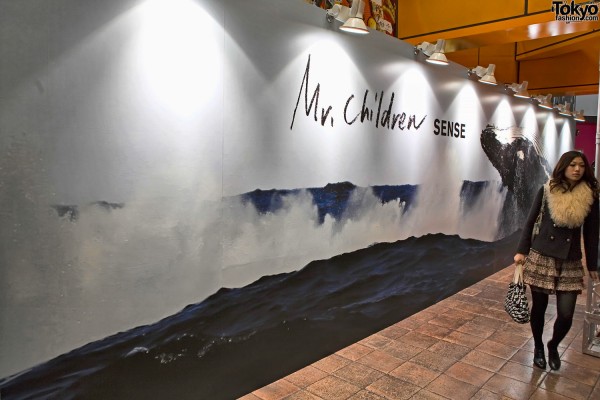 This is Tower Shibuya. There's a massive billboard for the new Mr. Children album out front. If you squint it looks like that wave is about to hit the girl. Well, maybe if you squint, and if you're drunk. I'm not. No drinking while photographing for me.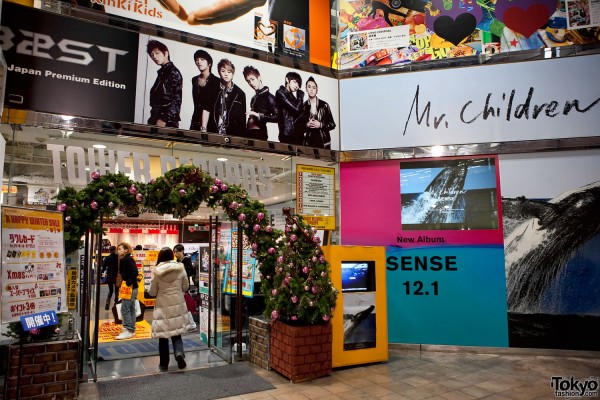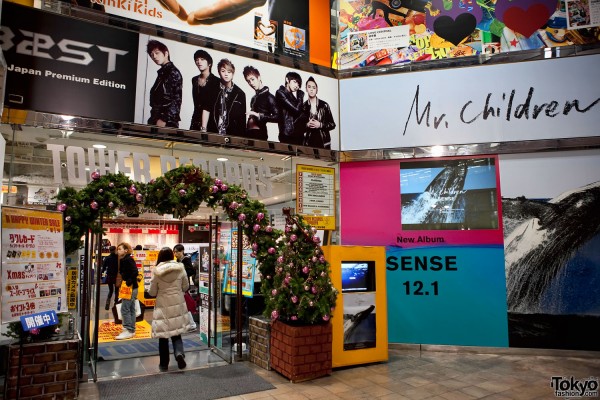 More Tower Shibuya, more Mr. Children, and a new edition – the KPop band BEAST (B2ST).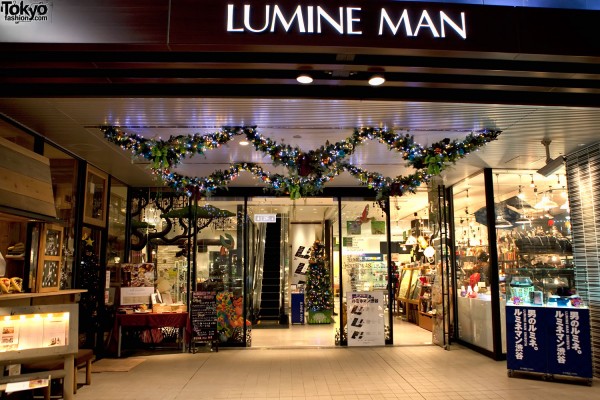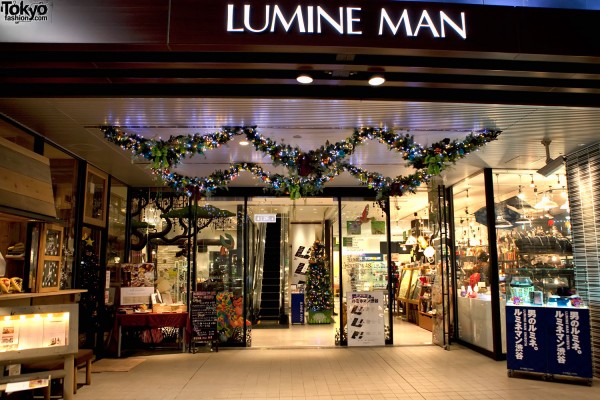 The Lumine Man department store. There are cool shops inside, but they aren't big on cameras so let's keep walking.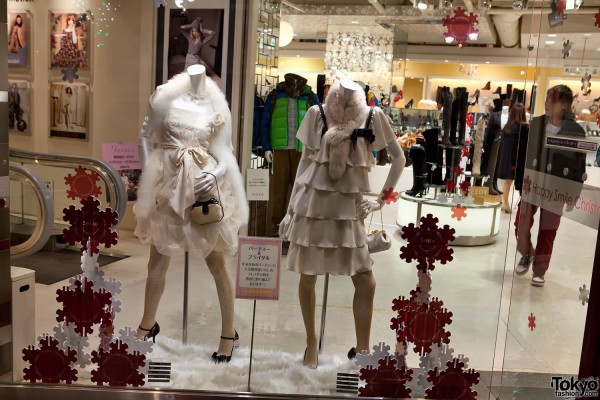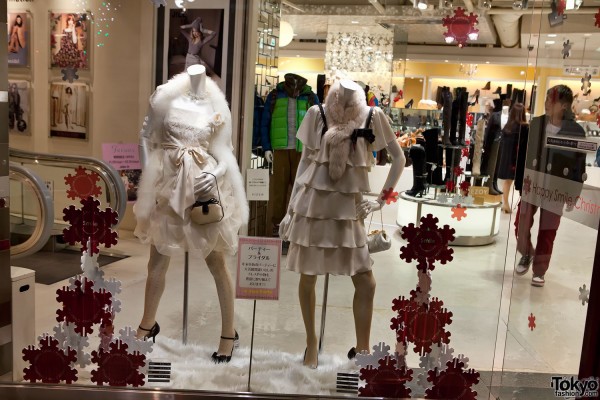 Marui is having a "Happy Smile Christmas" this year.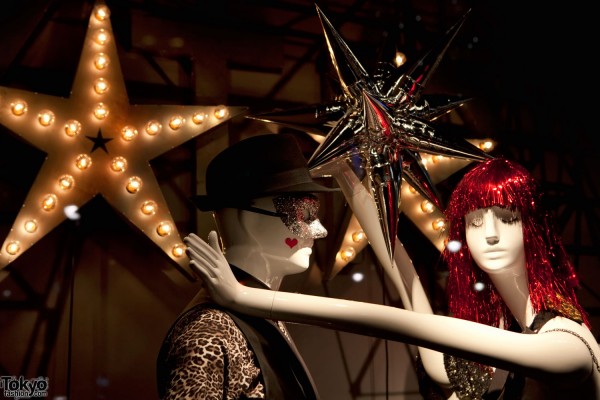 Another Zara Shibuya store. This one has a pretty cool window display.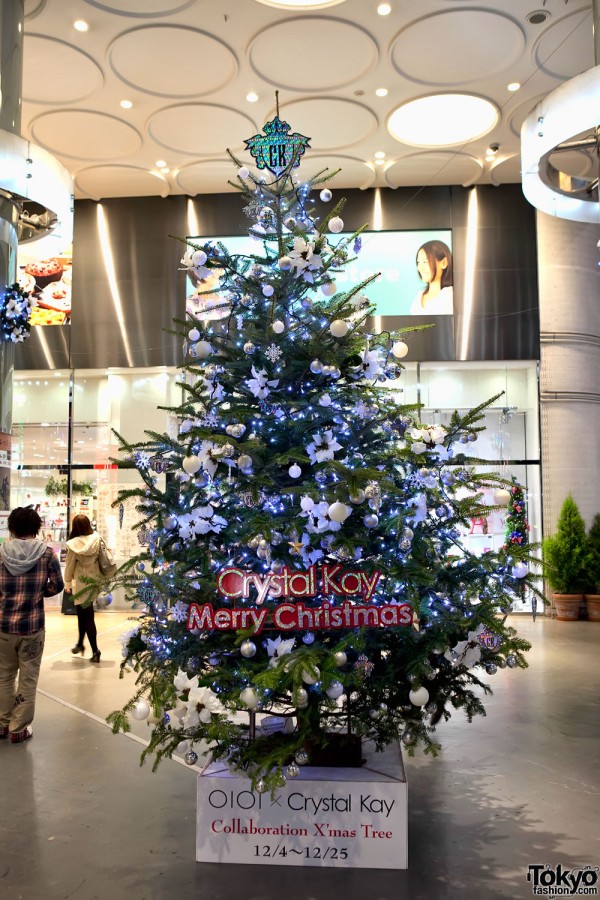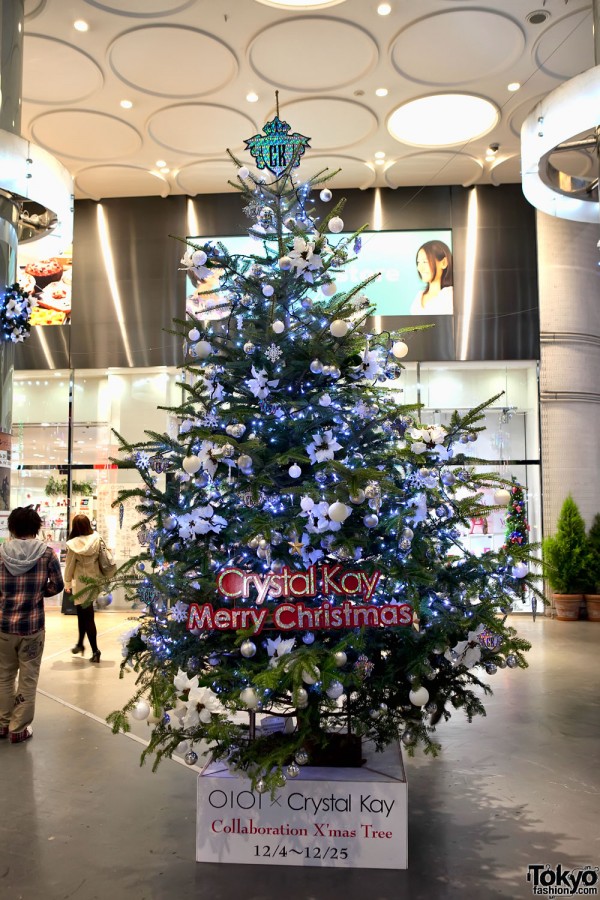 On the other side of Fire Dori (yes, we're zig zagging again) we find this cool Crystal Kay Christmas tree in front of Marui.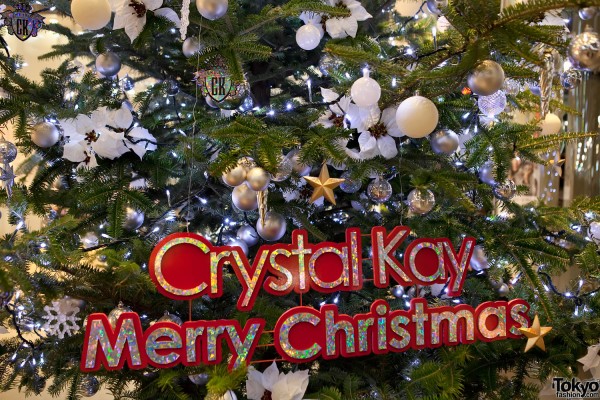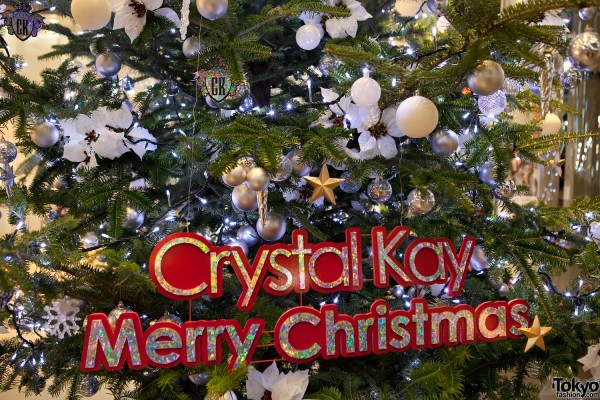 Crystal Kay says "Merry Christmas".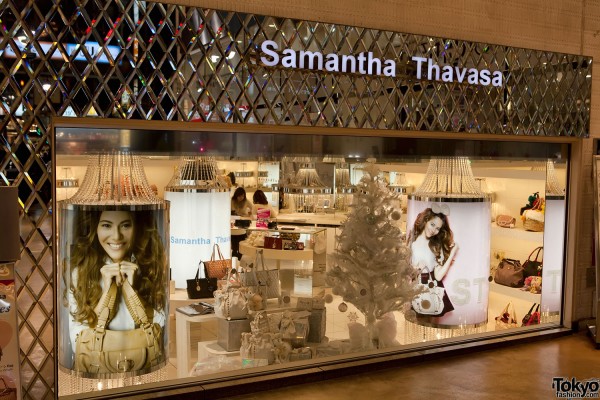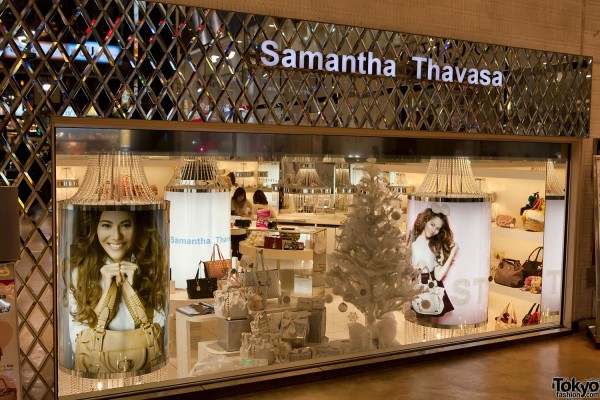 Also at Marui, here's Samantha Thavasa with a white Christmas tree to match all of the white/tan handbags.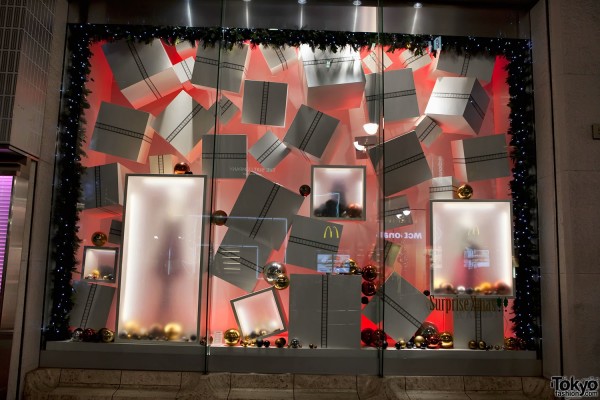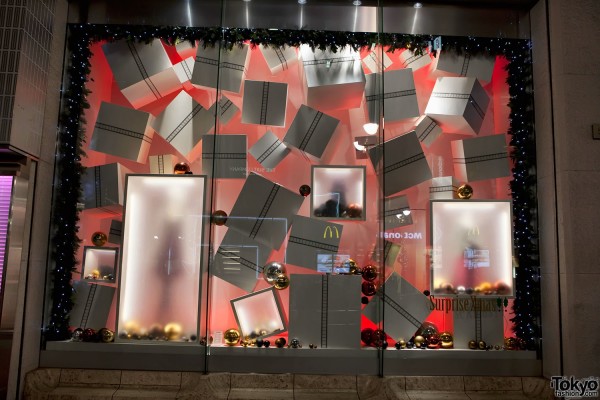 This is a red Seibu holiday window. It says "Surprise X-mas" on the glass.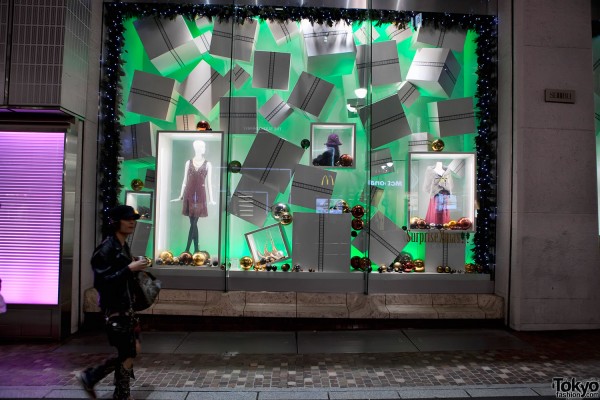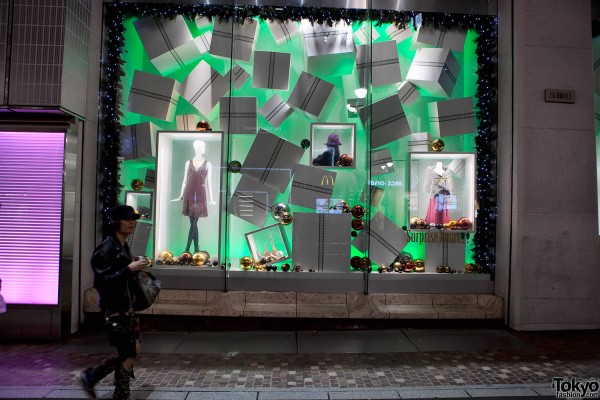 The "surprise" is that the fogged over glass turns clear and then you can see a mannequin behind inside. Cool? I guess.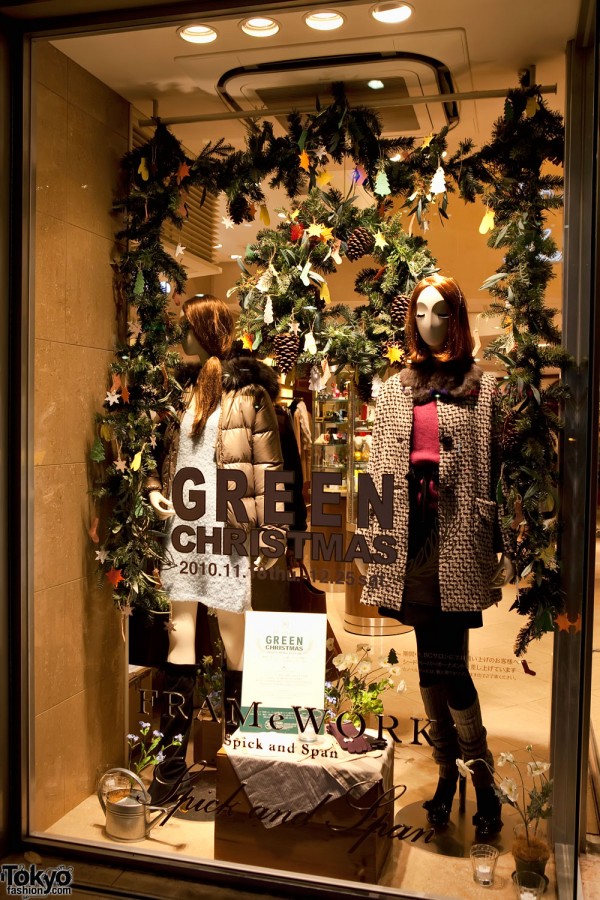 Now we've left Fire Dori and looped around to Meiji Dori. We are getting closer to the end of our walk, but we're not done yet. Here's the FRAMeWORK shop promoting a "Green Christmas".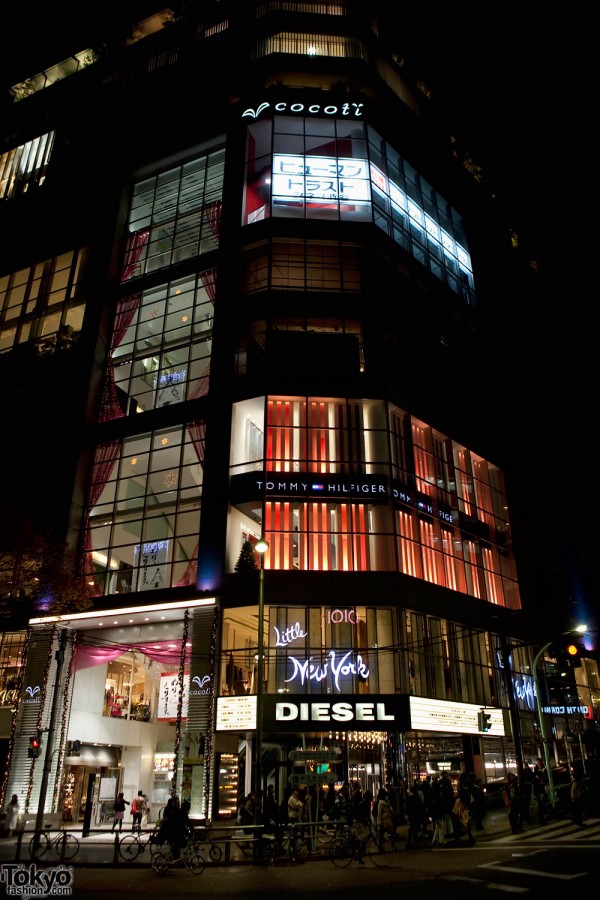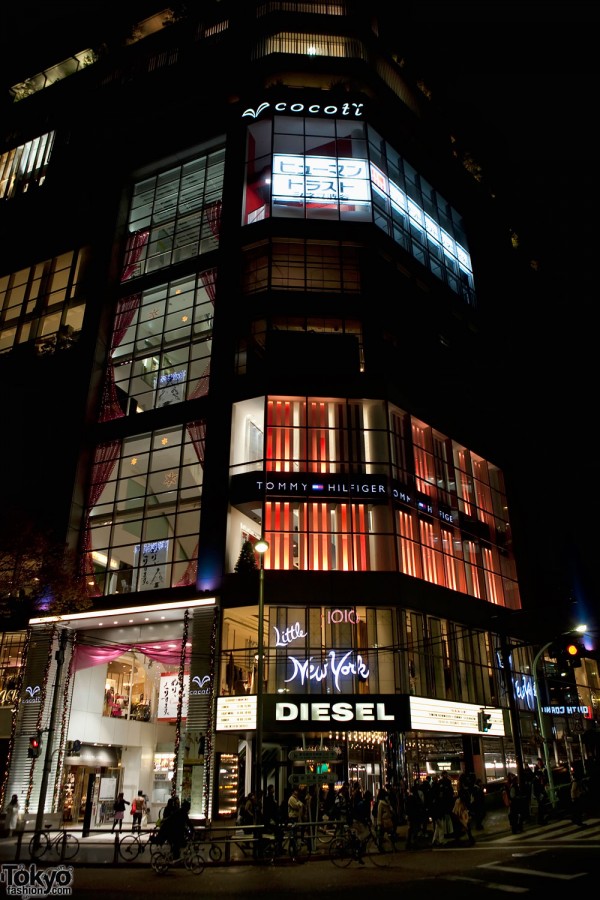 Walking down Meiji Dori toward Harajuku now, we approach the new Diesel Shibuya shop. A cool art show called "Black Sun" with Fannie Schiavoni & Simon Henwood is being held at the art gallery inside of this store, BTW.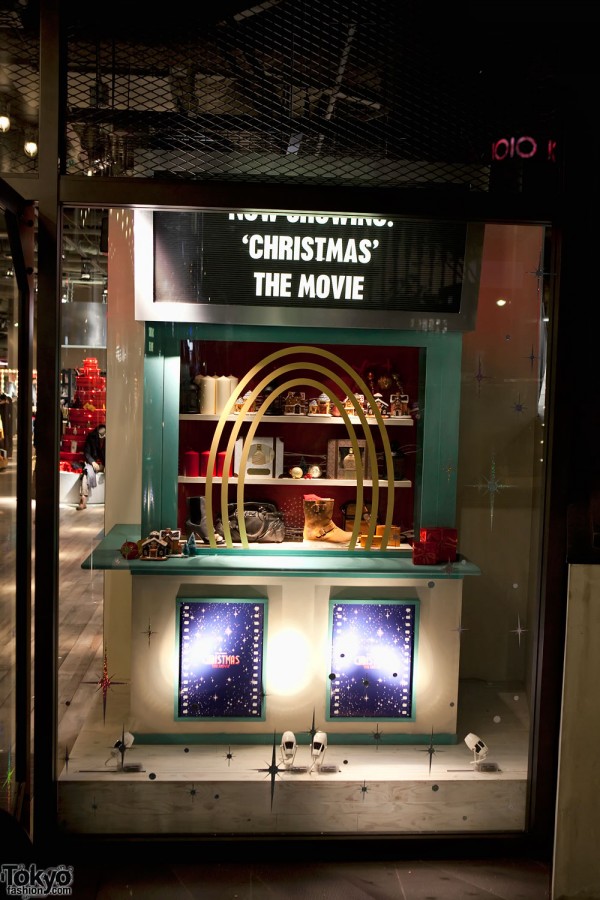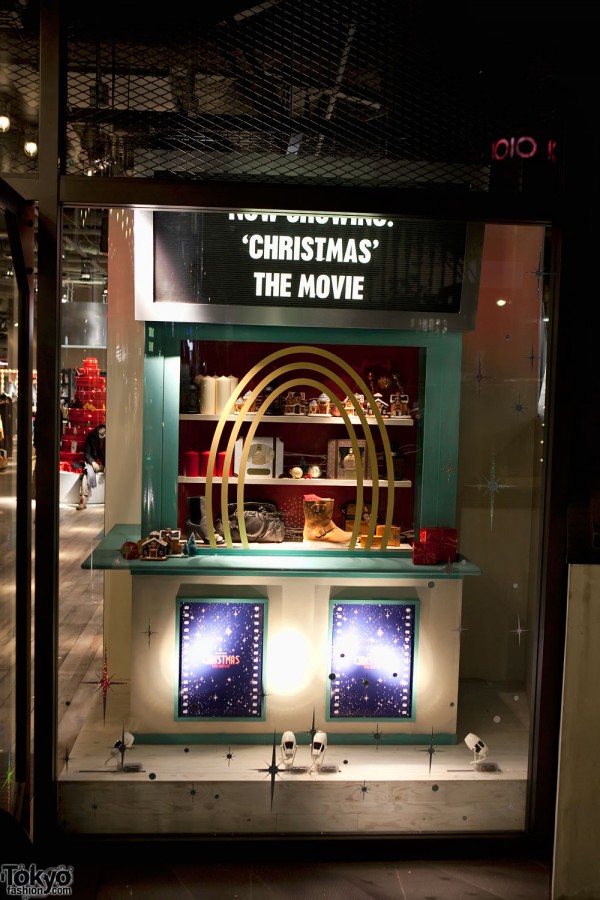 The front of Diesel Shibuya with a retro movie theater Christmas display.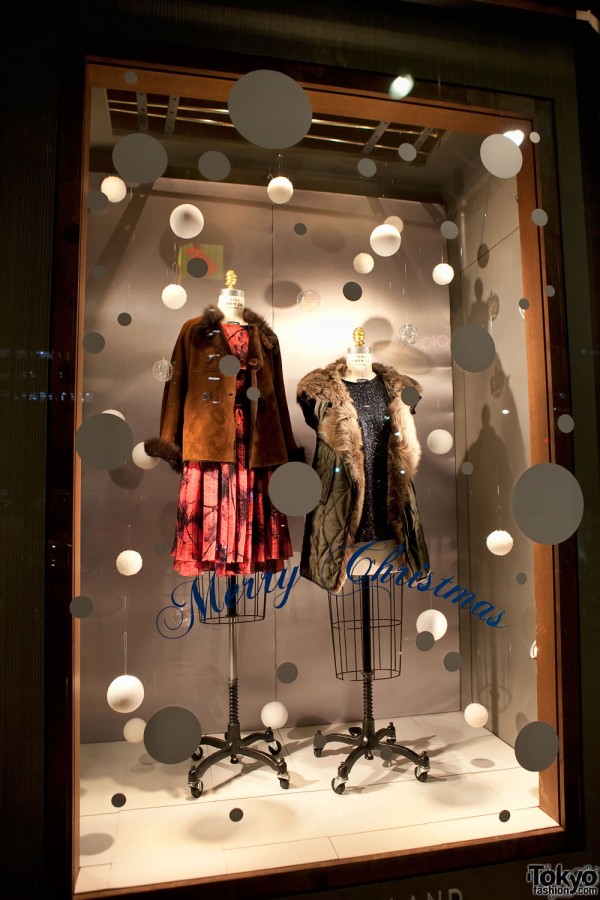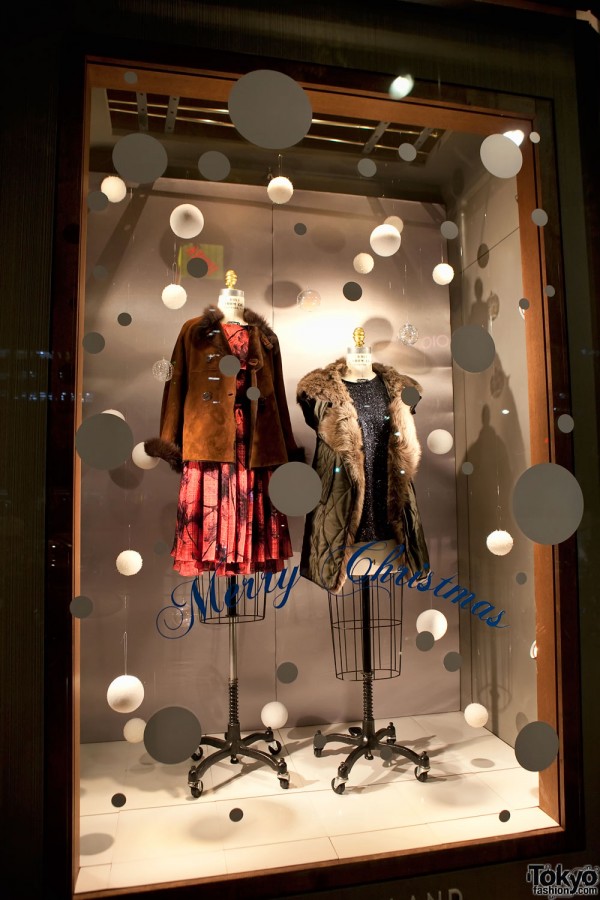 Next to Diesel is Tomorrowland, who also has a holiday window display.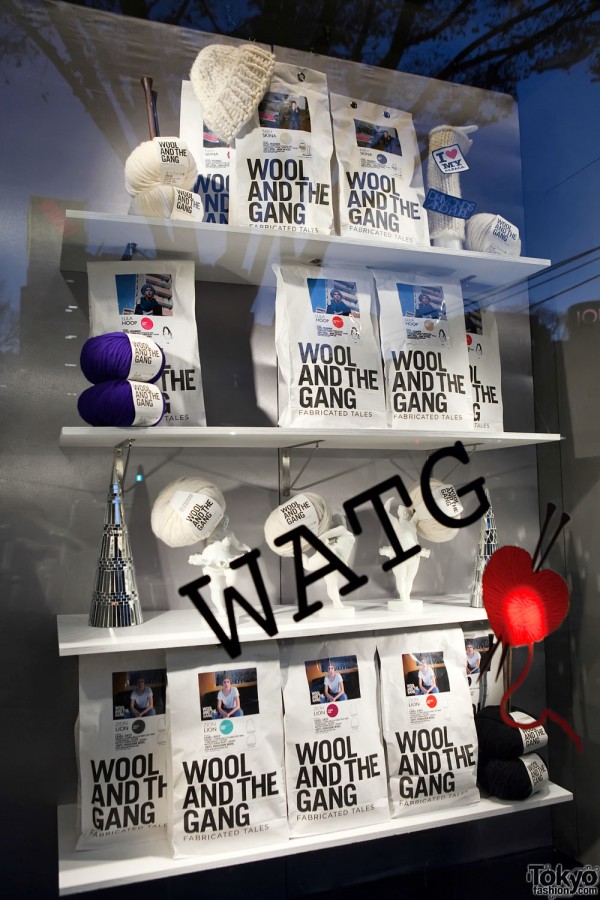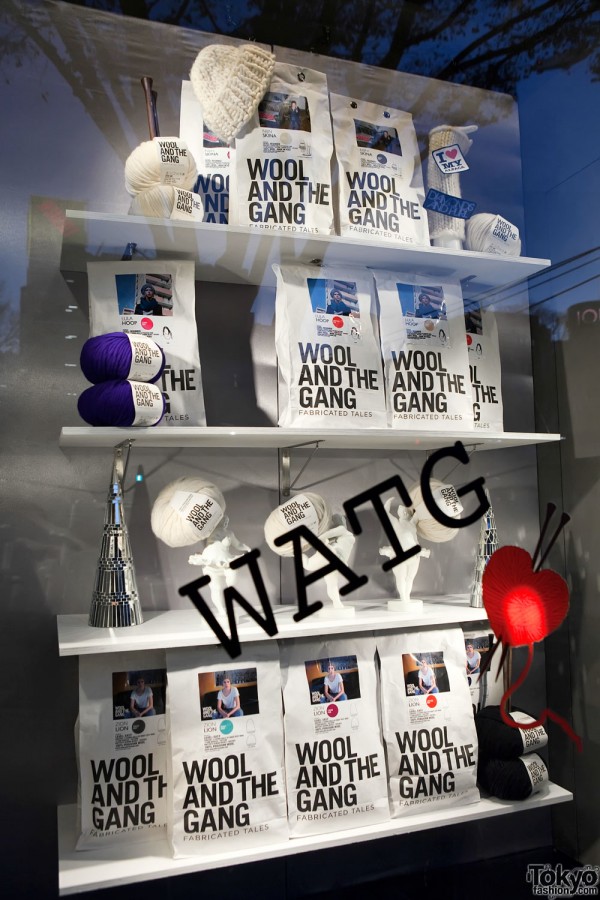 Wool and the Gang is back at Tomorrowland this year. Hurray! Last year, we saw that actual Wool and the Gang girls knitting out in front of the store. It was crazy – we had no idea they were even in Japan, but there they were knitting away on a sidewalk in Tokyo. Here's the WAGT website if you care!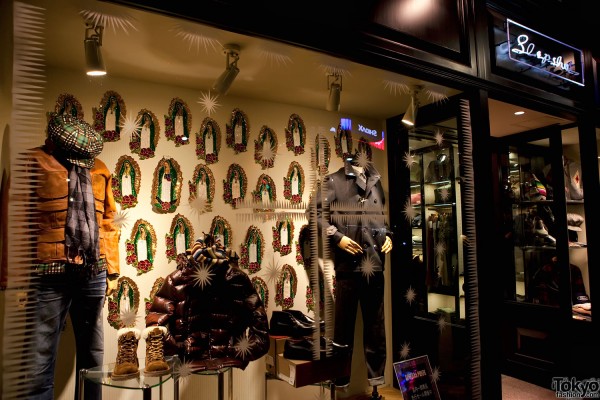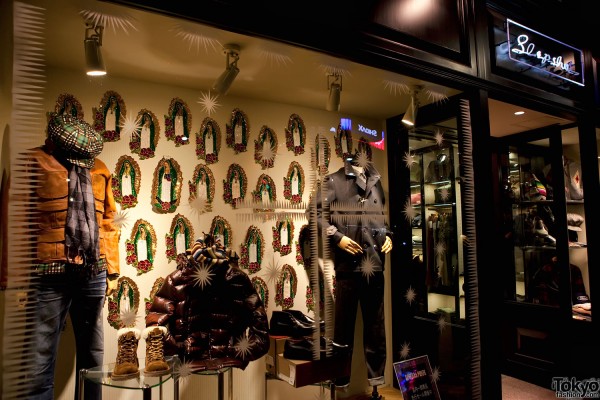 Continuing on down Meiji toward Harajuku, here are lots and lots of Virgin Mary icons on the back wall of the Slapshot holiday window display.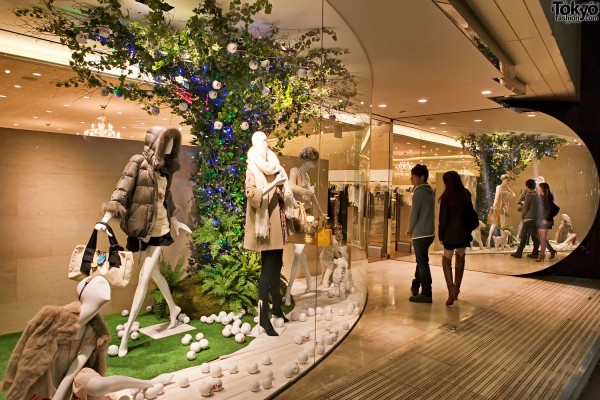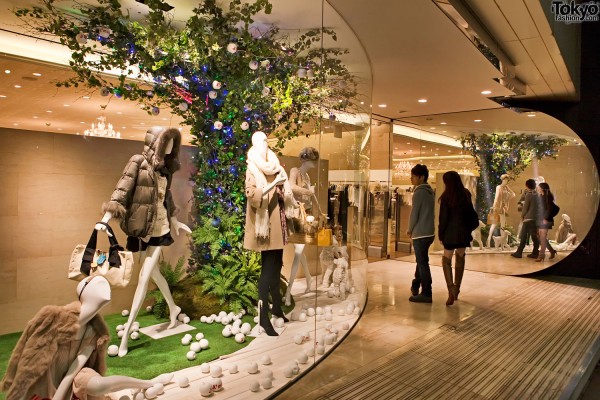 Here is the Jill Stuart Shibuya shop fully decorated for the holidays. Check out the reflection to the right where you can see the little sheep. Yes, I'm pretty happy with this photo. It's not as good as a kimono-lady in an underwear store, but not bad either.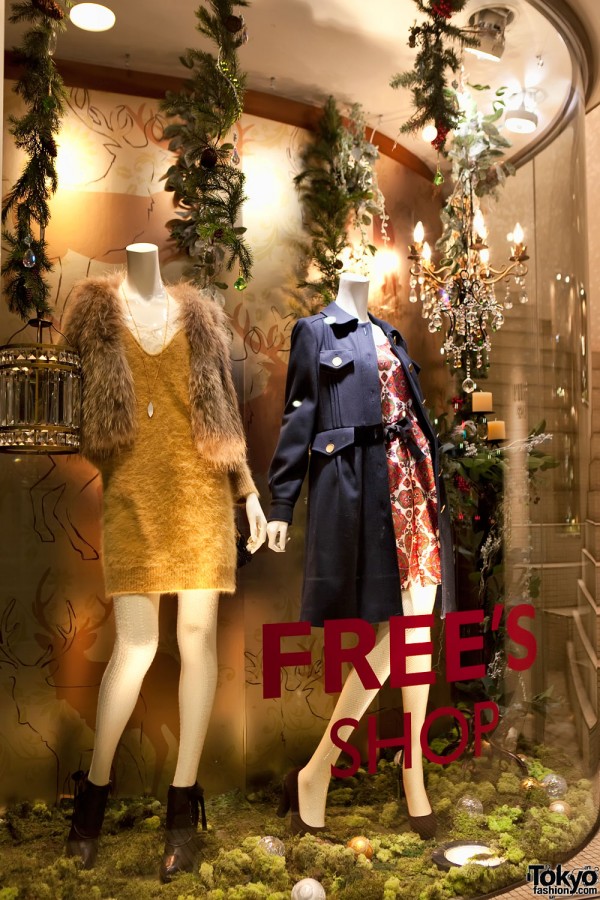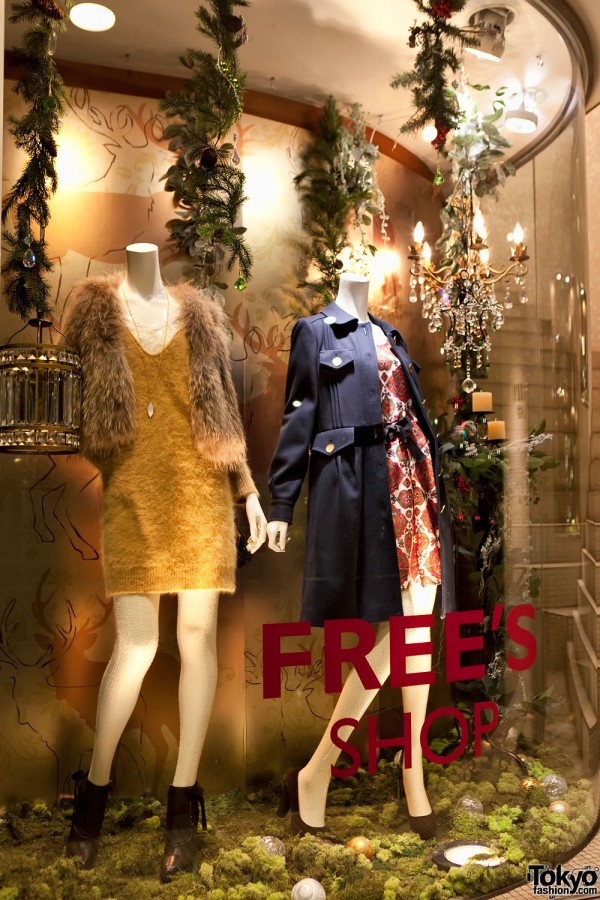 Guess what everyone? That furry vest in Free's Shop is the last furry vest we're going to see on this photo walk.
That's right, we're about to cross the imaginary line that separates Shibuya from Harajuku. That means that our Shibuya holiday photo walk is officially ended. We covered well over 8 kilometers (5 miles) on this walk, so pat yourself on the back if you made it to the end!
If you enjoyed this adventure, be sure to check out our other Christmas 2010 photo walks including Harajuku, Shinjuku, Aoyama, and other neighborhoods around Tokyo. Thank you all and Happy Holidays!